January 1, 2014 – after Mass, our friend Julian, picked the winning tickets for our 2014 Winter Raffle. Thank you for your support!   Congratulations to our winners: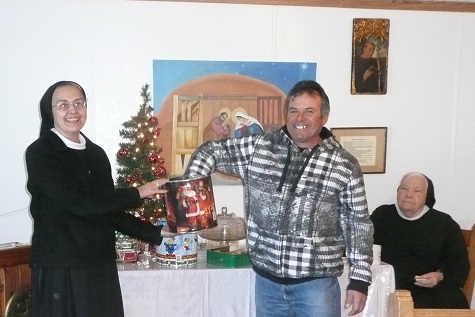 Prize #1 – $7,995 NECKLACE – Winner is Boleslo, from Albuquerque, NM.
Prize #2 – $500 QUILT – Won by Betsy from Buffalo, NY
Prize #3 – MONASTERY GUEST – Stay for two for two nights won by Paul Candelaria, Farmington, NM
Prize #4 – CHOOSE APPLE OR RUM CAKE – BAKED BY MOTHER JULIANNE – The winner from Shoreline, WA, Joseph, has chosen the rum cake.
CONGRATULATIONS TO OUR RAFFLE WINNER, LILLIAN CHAVEZ FROM BLANCO, NEW MEXICO! Mother Benedicta joyfully presented her the ring January 1, 2013. Thank you to all who participated in our 5th Annual Christmas Raffle. More details on this later.