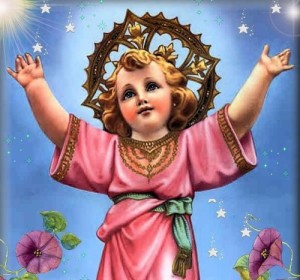 CALL US FOR ANY OF THE ITEMS EXCEPT FOR OUR CD.   PLACE YOUR ORDER BY CALLING US AT 505-419-2938, BETWEEN THE HOURS OF 9-11:30 AM, OR CLICK ON "contact us." Our physical Giftshop is temporarily closed until further notice.  Thank you!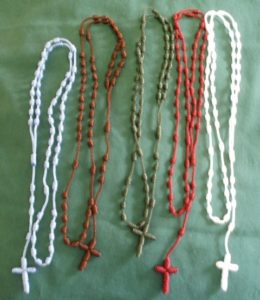 Cord Rosaries 19 Inches and come in various colors including BLACK, PURPLE, BLUE, BAIZE, OR PREFERRED COLOR.  ONLY $7 + FREE SHIPPING.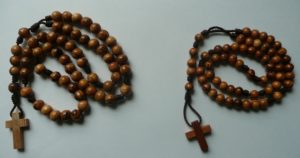 6 or 8 mm beads and Cross are made with olive wood ONLY $10 + FREE Shipping. We would be glad to take your order.  You can contact us via the web or call 505-419-2938
The Rosary is to help us recall the main events in the history of our salvation! A SPECIAL GIFT FOR THE NEW YEAR – Large handmade wooden Rosary made by our Junior, Sister Lizbeth.  Extra Large 36" with big beads, natural wood, with cross measuring 4 3/4. Rosary Center is a silver medal of St. Benedict of Nursia. Limited amount in stock:  10 each of Dark Brown or Light Brown.  FREE SHIPPING.  Place your order by clicking on CONTACT US, then KEEP IN TOUCH. Thank you.
JOURNEY OF TRUST CD 
This CD of chants and hymns by the Benedictine nuns of the Monastery of Our Lady in the Desert includes ancient and modern selections.  Their "Journey of Trust" began with a gift of 40 acres of land in Gobernador, NM, through the intercession of St. Joseph.  Now the St. Joseph Center is a facility for retreats and conferences, a place where all can come to join us for a time of silence, prayer, renewal, and spiritual refreshment.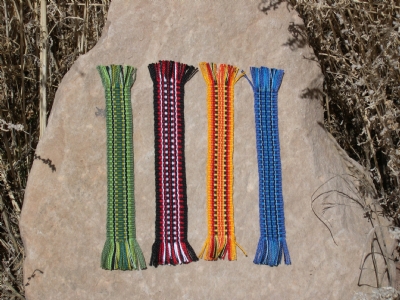 HANDWOVEN BOOKMARKS $3.50 with FREE shipping
The bookmarks shown above are CHOSEN by color and handmade by a nun from our monastery.