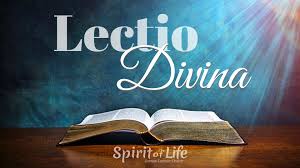 MONASTIC PRACTICES – LECTIO DIVINA – There are six (6) movements: LECTIO DIVINA (HOLY READING), MEDITATIO (REFLECTING ON THE TEXT), ORATIO (PRAYER), CONTEMPLATIO (CONTEMPLATION), EVANGELIZATIO (LIVED RESPONSE) and RUMINATIO (CARRYING THE WORD).
Meditation for the 5th Sunday of Easter Year C:  "The Law of the Gospel requires us to make the decisive choice between 'the two ways', and to put into practice the words of the Lord.121  It is summed up in the Golden Rule, 'Whatever you wish that men would do to you, do so to them; this is the Law and the Prophets.'
The entire Law of the Gospel is contained in the 'New Commandment of Jesus, to 'love one another as he has loved us.'"
1st Reading: Act 14:21-27:  They called the Church together and reported what God had done with them.
Responsory:  Psalm 145: 8-13:  I will praise your name forever, my king and my God.
2nd Reading:   Revelation: 21:1-5:  God will wipe every tear from their eyes.
Gospel: John 13: 31-35:  I give you a new commandment: love one another.
"As I have loved you, so you should love one another."  Being just with one another is what our readings are all about.  Pope St. John Paul 11 tells us, "Justice is the fundamental principle of life, and of mankind living together, of human communities, of societies and of peoples."
Without justice, society, family life and the world of business would no longer be human. Men would tread underfoot other men.  Justice regulates our societies, taking human nature in consideration.  It is a virtue very much in demand today for living a stable and respective life.
A just society begins with the family instilling in their children love and respect for one another so that it will become habit.  This will then lead to being just to all those we come in contact with, those depending on us, and contributes to a spirit of kindness in our society.  I am reminded of what Luke tells us in our 1st reading.  "It is necessary for us to undergo many hardships to enter the kingdom of God." 
Unfortunately, so many folks in our countries are addicted to pleasure and power.  We must become living examples of Psalm 145: 8-9.  "The Lord is gracious and merciful, slow to anger and of great kindness. The Lord is good to all and compassionate toward all his works."  Love for Jesus is a strong motivating source for my just actions.  The more faithful I am to Christ; the more just will my actions be.  The challenges and conflicts of each period of history, calls us to sanctify those realities making them more human and just and giving them to God to help us heal all the transgressions.  Remember our Lord is IN each person in need. Fr. Jose Escriva tells us "We must learn to recognize Christ when he comes out to meet us in our brothers, the people around us." 
I was especially grateful to read about the innumerable young people and service-oriented folks who went out of their way to help the poor, sick, and elderly during the pandemic.  This is "Christianity" at its best.  I pray for God's help to make these kinds of actions the "new normal" and not the "Just" in emergencies.  I'm reminded of the 2nd Vatican Council, "If this exercise of charity is to be above all criticism, and seen to be so … the demands of justice must first of all be satisfied; that which is already due in justice is not to be offered as a gift of charity."  Remember that for every person we treat justly, we are also acknowledging God's Presence in them.
The more I read and meditate on the Gospels, the more aware I am that, "Jesus 'always' gave himself totally to the person in need.  O God, forgive me for all those times I have been slow or lax to give recognition of another's need.  Grant me the courage and love I need to truly walk in your footsteps and become your Presence to others.
May God Bless us all abundantly to be His "hands and feet and voice" of Loving Kindness.   Peace!  SM