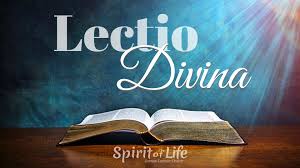 MONASTIC PRACTICES – LECTIO DIVINA – There are six (6) movements: LECTIO DIVINA (HOLY READING), MEDITATIO (REFLECTING ON THE TEXT), ORATIO (PRAYER), CONTEMPLATIO (CONTEMPLATION), EVANGELIZATIO (LIVED RESPONSE) and RUMINATIO (CARRYING THE WORD)
Meditation 19th Sunday OT Yr. C – "In Jesus 'the kingdom of God is at hand'.298 He calls his hearers to conversion and faith, but also to watchfulness.  In prayer the disciple keeps watch, attentive to Him Who Is and Him Who Comes, in memory of His 1st coming in the lowliness of the flesh, and in the hope of His 2nd coming in glory.299 In communion with their Master, the disciples' prayer is a battle, only by keeping watch in prayer can one avoid falling into temptation.300 (CCC 2612)
1st Reading: Wisdom 18:6-9 – Just as you punished our adversaries, you glorified us whom you had summoned.
Responsory: Psalm:  33:1, 12, 18-22 – Blessed the people the Lord had chosen to be his own.
2nd Reading: Hebrew 11: 1-2, 8-19 – Abraham look forward to the city whose architect and maker is God.
Gospel: Luke 12: 35-40 – You also must be prepared.
I call this Sunday, waiting on the Lord Sunday.  I am reminded that my life on this earth is truly a short time of waiting for Jesus' return.  Through faith I am assured of fundamental truths: I am created for heaven; and the Lord blesses me with a multitude of supernatural gifts to help me come to His Presence at my appointed time.
Pope John Paul I, gave us three basic truths to lean on during our journey. "God is all powerful; God has a great love for me; God is faithful to his promises.  It is he, the God of mercies, who fills me with confidence.  With him, I do not feel alone, or useless, or abandoned, but involved in a plan of salvation that one day will lead to Paradise."  The firm basis for human hope is the Goodness, Wisdom and Omnipotence of God.
God is totally aware of each and everyone of his children, and He places His strength at the service of the Salvation and Sanctification of all Humanity.  The misuse of freedom, can make God's help sterile.  God has a great love for me and He is faithful to all His promises, in spite of my failings.  He has infinite patience with me and will never fail me or abandon me.  He is the father of all prodigal sons and daughters, and He patiently awaits our sincere conversion and more intimate correspondence with Him.  Each day that passes bring me closer and closer to His call to eternity.
By considering death, I can make good use of the time left to me.   St. Jose Escriva tells us: "My children, The world is slipping through our fingers. We cannot lose any time, for the time is short….I understand Saint Paul very well  when he writes to the Corinthians: How brief is our sojourn upon the earth!  For a coherent Christian, these words ought to ring true in the depths of our soul.  They are a reproach for our lack of generosity and a constant invitation to loyalty.  Truly we have so little time to love, to give, to do penance."
Am I going to allow my heart to be tied up tightly by the things of this world?  May God bless you abundantly! SM