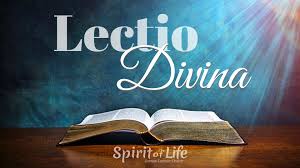 MONASTIC PRACTICES – LECTIO DIVINA – There are six movements: LECTIO DIVINA (HOLY READING), MEDITATIO (REFLECTING ON THE TEXT), ORATIO (PRAYER), CONTEMPLATIO (CONTEMPLATION), EVANGELIZATIO (LIVED RESPONSE) and RUMINATIO (CARRYING THE WORD). 
Meditation 3rd Sunday of Easter – For the disciple who matures in God's grace, the moral life blossoms into eternal life in the glory of heaven.
1st Reading, Acts 3:13-15, 17-19 – The author of life you put to death, but God raised Him from the dead, of this we are witnesses.
Responsorial, Ps 4: 2, 4, 7-9 – Lord let your face shine upon us. Alleluia!
2nd Reading, 2:1-5a – Jesus, the Christ, is not expiation for our sins only, but for those of the Whole World!
Gospel, Lk 24:35-48 – Thus, it was written that the Christ would suffer and rise from the dead on the third day!
Our readings today reinforce the incredible gift, God our Father has given us. His Son, Jesus, the Christ, took on our humanity, for the sole purpose of Teaching and Redeeming us!!! As we said last week, God is full of unending MERCY!!!  Peter reinforces this.
If I look at our world today, how many baptized Catholics and Christians are denying that Jesus is really God? Or how many Catholics are saying they really don't believe Jesus is in the most Holy and Sacred Eucharist?
Can I just sit back and let Paganism keep multiplying? Does EVIL have to jump down my throat before I wake up. The devil is rampant in our world just as he was in Jesus' time. When we look at the Gospels, we see Jesus, freeing so many from demonic possession.
Today demonic possession has greatly increased. When I turn on the news, I hear almost every day of people being oppressed and murdered by power hungry people whose idol is money and power. I find government leaders saying it's okay to kill a baby before birth if she or he is inconvenient at this time in my life. We find children under 6 years of age accidently shooting a playmate dead. WHY is a gun in front of a small child, who is incapable of even understanding what death is all about?  We find parents beating and torturing their own children and teenagers beating a parent or grandparent to death.
Our news media seems to thrive on reporting all the evil in our world, but I need to look at myself. What am I doing to DEFEAT "satan's" murdering souls who are Sacred to God?
I am a Benedictine nun. who has vowed to God, to spend the rest of my life serving Him and the Catholic Church through Prayer and Petition for ALL of God's people worldwide. Three times a day we pray specifically for the needs of all who have asked our prayers, and I invite all of you to spend a few moments each day to pray for your family members who need extra help, or a neighbor or co-worker.
There are many things we as Christians can do to help defeat satan's actions in our own country. The first and most important is" Prayer" our all-powerful tool against evil.  Ask God to shed his light on our family, a friend, a neighbor, someone who in anger has hurt us!
St. Jacinta of Fatima, was asked by our Blessed Mother to offer her sufferings for the "conversion of sinners."  Our Blessed Mother Mary has come to earth several times to ask our prayers for the conversion of sinners. Can we stop at this time to pray the Rosary, or the Mercy Chaplet? Do we know what we are saying in the Our Father prayer, forgive us OUR trespasses as we Forgive those who trespass against Us?
Let us be like the two disciples of Emmaus and listen with our ears, our minds and our hearts to what Jesus is saying specifically to us this day. They had read the Scriptures of Moses and the Prophets, but it wasn't until Jesus after His Resurrection, explained the Scriptures to them, did they get His message. Let us listen with All our being today.
May God bless you abundantly,
Your Sister in Christ. SM