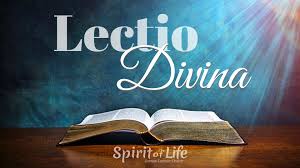 MONASTIC PRACTICES – LECTIO DIVINA – There are six (6) movements: LECTIO DIVINA (HOLY READING), MEDITATIO (REFLECTING ON THE TEXT), ORATIO (PRAYER)
Meditation 1st Sunday Advent Yr. A – "When the Church celebrates the liturgy of Advent each year, she makes present this ancient expectancy of the Messiah, for by sharing in the long preparation for the Savior's first coming, the faithful renew their ardent desire for his second coming." (CCC, cf. 524)
1st Reading: Isaiah2:1-5: "The Lord will gather all nations into the eternal peace of the Kingdom of God."
Responsory Psalm 1221-9: "Let us go rejoicing to the house of the Lord."
2nd Reading: Romans 13:11-14: "Our Salvation is nearer."
Gospel: Matthew 24:37-44: "Stay awake that you may be prepared."         
This Advent we begin with the Year A Scriptural Readings and the Gospel of Matthew. The Collect of today's Mass is our leading encouragement to turn to God: "Almighty God grant us to greet our Savior with our good works when he comes, so that we may be worthy to be on his right hand and possess the kingdom of heaven."  Isn't this what I truly want?  This attitude of expectation is what our Mass is all about.  Keeping watch is a motto for daily meditation as we once again begin a new liturgical year.
The words of Isiah ring clearly in our ears 2000years after the original birth of Jesus.  "Come let us climb the Lord's mountain,…that he may instruct us in his ways and we may walk in his paths… He shall judge between nations…one nation shall not raise the sword against another, nor shall they train again for war."
This idea of expectation is an attitude the Church wants us to practice permanently. This holy season is a time of preparation, a time of looking at this past year critically and seeing honestly those time when I have not practiced the virtues of love, unconditional acceptance of others, forgiveness, constancy in prayer, etc.  Christ is always present to us 24/7.  Can I try harder to be more present to Him?
Christmas is the celebration of the First Advent of Jesus Christ in the humanity of mankind.  We must keep in mind that there are two more Advents, the first is when we die, the Second is the final judgement of all mankind.  In our Gospel today the Lord tells us to "wake from sleep", and as Paul echoes, we too can forget what is most important in our lives.  I must remember that when worry comes to me the Holy Spirit is present to me to help.  All I have to do is ask His help!
So often when people tell me about a problem, my first question is did you ask God for help? Their answer is often no, or that's not important enough or some other negative remark.  I often wish I could have a syringe full of hope, reassurance, trust and love of God, that I could inject into frightened, anxious or unhappy people.  So o0ften my ego can get in the way of honest problem solving. God is not macho man or wonder women, God is our creator who loves us so deeply that sometimes He overwhelms me to tears and I find myself wanting Him so much  more deeply involved in my life on this earth, and I pray that you may also want Him in your life this much also.  Peace, Sister Mary