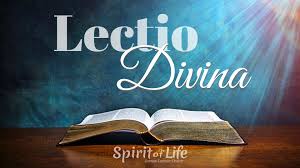 MONASTIC PRACTICES – LECTIO DIVINA 
Meditation:  4th Sunday Lent Year A, March 19, 2023
"When St. Peter confessed that Jesus is the Christ, the Son of the living God, Jesus declared to him that this revelation did not come from 'flesh and blood,' but from 'my Father who is in Heaven.'77 Faith is a gift from God, a supernatural virtue infused by him.  Before this faith can be exercised, man must have the grace of God to move and assist him; he must have the interior helps of the Holy Spirit, who moves the heart and converts it to God, who opens the eyes of the mind and "makes it easy for all to accept and believe the truth."'" 78 (CCC, 153)
1st Reading: 1Samuel 16: 1, 6 – 7, 10 – 13: "David is anointed as King of Israel"
Responsory: Psalm 23 1: 1 – 6: "The Lord is my shepherd; there is nothing I shall want."
2nd Reading: Ephesians 5: 8 – 14:  "Arise from the dead and Christ will give you Light."
Gospel: John 9: 1 – 41:  "The man who was blind went off and washed himself                                                                   and came back able to see."
Today is called Laetare Sunday which means to 'Rejoice'.  Joy is a Christian virtue which all Catholics should have.  Why? Because Jesus, the Christ, "chose" to take on our humanity, in obedience to the Father, to save us! 
Joy has a spiritual origin. It is a gift from God in hearts that love, and feel themselves loved by God.  What ever mortifications or penances I take on during Lent, should not overshadow my joy, because I know that my redemption is nearer.
Our Responsory Psalm fills me with peace because I know Jesus is with me.  If misfortune or evil comes my way, I am secure in His love and concern for me and He will help me to deal with it.  I am reminded of 7 year old St. Jacinta Marto of Fatima,  she would offer every pain, difficulty, and harassment to God 'for the conversion of sinners'. When arthritis flares up, I have found this to be a great habit.
Paul's letter is encouraging, when I listen to God, I make better choices which gives light to others.  It seems that today our world is very much as it was in Jesus time.  Wars for power Persecutions because of Color or Religion; Politics; Possessions, Greed, Denial, Manipulation, etc. When God created me He knew I would be both Cain and Able, but He still chose to give me life. He knows I will seek His life, but I will also commit sin.
Pope Paul VI, tells us: "Technological society has succeeded in multiplying the occasions of pleasure, but finds great difficulty in giving birth to happiness. For happiness has its origin elsewhere: it is a spiritual thing. I know that money, comfort, hygiene material security, etc. may often not be lacking, but nevertheless, despite these advantages, boredom, suffering and sadness are frequently to be found supervening in the lives of many people." (Gaudete in Domino)
Tribulations and sufferings are inevitable, and eventually are present to every human being.  Lord, it is with great joy that we offer you the sacrifice that brings everlasting healing. (Rom 8:28)   Moreover, my heart must strive to express my love in deeds, because deeds are love, not sweet words.
Suffering in and of itself neither transforms nor purifies, it might cause me to be rebellious or hateful; and to abandon God.  Giving my sufferings to God as He gave His Crucifixion to the Father, purifies my heart and strengthens my desire to help others.  Lord, help us to carry our crosses
Lord, Jesus!  You experienced the same kinds of suffering as we are now experiencing in our world.  Help us to hold tightly to you; guide us in helping the sick; the abandoned; those who are being brutally persecuted in several areas of our world; those who are experiencing war and brutal oppression.
Please lead those suffering addictions and lack of loving helpers, guide them to your healing people and give us the graces we need to be your arms, ears, eyes and hands, of love and healing, to all we meet.   SM