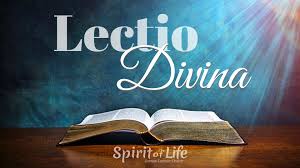 MONASTIC PRACTICES – LECTIO DIVINA – There are six movements: LECTIO DIVINA (HOLY READING), MEDITATIO (REFLECTING ON THE TEXT), ORATIO (PRAYER), CONTEMPLATIO (CONTEMPLATION), EVANGELIZATIO (LIVED RESPONSE) and RUMINATIO (CARRYING THE WORD).  
 The Baptism of the LORD: Meditation
One of the most frequent question asked about this Solemnity is WHY was Jesus Baptized? He was God, He was sinless, why did He have to be Baptized?  He did not have to be baptized, but Jesus was born as an ordinary human being is born, a little baby.  He was raised in Nazareth, a small village in the south of Galilee. His parents were Mary and Joseph the carpenter as far as their neighbors were concerned. He was called Jesua and would have studied and played with other boys of his age. He would have worked with Joseph in the carpentry shop and also helped with agricultural needs. It is likely that Mary taught him all she had learned of the Torah while serving in the temple…
At the age of 12, he would have gone to Jerusalem, a 3-5 days journey on foot with other boys of his age and their families for the ceremonies of Testing, Praying, and Blessings, which would confirm him as an adult member of the Jewish faith.  As we know He stayed behind talking with the Rabbis. His parents searched for 3 days, finally locating Him in the temple. Anyone who has lost a child even for just 10 or 15 minutes can imagine the horror and anxiety suffered by Mary and Joseph. Jesus response, "Did you not know that I must be about my Father's business?"  Jesus returned with them to Nazareth and was obedient to them.
He grew in stature and wisdom. We don't know when Joseph died. We know nothing of Jesus' teen years or young adulthood. While Jesus is God, He shares fully in our human condition. He was born of a woman, he lived a human life, He suffered as we suffer, He was tempted, like we are tempted.  However, unlike us, He never sinned. During His early years He must have come to know of all the sufferings of his people and of the overwhelming sinning of many. This must have weighed heavily on his spirit.
 First Reading: Isaiah 42:1-4, 6-7        
Isaiah gives us a thumbnail sketch of exactly who Jesus is, some of His words will be repeated in Mark's Gospel, Jesus is "God's chosen one." Jesus is not a warrior or rabble rouser. He will not brow beat his listeners nor crush them with His words. He will teach them with Truth and Compassion. His wisdom will bring them to such a great yearning for knowledge and justice.  The Father has sent Jesus, "as a Covenant to the people; A Light for All Nations."                   
Responsory:  Ps 29:1-2, 3-4, 3, 9-10
We sing joyously of the fulfillment of God's promise. Our hearts are so filled with gratitude and exultation for His deeds and achievement, that we Must sing out our thanksgiving and spread the Great News of His goodness to us and we Want to spread the news of all He has done for us!
 Second Reading: 1 Jn 5:1-9
How do I know I love God?  Do I also Love Who God is and What God asks of me?
Gospel:  Mark 1:7-11                                                                                                    Mark's is the first and shortest of the Gospels. Unfortunately, we miss the announcement of the Prophet Malachi which introduces John the Baptist, "I am sending my messenger ahead of you, who will prepare your way…" and that is exactly what John the Baptist did.
John was baptizing in the Jordan, probably south of Samaria. He vehemently called all to conversion from sin in preparation for the coming of the Messiah. "The one who is more powerful than I is coming after me; I am not worthy to stoop down and untie the thong of his sandal." What an incredibly humble statement. In John's day only the lowliest of slaves would do this.
Now Jesus would have traveled for two or three days to reach where John was baptizing. In Matthew's Gospel John questions Jesus coming for Baptism. Jesus replied, "Allow it now …it is fitting for us to fulfill all righteousness." After Jesus' Baptism, all three synoptic Gospels tell of the heavens opening and the Spirit descending upon Him like a dove and a voice from Heaven saying, "You are (This is) my beloved Son; with you I am well pleased." Notice the Trinitarian emphasis of this Gospel.
Why was Jesus Baptism so necessary and important? Remember only Mary and Joseph, Elizabeth, and Zachariah probably Mary's parents and perhaps a few others knew who Jesus really was. Jesus' baptism was the introduction to His Messianic life. Jesus, who is the Son of God, the 2nd person of the Blessed Trinity knowingly took on our humanity, so that through His suffering and death He could heal and transform it. We have no idea when He knew that He was God; that He would be rejected by many and finally killed. But at His Baptism we can be sure that He knew and accepted the will of His Father.
If we look at Nazareth, Cana, Bethsaida Nain, Jericho, Jerusalem at the turn of the Millennium the Jewish people suffered greatly. Jesus must have felt great compassion and helplessness because in His purity of heart he would naturally be drawn to the poor, the sick, the rejected people.  He would also have felt the incredible weight of the sinfulness all around Him. Jesus would have turned to His Father in His pain and His Baptism may have perhaps been the turning point for Him, the beginning of His public Messianic life. 

May God bless you abundantly,
Your sister in Christ, SM