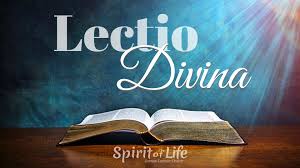 MONASTIC PRACTICES – LECTIO DIVINA – There are six movements: LECTIO DIVINA (HOLY READING), MEDITATIO (REFLECTING ON THE TEXT), ORATIO (PRAYER), CONTEMPLATIO (CONTEMPLATION), EVANGELIZATIO (LIVED RESPONSE) and RUMINATIO (CARRYING THE WORD).
Meditation 17th Week Ordinary Time – Faithfulness in little things will bring us to a deeper and deeper relationship with God.
1st Reading:   2 Kings 4:42-44 – "They shall eat and there shall be some left over."
Responsory:  Psalm 145 10-11, 15-18 – The hand of the Lord feeds us; he answers all our needs.
2nd Reading:   Ephesians 4:1-6 – One body, one Lord, one faith, one Baptism.
Gospel: John 6: 1-15 – Today's readings talk about Gods gifts of food for our souls and bodies.
In our 1st reading Elisha, the Prophet, during a famine in the land, provided food for the inhabitants from twenty barley loaves, brought to the prophet from Baal'shalishah, a distant city.
Responsorial Psalm, the psalmist is thanking God with a heart filled with gratitude for all the many, many gifts God lavishes on His people.  How often do I thank God for the multiple gifts He gives me each day, i. e. I "wake" in the morning to a "new" day of life, I have "food" to eat for myself and my family, I have "clean" clothes to wear, I have a "healthy body" to move and work, my children "know" me and "love" me, I have a job to "support" my family, I have a good spouse to "share" my life with our children, I have "good friends" with which my family can share good experiences.  Have I stopped for a moment to "Thank God" for these gifts?  Do I truly "trust" in the God who is "always" nearby?
In our 2nd reading Paul encourages us to grow in the basic virtues which will bring us to God's Peace.  Humility is one of the most misunderstood virtues. It has nothing to do with groveling and pretending, it is the virtue of "Truth"!  A humble person is well aware of God's goodness, but also knows herself or himself inside and out.
Humility is about accepting ourselves as beloved by God and knowing all that is good about ourselves as well as all that is not so good and needs improving.  Remember God created us and He "knows" our good thoughts and actions, and He also knows our failures and gives us His Spirit to help us to grow better. There is "never" anything that we think, say, or do that He is not aware of, so we can "always admit our mistakes and ask for His forgiveness AND the help of His Spirit to learn how to avoid these mistakes.
The second virtue is gentleness, a virtue so important for parents, supervisors, for people in the medical and policing professions, etc. In any tense situation, gentleness brings peaceful listening.  A gentle spirit brings patience and greater openness to understanding and acceptance of another's difficulty.  If we grow in these virtues, we will most likely have fewer divorces and more accepting and healthy teenagers in our families.  A willingness to seek peaceful resolutions in conflicts at work or school or home will bring about more peaceful and healthy relationships.
Jesus is our example of acquiring these virtues.  He went from Capernaum to Bethsaida to give himself and His disciples a rest, as well as teachings. However before long, He could see a multitude of people who had walked around the lake to hear more from Him. His heart felt pity and love for them. He asked Phillip first about feeding them, who told Him we don't have enough money, but Andrew pipes in with, "a boy has five loaves and two fish."  Jesus knew this beforehand, but He is teaching His disciples to think outside of the box, i. e. don't be narrow in your thinking, ask for help and expect it.
Jesus knew the people were tired and weary from their journey and they had not brought provisions for themselves. His heart was filled with compassion and for their needs. He is teaching His disciples and "Us" to pay attention and have compassion for those around us.
Another lesson He gives us is "do not waste."  He told the disciples to pick up the leftovers and most probably they ate them after Jesus had sent the crowds back to their homes.  The collecting of the leftovers is a way of showing us the importance of doing the little things for the love of God.  It is like a parent teaching a child to scrape his plate clean and wash his plate and silverware or teaching her daughter to wipe clean the stove and counters after a meal.  So often it is the littlest things that bring us to holiness, i. e. orderliness, cleanliness, finishing things completely.
Jose Escriva tells us, "Love means deeds not sweet words, Deed, Deeds!  And a resolution: I will continue to tell you often, Lord, that I love you.  How often have I repeated this today!  But, with your grace, it will be my conduct above all that shows it.  It will be the little things of each day which, with silent eloquence, will cry out before you, showing You, my love."  May God Bless you abundantly, SM