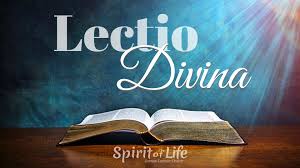 MONASTIC PRACTICES – LECTIO DIVINA – There are six movements: LECTIO DIVINA (HOLY READING), MEDITATIO (REFLECTING ON THE TEXT), ORATIO (PRAYER), CONTEMPLATIO (CONTEMPLATION), EVANGELIZATIO (LIVED RESPONSE) and RUMINATIO (CARRYING THE WORD).  
2nd SUNDAY OF LENT MEDITATION
1st Reading:  Gn 22:1-2, 9a, 10-13, 15-18:  God put Abraham to the test.  He called to him, "Abraham!"  "Here I am!" he replied …I know now how devoted you are to God, since you did not withhold from me your own beloved son."
Responsorial Psalm:  116:10, 15, 16-17, 18-19:  I will walk before the Lord, in the land of the living.
Reading II: Rom 8:31b-34:  If God is for us, who can be against us?
Gospel: Mk 9:2-10:   From the shining cloud the Father's voice is heard:
"This is my beloved Son. Listen to Him." (Art:  The Transfiguration, by Raphael [Pinacoteca of the Vatican Museums] Wikipedia)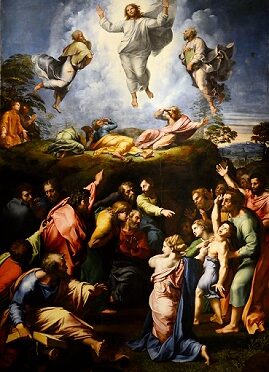 Our readings today are at first a bit shocking.  How could God ask Abraham to take the life of this precious son He had given to him and Sarah in their old age?  Abraham, like Noah, believed in God with his whole being and was fully committed to Him, so naturally, He obeyed.  He didn't question or hesitate because he trusted that God knew all things.  As we read further we begin to understand.
I am so unlike Abraham!  How often do I get into a difficult bind and know what is the right thing to do, but I vacillate back and forth about the consequences? If I do the right thing I might be looked down upon, or lose my job, or face a loss of prestige in my office. etc.  God tested Abraham so He could show the Innocence and Justness of the man he had chosen to lead the people He had chosen. 
How often do I think about "courage" or even understand the meaning of the word? Courage is defined as, "The quality of mind that enables one to meet danger without fear: i. e. brave; valiant." There are two kinds of courage: one is from the passions, i. e. injuring or killing one who has hurt me, or furtively stealing floor tiles from my job site to re-tile my own kitchen.  The other is from God, i. e. A father jumps in the lake to save his drowning child, or a woman tells the truth about an embezzlement at work. Our world today is chock full of both examples; we only have to read the news.
Our Responsorial Psalm teaches us the way to grow in God's courage. "To walk before the Lord, in the land of the living."  When I walk before the Lord, I walk in Truth, in Love, in Justice, in Peace.  Jesus uses these four nouns in numerous ways all through the New Testament. During this Lenten Season can I make an extra effort to grow in these four virtues? Do I not know that these virtues are the building blocks for Eternal happiness? When I "deliberately" walk in the Presence of the Lord, I will be amazed at what the Spirit sends to me. ("Listen", "Talk gently," "Be silent," 'Let go," "That's not true," "Stand firm, but kindly," "I am with you," etc.) Whenever we ask the Spirit's help he will respond, But, we must silence all the chatter in our minds, take a deep breath and "Listen."
"If God is for us, who can be against us?"  This reading from the Letter to the Romans is an excellent source of Hope to us. But remember that God is the totality of goodness and uprightness.  This one phrase has been much abused in religious and civil politics multiple times for many, many years. However no matter what we are asking of God if our words or actions are not life-giving and uplifting we cannot expect God's help.  We have to remember Jesus did not take on our humanity because He had nothing else to do that Day! Jesus, the Word, took on our humanity so as to cleanse us from the evils WE had taken on and to teach us how to live life, the way, we were originally created to live it.
As we look at today's Gospel, Jesus and his apostle's and disciples had been traveling all over Galilee, teaching the peoples for many, many months. Jesus knew that His life was often in danger now and the Apostles, especially Peter, James and John needed extra help to face the upcoming trials culminating in His arrest and crucifixion, so as to support the other apostles and disciples after His arrest.
The Transfiguration of Jesus is described differently in the three Synoptic Gospels, but the three important facets are the same. 1. Jesus is transfigured in His Divinity.  2. Moses and Elijah are conversing with Him.  3. And the Father's voice is heard:  "THIS IS MY BELOVED SON. LISTEN TO HIM.
What an incredible event! I'm sure these three Apostles were overwhelmed by what they had just heard and witnessed. They just experienced the reality of Jesus as GOD!  I'm sure they understood the need to be silent about their experience. Who could comprehend?  Remember this Beloved Son is "Jesus the Second Person of the Blessed Trinity," The Father is pleading with us to Listen to Jesus' teachings, and to see His examples of Truth, Compassion, Courage, Justice, Love, Acceptance of All peoples, rich and poor sinners, the just and the righteous.
This Sunday let us review our own history. Can I honestly say that this month I have deliberately tried to be honest, compassionate, accepting of all people no matter what their nationality, race, or fiscal means? How are my relationships with family or neighbors?  Am I willing to give up some comfort food to help a lonely neighbor or pass on new clothes so I can help clothe the family that lost everything in my neighborhood?  Jesus knew the concerns and fears of the Apostles. His Transfiguration was His gift to strengthen and "en-courage" them.
May God Bless you abundantly as you pray with Him to the Father during these Lenten days.  Your Sister in Christ, SM