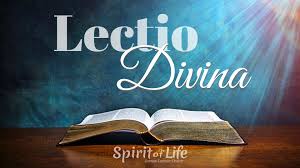 MONASTIC PRACTICES – LECTIO DIVINA – There are six movements: LECTIO DIVINA (HOLY READING), MEDITATIO (REFLECTING ON THE TEXT), ORATIO (PRAYER), CONTEMPLATIO (CONTEMPLATION), EVANGELIZATIO (LIVED RESPONSE) and RUMINATIO (CARRYING THE WORD).
Meditation  for the 25th Sunday Ordinary Time – "It remains for the holy people to struggle, with grace from on high, to obtain the good things God promises.  In order to possess and contemplate God, Christ's faithful mortify their cravings, and with the grace of God, prevail over the seductions of pleasure and power."
1st Reading: Wisdom 2:12, 17-20 – "Let us condemn Him to a shameful death."
Responsorial Psalm 54:1-8:  "The Lord upholds my life."
2nd Reading: James 3:16-4:3 – "The fruit of righteousness is sown in peace for those who cultivate peace."
Gospel: Mark 9:30-37 – "The Son of Man is to be handed over …..whoever wishes to be first will be the servant of all."
I just finished a 10-day hermit retreat which affected me very strongly. For the first time in all my years I learned that Christ's sufferings were truly like in His human Incarnation.  Venerable Mary of Agreda, a 17th century Spanish mystic, wrote a rather detailed life of Christ, called, "The Mystical City of God," about the visions she received from the Blessed Virgin Mary.  She details several of the refusals to listen to and rejection of Jesus' teachings, not only from the Synagogue leaders and chief priests, but also the local Rabbis, neighbors and community leaders.  In addition, she describes in detail the last eight days of Jesus Life and Crucifixion, and then His Resurrection on the 3rd day!  It took hours and hours and hours of reading and meditation to really comprehend and appreciate Jesus' "incredible" sufferings!
In our 1st Reading, from the Wisdom literature, was written several centuries before the Incarnation, describing exactly what transpired when Jesus began His teaching ministry after His Baptism in the Jordan by John the Baptist.  Many of those who prided themselves on their knowledge and power not only in the Synagogues and Temple, but also the rich merchants and civic leaders were prime targets for Satan to prod them to greater evil attacks against Jesus.  Satan was never sure if this "itinerant preacher" was the "True Son of God," so he raged against Him and did all He could to defeat and injure Him.
Of course, Jesus knew everything that was in Satan's mind, and He gently, but forcefully confronted him every step of the way.  As our Responsorial Psalm tells me "The Lord upholds my life."  In other words, Jesus knows when I am injured by unkind words and accusations, by a spouse, child, friend, or employer, etc. He is always there to help me deal with these issues gently and realistically. Jesus "knows" if I am innocent and all I have to do is "ask" His assistance, and if "I am really listening, thoughts will come to my mind of how to diffuse the pain given to me. He did this over and over and over, gently, but truthfully!
Our 2nd reading from the Letter of James the Apostle is a very good meditation in a quiet and alone time to help me read through and then look at my own passions.  So often when I think of passion, the first thought is of sexuality, but there are other passions just as injurious to me, such as anger, possessiveness, jealousy, righteousness, just to name a few.  How often do I really listen to the Mass readings and take, before or after Mass, time to meditate about how these might apply to my own life?
Our Gospel today shows me the workings of Satan in the disciples, they were focused on their own importance and power.  The idea that Jesus, "The Son of Man will be handed over to men and they will kill Him, and three days after his death the Son of Man will rise," was not understood.  The disciples were still locked into their idea that the Messiah was going to raise an army and defeat the Romans and set the Jews free from oppression.  Like us today they were very slow learners, who still believed in bodily freedom and couldn't hear the spiritual call to freedom from all the negative passions which Jesus was calling them to conquer and growing in all the virtues of goodness, beauty and love.  Am I willing to hear what Jesus is offering to help me give up,  as well as what He is calling me to change to become more and more what He created me to be?
Jesus is "always" present to me. I might like to think of God as a being out there somewhere, or up in Heaven somewhere. But I know now that God is present in each and every one of us continually 24/7!  We humans can't even "begin" to know the enormity of the presence of God.  God is so overwhelmingly above any image I could possibly imagine and yet He knows me down to the tiniest cell in my body and is always present to it.  All we can know for certain is that God the Father, Son and Holy Spirit love us more than our experience can accept, and these three Persons in God will never give up on us even at our very last dying breath.
May God Bless you abundantly this week and may you have the courage to truly seek Him with all your hearts and know the Touch of His Love which you can "never" forget!  SM