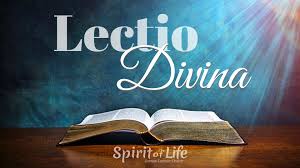 MONASTIC PRACTICES – LECTIO DIVINA – There are six movements: LECTIO DIVINA (HOLY READING), MEDITATIO (REFLECTING ON THE TEXT), ORATIO (PRAYER), CONTEMPLATIO (CONTEMPLATION), EVANGELIZATIO (LIVED RESPONSE) and RUMINATIO (CARRYING THE WORD).
Meditation for the 2nd Sunday Ordinary Time – On the threshold of His public life Jesus performs his first sign—at his mother's request—during a wedding feast.  The Church attaches great importance to Jesus presence at the wedding at Cana.  She sees in it the confirmation of the goodness of marriage and the proclamation that therefore marriage will be an efficacious sign of Christ's presence. (CCC 1613)
1st Reading:   Isaiah 62:1-5:  The bridegroom rejoices in his bride.
Responsory:   Psalm 96: 1-3, 7-10:  Proclaim his marvelous deeds to all the nations.
2nd Reading:    1 Corinthians 12:4-11: One and the same Spirit distributing them individually to each person as he wishes.
Gospel: John 2:1-11: Jesus did this as the beginning of his signs at Cana in Galilee.
The miracle of Cana and the fulfilling of God's Promise!  All of our readings are filled with Joy, Love, Acceptance and Promise.  Our 1st reading from Isaiah, uses the language of courtship and betrothal to show us that God truly rejoices in each one of us. Because of the Father's love, He sends Jesus to take on our humanity and show us by Word and example, how to live our lives.
St. Paul in our 2nd reading tells us of the gifts or Wisdom, Faith, Knowledge, Prophesy, Healing, etc. that God sends to help us to live this precious gift of LIFE.
Our Gospel todays spells out for us God's abundant love for us.  After Joseph's death, we know that Jesus began His Public Ministry.  Nazareth was a simple village in Galilee and Cana was less than a day's walk away.  Most likely Mary and Jesus were either relatives or friends of the wedding couple.  Mary would have been helping with the preparations and most likely noticed the dwindling supply of wine.  Perhaps there more guests than expected and Mary foresees the embarrassment on the horizon
Mary, knowing full well who Jesus was, her Son and her Lord, and naturally, knowing His heart, she would turn to Him for help.  Remember Mary is a "Mother", attentive to all our needs.  Pope St. John Paul II tells us," The prayers of saints are the prayers of servants.  Mary's prayers are those of a mother.  As Jesus love for His Mother is limitless, she cannot ask for anything without being heard, above all Mary's heart, which never fails to have pity on the unfortunate, impelled her to take upon herself the task of intercessor before her Son, though nobody asked her to."  Mary is truly the "Virgin most powerful".
Have you noticed that St. John, in his Gospel only calls Mary, "Mother of God" twice, at the beginning of His ministry at Cana, and at the end of His public ministry at the crucifixion.  It would seem that Mary accompanied Jesus throughout His public ministry.  There is a mediation.  Mary places herself between Jesus and mankind as "Mediatrix".
His mother said, "Do whatever He tells you".  The servants obeyed Mary and filled these 6 jars right up to the brim. Do I do my work as promptly and efficiently so that Jesus can work His miracles through my obedience?  I must not allow myself, through laziness, impatience or routine to half-fulfill my duties or my work.
Can you imagine the joy of those servants when they tasted the water turned to wine?  St. John is emphasizing the 6 jars of 20 to 30 gallons each, that 120 to 180 gallons of wine.  Like the feeding of 5,000, St. John is showing that Jesus gifts are abundant and in the same way God always give me more and better than I deserve.
It is the Joy, Love and Intimacy that God wants to share with each and every one of us!
May God bless you abundantly in this New beginning of Ordinary Time and may we truly recognize the greatness of the love of our dearest Mother Mary.   SM