November 29, 2020 –  FIRST SUNDAY OF ADVENT – In Mass readings:  Is 63: 16b-17, 19b, 64: 2b-7; Ps 80: 2- 3, 15-16, 18-19; 1Cor 1: 3-9; Mk 13: 33-37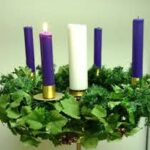 We've heard expressions such as:  Watch TV, watch U-Tube, watch it, watch what you are doing.  In today's reading for the 1st Sunday of Advent, we read, "Watch!"  In other words, its not time for our souls to sleep but to wait for the return of Jesus Christ as He goes on to say that not a single stone will be left of the Temple.  They ask Jesus when this will happen; but Jesus replies, "…As for that day or hour, nobody knows it, neither the angels in heaven, nor the nor the  Son; no one but the Father" (Mk 13:32).  So, how are we asleep or how do we watch?  Let us think about the word "Watch," and go deep into our hearts for that meaning in our lives.  May this Advent be a special one, a joyful time to watch how we have faith and hope.  God bless you, SK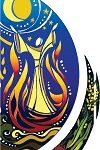 The Benedictine Nuns of Jamberoo are now offering online retreats.  – Register for a retreat if you would like to know more about living the Benedictine Promises in the world today.  These will be your leading strings of love during the retreat.  St Antonia osb will guide you throughout the retreat. Retreat begins: 3 Jan 2021 and goes for 40-days.  (just click on retreat)
The Rosary is to help us recall the main events in the history of our salvation!   

A SPECIAL GIFT FOR CHRISTMAS  – Large handmade wooden Rosary made by our Novice, Sister Elizabeth.  Extra Large 36" with big beads, natural wood, with cross measuring 4" x 3 ¾".  Rosary Center is a silver medal of St. Benedict of Nursia. Limited amount in stock:  10 each of Dark Brown or Light Brown.   FREE SHIPPING. 
Place your order by clicking on CONTACT US, then KEEP IN TOUCH.  Thank you.
"Be watchful! Be alert! You do not know when the time will come." (Mark 13:33) Dear Friends,  Advent begins this year on November 29, 2020, three days after the Holyday of Thanksgiving.  How prepared are we to receive this year's message of faith, and the coming of God's Son to earth?  Amidst all the world news this past year, there is hope.  One young boy, CARLO ACUTIS (May 3, 1991 –  October 12, 2006), lived his faith and love and is an inspiration to everyone.  On October 10, 2020, Pope Francis Beatified young Carlo, age 15.  Known as a "computer geek," he had a passion and skill with computers.  He created a website dedicated to cataloguing reported Eucharistic miracles and evangelized on the Internet.  Carlo was noted for his profound devotion to the Holy Eucharist, the main goal of his life.  His favorite saints included Tarcisius (early Christian martyr), St. Francis of Assisi, Saints Francisco and Jacinta Marto, Dominic Savio, and St. Bernadette Soubirous.  When young Carlo contacted leukemia, he had asked his parents to go on pilgrimages to actually see the sites of the Eucharistic miracles, but as his health worsened, this never happened.  As he wished he is buried in Assisi, his favorite city.   This young boy, Carlo, is an inspiration of hope!  We have a modern-day example of being watchful to kindness, prayer and especially the gift of the Holy Eucharist and we have a modern-day ideal of encouragement in our faith, especially for our youth to aspire.  – Here at the Monastery, we will begin our Advent season by lighting a purple candle.  We prepare for Christ's coming, but what do we watch for?  Do we watch all those U-Tube and TV programs that will come to view? Watch for those Christmas party invitations?  It is up to the individual, but spiritually we watch for the love that we can show to others, watching how we act or react to others, watch how we guard our faith. – This past year, we lost family members:  Sister Frances' father and Sister Kateri's mom, both died of natural causes.  – On the feast of St. Joseph in May, we welcomed back, Marissa.  She was with us twenty years ago in Santa Cruz and Abiquiu, NM.  Our workers, Ernest and Tommy are diligently working on completing our newer Chapel of St. Joseph.  We thank you and all the volunteers who have assisted us and those who donated groceries this past year, helping us in so many ways.  The sisters pray and ask God to bless you and your loved ones with His peace.  Advent prayer from the Book of Proverbs 3:5-6, "Trust in the Lord with all our heart, on your own intelligence do not rely.  In all your ways be mindful of Him, and He will make straight your paths."  From the community in Gobernador, New Mexico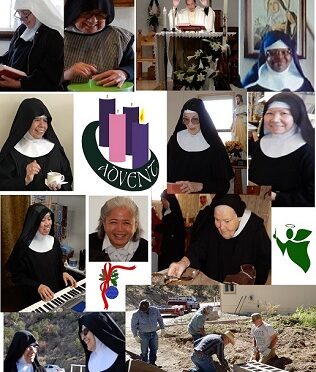 Chaplain

– We are pleased to have Fr. Benedict from the Monastery of Christ in the Desert with us as our Chaplain.  He has been very helpful in so many ways and has the time to give us classes on Church dogmas.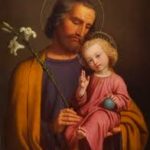 Oh, St. Joseph, whose protection is so great, so strong, so prompt before the throne of God. We place in you all our interests and desires.  Heal those who are sick with the Covid-19 virus. Oh, St. Joseph, do assist us by your powerful intercession, and obtain for us from your divine Son all spiritual blessings, and good health through Jesus Christ, Our Lord and Savior.  Having engaged here below your heavenly power, we may offer our thanksgiving and homage to the most loving of Fathers. AMEN.
Pope Frances Prayer Intention for December 2020:  For a Life of Prayer
We pray that our personal relationship with Jesus Christ be nourished by the Word of God and a life of prayer.
MISSION STATEMENT – The Monastery of Our Lady of the Desert is a monastic community of women in the Benedictine tradition.  We profess vows of stability, conversion of life and obedience.  Our primary mission,  is to seek God through a life of prayer, silence and solitude.  Our way of life frees us to give glory and praise to God, intercede through prayer for the needs of the world and hospitality.