July 19, 2021 – 16th Sunday in Ordinary Time Jer 23: 1-6; Ps 23: 1-3, 3-4, 5,6; Eph 2: 13-18; Mk 6: 30-34 – In the 1st Reading, speaking through Jeremiah, the Lord declares:  "I myself will gather the remnant of my flock from all the lands."  This is fulfilled in Jesus, who isn't simply "moved with pity for …sheep without a Shepherd," but gives his very life to reconcile the human race.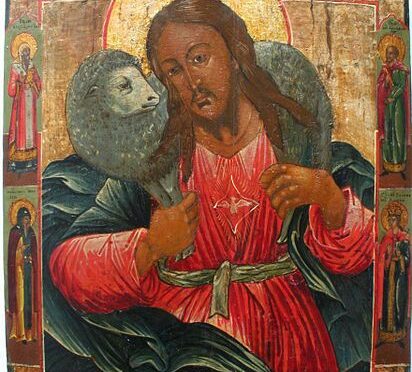 "The Lord is my Shepherd; there is nothing I shall want."  Do I honestly believe that?  Do I know that God's grace is sufficient in my life?  We ask the Good Shepherd to watch over you and your loved ones with continued faith and love.  God bless you, SK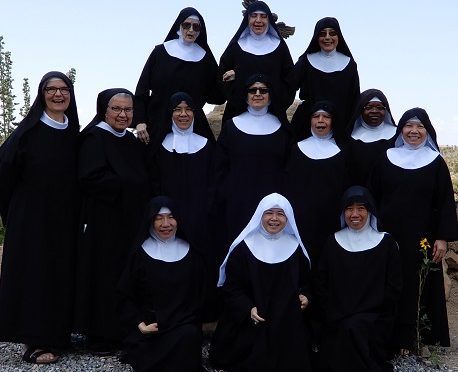 Recent picture taken during our Canonical Visitation July 12-15, 2021.  Note Mother Mary Elizabeth and Sister Ancilla, our Visitors.  Thank you for all your prayers.  All went well during the Visitation and we got a positive report.  There are a few things we need to polish up, but we are very grateful.  
"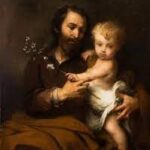 St. Joseph – On the solemnity of the Immaculate Conception of the Blessed Virgin Mary, Dec. 8, 2020, Pope Francis issued an apostolic letter, for the 150th  anniversary of the declaration of St. Joseph as patron of the universal Church. To mark the occasion, the pope proclaimed a year dedicated to Mary's husband, Joseph, foster father to Jesus.  The special "Year of St. Joseph" will be held through Dec. 8, 2021  Oh, St. Joseph, whose protection is so great, so strong, so prompt before the throne of God. We place in you all our interests and desires.  Heal those who are sick with the Covid-19 virus. Oh, St. Joseph, do assist us by your powerful intercession, and obtain for us from your divine Son all spiritual blessings, and good health through Jesus Christ, Our Lord and Savior.  Having engaged here below your heavenly power, we may offer our thanksgiving and homage to the most loving of Fathers. AMEN.       
Pope Frances Prayer Intention for JULY 2021 – Social Friendship
We pray that, in social, economic and political situations of conflict, we may be courageous and passionate architects of dialogue and friendship.
From Vatican City, October 23, 2020, the Monastery of Our Lady of the Desert became independent.  We want to thank Father Phillip Lawrence, Mother Hilda Scott, Mother Mary Barnes, and Mother Benedicta Phillips, and all the sisters of Jamberoo Abbey, for their support in assisting us with this transfer of a dependent monastery to a new independent monastery, working on this since 1990!  We will continue to learn more about Federations, Congregations, Constitutions, etc.  This is a big step in our history and thanks to God, for all the efforts of the Congregation for Institutes of Consecrated Life.  Please pray for us!
MISSION STATEMENT – The Monastery of Our Lady of the Desert is a monastic community of women in the Benedictine tradition.  We profess vows of stability, conversion of life and obedience.  Our primary mission,  is to seek God through a life of prayer, silence and solitude.  Our way of life frees us to give glory and praise to God, intercede through prayer for the needs of the world and hospitality.