January 17, 2021, SECOND SUNDAY IN ORDINARY TIME – READINGS:  1Sm 3: 3b-10, 19; Ps 40:2,4, 7-8, 8-9, 10; 1Cor 6: 13c-15a, 17-20; Jn 1: 35-42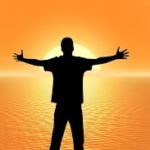 "Jesus turned around, saw them following and said, 'What do you want?'"  These words struck me in that Jesus gives the freedom and not a command to respond.  The disciples already knew he was a Teacher, the Messiah, the Rabbi, but how?  They had heard from John who said, "Look,  there is the Lamb of God," which represented the salvation for sinners by faith in Christ, who invites each of us to follow Him through our faith, our hope and our love.  We ask God to bless you with peace and continued good health.  SK 
On the solemnity of the Immaculate Conception of the Blessed Virgin Mary Dec. 8, 2020, Pope Francis issued an apostolic letter, for the 150th      anniversary of the declaration of St. Joseph as patron of the universal Church. To mark the occasion, the pope proclaimed a year dedicated to Mary's husband, Joseph, foster father to Jesus. The special "Year of St. Joseph" will be held through Dec. 8, 2021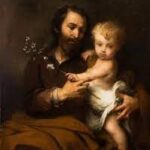 Oh, St. Joseph, whose protection is so great, so strong, so prompt before the throne of God. We place in you all our interests and desires.  Heal those who are sick with the Covid-19 virus. Oh, St. Joseph, do assist us by your powerful intercession, and obtain for us from your divine Son all spiritual blessings, and good health through Jesus Christ, Our Lord and Savior.  Having engaged here below your heavenly power, we may offer our thanksgiving and homage to the most loving of Fathers. AMEN.    [Details of painting: By Bartolomé Esteban Murillo – https://emuseum.ringling.org/emuseum/objects/20684/saint-joseph-and-the-christ-child?ctx=d3e14140-9dd0-4319-babf-181345c50903&idx=1, Public Domain, https://commons.wikimedia.org/w/index.php?curid=84297244]                         
Pope Frances Prayer Intention for January 2021 – Intention for evangelization – Human fraternity.  May the Lord give us the grace to live in full fellowship with our brothers and sisters of other religions, praying for one another, open to all.
From Vatican City, October 23, 2020, the Monastery of Our Lady of the Desert became independent.  We want to thank Father Phillip Lawrence, Mother Hilda Scott, Mother Mary Barnes, and Mother Benedicta Phillips, and all the sisters of Jamberoo Abbey, for their support in assisting us with this transfer to a new Monastery, working on this since 1990!  We will continue to learn more about Federations, Congregations, Constitutions, etc.  This is a big step in our history and thanks to God, for all the efforts of the Congregation for Institutes of Consecrated Life.  Please pray for us!
MISSION STATEMENT – The Monastery of Our Lady of the Desert is a monastic community of women in the Benedictine tradition.  We profess vows of stability, conversion of life and obedience.  Our primary mission,  is to seek God through a life of prayer, silence and solitude.  Our way of life frees us to give glory and praise to God, intercede through prayer for the needs of the world and hospitality.