CLOTHING OF MARISSA FLORO – APRIL 30, 2021 – Sister Hilda, our Prioress Hilda asks Marissa, "What is your request?"  Marissa answers, "The mercy of God and the sharing in your monastic life."  Sister Hilda presents the Rule of St. Benedict, and asks God to bring to completion what He has begun in Marissa.  The Scapular and the Veil are blessed by Fr. Philip Lawrence, OSB, Abbot Emeritus, Monastery of Christ in the Desert.  Marissa receives the name of Sister Scholastica and will be a Novice for two years.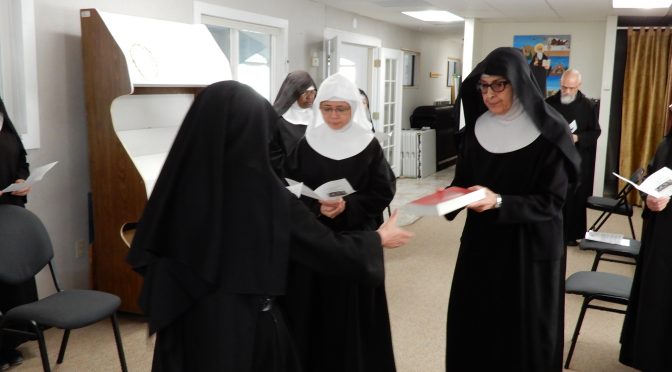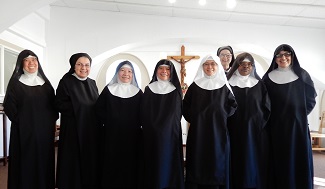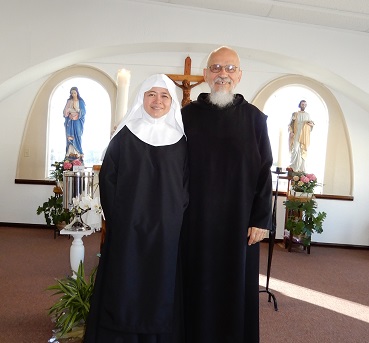 MAY 2, 2021 – FIFTH SUNDAY OF EASTER, Readings:  Acts 9: 26-31; Ps 22: 26-27, 28,30, 31-32; 1Jn 3: 18-24; Jn 15: 1-8 –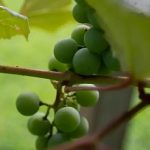 The true vine is Jesus, who brings forth good wine, good fruit.  We are the branches and must be united to the true vine of Jesus so that we do not die but bear fruit.  The pruning of course is necessary for good grape vines, good purification on our part.  Jesus says, "Ask for whatever you want, and it will be done for you."  This is made to those who remain with Jesus, united with him as the branches on a vine. God bless you!  SK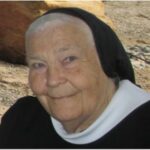 TRIBUTE TO SISTER JULIANNE – Our Sister Julianne Allen, O.S.B., 89 years of age, died unexpectedly, but peacefully and gently at the monastery on Friday March 12, at 11:30 am.  A private Rosary and Mass were celebrated on March 16-17, 2021.  – Before entering the Monastery of Our Lady of the Desert, our Sister Julianne was a member of the Sister of Saint Mary of Namur where she taught Math and Science in Wichita Falls, TX, 1957 to 1961. She also taught mathematics for 20 years at Bishop Dunne High School and 2 years at Dallas College El Centro Campus (formerly El Centro College).  We recall her tale when she was a Principal of a school, how she would enter the auditorium of many noisy high school students, go up to the podium and as she proudly looked at all the students with her Texas blue-eyes, all the students would hush! 
It was in the 1970's that Sr. Julianne began to hear God's call to a more contemplative spirituality. She had learned to weave and became a master weaver. She began spending summers as Directress of the Guesthouse at Christ the Desert Monastery, in the Chama River canyon in New Mexico.  Then, in 2005 she transferred her vows with three other sisters who made their final Profession to God and the Monastery of our Lady of the Desert.  As our Founding Mother and appointed Prioress, she used to say, "In the Monastery you don't choose your sisters, God does, and He chooses the sisters you need to make you holy." Her favorite model of contemplative life was Julian of Norwich, an English anchorite and mystic. 
A few notes from our Retired Prioress, Sister Benedicta:  "Over the years I learned so much from her mainly how to live our monastic life to the fullest and one of Sister Julianne's favorite sayings was, "To do my heavenly Fathers will." Not always an easy thing to do.   Early in my monastic life Sister Julianne had a favorite question she would ask me, "Why are you doing that?" when she suspected my motives from cooking to the way I dressed or whatever was not based on monastic tradition, or how the monks of Christ in the Desert did it!  (At that time, we were living on the property of Christ in the Desert, Abiquiu, NM).  One day I got so frustrated with the Why Question, that I blurted out, "Because the brothers do it that way!" She smiled and I wanted to cry but I did not. With time I heard that question less and less as I was internalizing what it meant to me a Monk!
Another early lesson I learned from Sister Julianne was about obedience. She was given permission from the Superior of her former community, the Sisters of Saint Mary of Namur to help us in our beginnings. At that time, Sister Julianne was the Accountant of the counsel and her Superior was coming to the end of her term and consequently she could not give Sister Julianne permission to leave at that point.  I was the only Oblate Sister of our newly founded community and Sister Julianne had to go back and forth from Texas to New Mexico. One day in frustration I blurted out again to her, "Don't they know I need your help?" Sr Julianne answered, "Sister Benedicta, that's what Obedience means."  – When Sister Julianne was finally able to come and join us, we had many adventures, moving to the monastery of Christ in the Desert, then to Gobernador, New Mexico.  With these two moves Sister Julianne was growing older and it meant stepping down as Prioress, when she retired at age 75 in 2004.  I stepped in as Prioress and Sister Julianne allowed me to take over which she did graciously with no complaints. Eventually, she had to give up driving, that was not easy for her, but she did it with grace. When it came my turn to give up driving, I learned from Sr Julianne how to do it with grace."  Another story is about unconditional love.  Sister Kateri had been asked to take care of her favorite Lab dog, Ninja, while Sister Julianne had to run errands all day.  Sister Julianne had instructed Sister Kateri to feed the dog, let her out of the room.  Sister Kateri remembered when Sister Julianne drove up, which was late afternoon.  Sister Kateri ran to Sister Julianne's room knowing that the dog would bite her since she had forgotten all about the dog.  Well, when Sister Kateri opened the door, Ninja was wagging her tail and licking Sister Kateri's habit in supposedly, job.  S. Kateri mentioned the story a few months later, and Sister Julianne said, "That's a sample of unconditional love."
Of course, everyone knew Sister Julianne was a gourmet cook/chef and baker, but never a dishwasher exclaimed Marissa.  Sister Julianne would ask Marissa to assist S. Julianne with the preparations, especially when she would bake 25 different pies for Thanksgiving Day and for Easter.  Sister Julianne was known to use every mixing bowl and baking pan from the kitchen.  You can imagine the dishwashing sink!  The greatest consolation was that everyone enjoyed her exquisite and delicious pies and cakes.  – There are so many stories to share, but these few show how Sister Julianne taught us life giving values.  We love you dearly Sister Julianne and thank you with all our hearts for all you have given us.
St. Joseph – On the solemnity of the Immaculate Conception of the Blessed Virgin Mary, Dec. 8, 2020, Pope Francis issued an apostolic letter, for the 150th  anniversary of the declaration of St. Joseph as patron of the universal Church. To mark the occasion, the pope proclaimed a year dedicated to Mary's husband, Joseph, foster father to Jesus.
The special "Year of St. Joseph" will be held through Dec. 8, 2021  Oh, St. Joseph, whose protection is so great, so strong, so prompt before the throne of God. We place in you all our interests and desires.  Heal those who are sick with the Covid-19 virus. Oh, St. Joseph, do assist us by your powerful intercession, and obtain for us from your divine Son all spiritual blessings, and good health through Jesus Christ, Our Lord and Savior.  Having engaged here below your heavenly power, we may offer our thanksgiving and homage to the most loving of Fathers. AMEN.                          
Pope Frances Prayer Intention for May 2021 – The World of Finance:  Let us pray that those in charge of finance will work with governments to regulate the financial sphere and protect citizens from its dangers.
From Vatican City, October 23, 2020, the Monastery of Our Lady of the Desert became independent.  We want to thank Father Phillip Lawrence, Mother Hilda Scott, Mother Mary Barnes, and Mother Benedicta Phillips, and all the sisters of Jamberoo Abbey, for their support in assisting us with this transfer of a dependent monastery to a new independent monastery, working on this since 1990!  We will continue to learn more about Federations, Congregations, Constitutions, etc.  This is a big step in our history and thanks to God, for all the efforts of the Congregation for Institutes of Consecrated Life.  Please pray for us!
MISSION STATEMENT – The Monastery of Our Lady of the Desert is a monastic community of women in the Benedictine tradition.  We profess vows of stability, conversion of life and obedience.  Our primary mission,  is to seek God through a life of prayer, silence and solitude.  Our way of life frees us to give glory and praise to God, intercede through prayer for the needs of the world and hospitality.