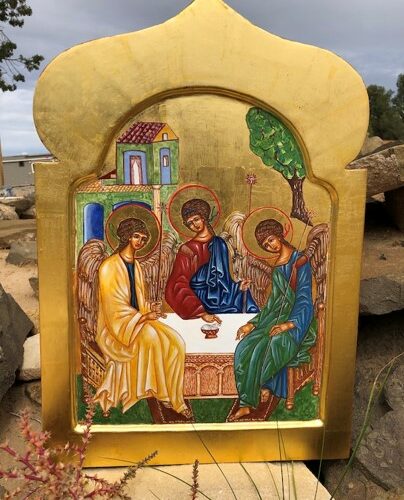 Icon written by Sister Elizabeth T.  
The Solemnity of the Most Holy Trinity – June 4, 2023 – Readings:  Ex.34:4b-6,8-9; Dn 3:52,53,54,55; 2 Cor 13: 11-13; Jn 3:16-18
The Trinity is a mystery of faith.  Mystery is something we do not understand.  But, let us read the words of A letter of St. Athanasius, "Light, radiance and grace are in the Trinity and from the Trinity:  We acknowledge the Trinity, holy and perfect, to consist of the Father, the Son, and the Holy Spirit. In this Trinity there is no intrusion of any alien element or of anything from outside, nor is the Trinity a blend of creative and created being. It is a wholly creative and energizing reality, self-consistent and undivided in its active power, for the Father makes all things through the Word and in the Holy Spirit, and in this way the unity of the holy Trinity is preserved. Accordingly, in the Church, one God is preached, one God who is above all things and through all things and in all things. source: above all things as Father, for he is principle and source; he is through all things through the Word; and he is in all things in the Holy Spirit…"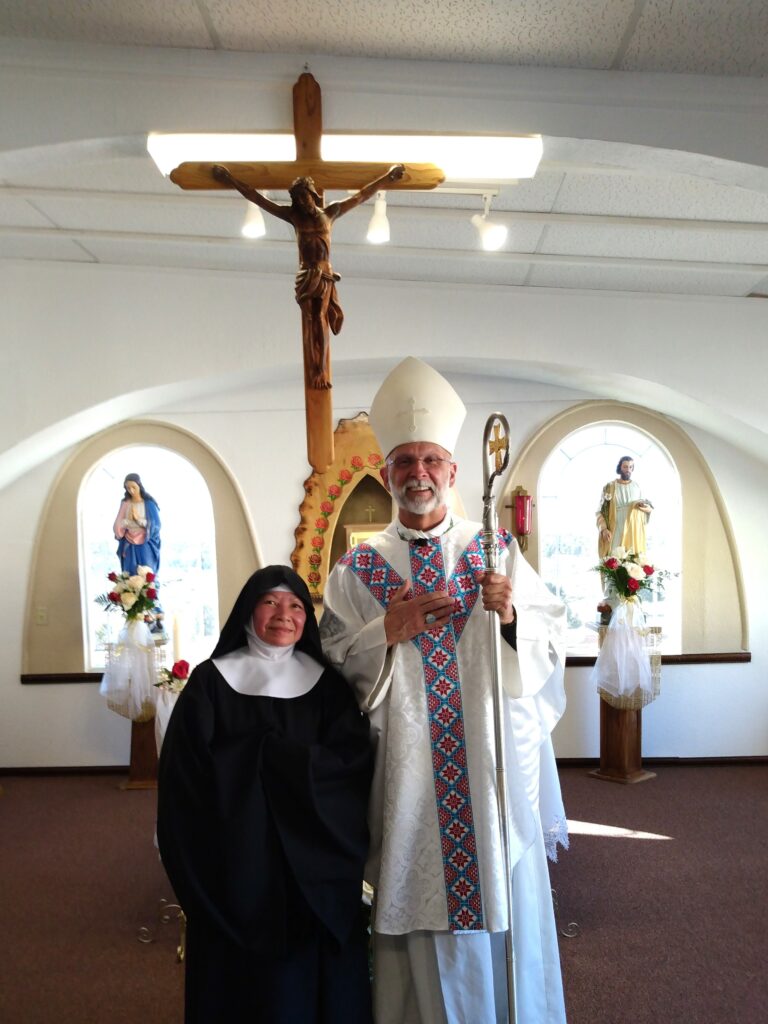 On April 23, 2023, Bishop James S. Wall, Gallup Diocese celebrated the Mass and Rite of Solemn Profession of Sister Maria Mercy.  The Mass included beautiful hymns in Vietnamese. The vow formula that was signed by Sister Mercy, the Prioress and the Bishop states that in response to Christ's call and preferring nothing to His love, promise Stability, Conversion of Life and Obedience according to the Rule of our Holy Father Benedict and the Constitutions of the Monastery of Our Lady of the Desert, Gobernador, New Mexico, until death.  With her whole heart and relying on the grace of the Holy Spirit, the intercession of the Blessed Virgin Mary and the support of my community, she offers herself to God to seek the fullness of love in his service and that of the Church through the ministry of prayer and worship.  Please pray for Sister Mercy and our community for perseverance!  God bless you. SK
Pope Frances Prayer Intention for June 2023 – For the abolition of torture:  We pray that the international community may commit in a concrete way to ensuring the abolition of torture and guarantee support to victims and their families.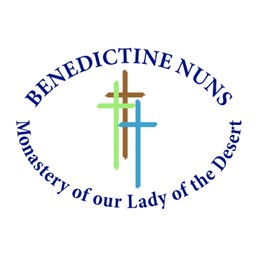 MISSION STATEMENT –The Monastery of Our Lady of the Desert is a monastic community of women in the Benedictine tradition.  We profess vows of stability, conversion of life and obedience. Our primary mission, is to seek God through a life of prayer, silence and solitude.  Our way of life frees us to give glory and praise to God, intercede through prayer for the needs of the world and hospitality.