Monastery of Our Lady of the Desert – ST. BENEDICT PRAY FOR US! – Before all things and above all things, care must be taken of the sick, so that they will be served as if they were Christ in person; for He Himself said, I was sick, and you visited me (Matt 25:36), and, What you did for one these least ones, you did for me (Matt 25:40). But let the sick on their part consider that they are being served for the honor of God and let them not annoy their brethren who are serving them by their unnecessary demands. Yet they should be patiently borne with, because from such as these is gained a more abundant reward. Therefore, the Abbot shall ask that they suffer no neglect. (Rule of St. Benedict, Chapter 36: On the Sick Brethren)
FROM OUR PRIORESS
Dear Friends, I am sending you a heart full of gratitude for the support, prayers, and donations you have given us during this difficult time of illnesses. Most of us now have had Covid. Some of the sisters had complicated health issues, but thanks be to God, we are all alive.
Good health is a gift from God. Most of the time when we are well, we do not think much about it, until we realize that something is not working. Thanks to the physicians who help us find ways to improve our well-being.
I also want you to know that we try to be faithful to our monastic way of life here in the desert of New Mexico, ora et labora, pray and work is what we do day in and day out.
Know that our prayers are with you. Your sister in Christ, Prioress Hilda Tuyuc, OSB
GOD WRITES IN CROOKED LINES – All our sisters were so "happy" to share that the Covid virus had left us! Five of the sisters (Sister Mary and those in junior formation) went for one week to St. John's University, in Minnesota for the 33rd Monastic Institute – School of Theology and Seminary, which was well attended after a three-year hiatus. They wore face masks and were careful with handwashing, etc.
The presenters did an excellent job who included Father Michael Casey, from Australia, Father Luke Dysinger, from the United States and Sister Manuela Scheiba, from Germany. They were the most in-depth presenters about humility from the Rule of St. Benedict. Here are a few quotes from the presenters:
Father Michael Casey, OCSO: The significance of the experience of conversion is that it allows us to come under the influence of the spiritual world – an objective reality that is not self, to which we feel drawn or obliged to conform ourselves. It is a turning away from self… The displacement of the ego from the center of 'our' universe leads us to assign only relative value to our beliefs, opinions, and values to become somewhat open to alternative ways of viewing the world and interacting with it, which makes us somewhat cautious in following our instinctive choices.
Sister Manuela Scheiba, OSB: A lack of humility can be destructive; …Not listening to the envious comments of others – we are truly open to others when we have the strength to listen; listening is not the dead time between my own opinions, requires patience, self-control; being aware of who we truly are; speaking less and listening more.
Father Luke Dysinger, OSB, MD: In ancient history humility was considered a vice, one was considered insignificant, lowly, a slave, a lack of freedom. There was no indication of it as virtue, yet we look at the last meeting of Benedict with his sister Scholastica in the early 6th century and we can't help but be intrigued and drawn to the love of Scholastica for her brother. – Fr. Luke sees this as a mystical happening in the humble soul of Saint Scholastica. She was a woman in continuous conversation with God focused on God.
Humility is seen as a balance between self-centeredness and it's opposite of low self-esteem. Humility is an accurate assessment of one's abilities and limitations and a way of keeping oneself in reality. Theologically, it keeps us open to the possibilities of Heaven; we need to be open and accepting of God's graces. Humility helps us to be more aware of the excellence of others. If we look to the Gospels and Epistles, we find Jesus was perfectly humble to God the Father even to death on the cross.
The sisters had a rather difficult trip back to the monastery with delayed flights but were delighted to sleep in their own beds and were ready to share the new knowledge in the morning. However, the crooked lines of humility registered quickly. Sunday morning, one sister tested positive with Covid, two days later another tested positive, then another and another, etc. Altogether seven sisters came down with Covid. Thanks be to God all have recovered. So much for "pride" in having avoided Covid!
AMBULATORY – In our Newsletter of November 2021, we mentioned that an Ambulatory was needed from the former small Chapel (now called St. Michael's) to the St. Joseph Chapel for Mass and the Divine Office, which is about an 80-foot walk. We thought it was going to be an easy project, but it has taken the effort of getting permits and getting the materials and following the approved schematic drawings.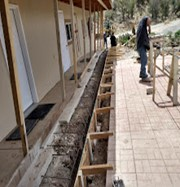 The construction has been coming along with the help of Steve Perez, Ernest Valencia, and all the workers, who hope to finalize the project before winter sets in or at least the sidewalk and the walls since we have 40 more feet to go. Thank you all for your support in making this possible! We have had to close our Guesthouse due to the hazardous areas.
SYNOD – https://www.synod.va/en.html Ten sisters were very happy to spend a day in Gallup with Bishop James Wall and religious sisters of the Gallup Diocese, December 2021, to share the celebration of Mass and to hear Bishop James give a report of the Ordinary General Assembly of the Bishops in October 2021.
We also had the opportunity of coming to gether into groups with appointed Facilitator and Scribe with a follow-up conference on "Synodality" in March. Questions included: "Everyone walks together and how do we do that?" Also, "We need to foster faith within community families and how can we preach the Gospel of Christ's LOVE and message?"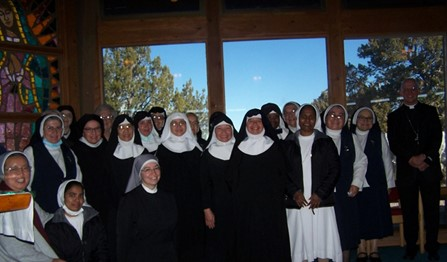 Sister Scholastica said, "All are welcomed! We try to accommodate others by nourishing ourselves with ongoing formation, be updated and keep abreast on current issues that we may be able to relate and impart the Gospel better." She also mentioned about her former experiences with Apostolic work in a parish, that it seemed "converts" and "reverts" are more enthusiastic in living the Catholic faith. "We are living witnesses of Christ's love to all."
EDUCATION – We are pleased to announce that Sister Stephen has been awarded a scholarship to attend Assumption College for Sisters (ACS) run by the Sisters of Christian Charity, "ACS offers a two-year, integrated program of liberal arts and theological study in addition to a year of ESL and computer studies for our international students. Each year ACS offers 20 full scholarships to Sisters from developing nations located in Africa, Asia, and Central America." Wishing you success and a blessed journey, Sister Stephen! Assumption College for Sisters motto: "Teach a Sister…Touch the World"
Group of new sisters who will be joining Sister Stephen this fall semester.
CONTINUING EDUCATION – ­­­­­­­ Sister Elizabeth spends part of her monastic day studying for a master's degree in Theology through the online degree program at St. Leo University with the unpaid expense of $26k. One of her classes is titled, "Philosophical Foundation of Theology and Christian Scriptures." Sister Elizabeth said, "When I received my first assignment in Christian Scriptures, I thought it was strange: Read the Gospel passage of your choice and write one page using your academic knowledge. What was strange for me at that point was the "academic knowledge." What is it about the Gospel that is called academic?" Is it not the same as what I have been doing in the monastery with Lectio Divina? The next few days, I received a comment from my professor and posted to all students: "Sister Elizabeth Tran has introduced a new way of reading the Gospel, but it is not what I want." I was so disappointed, but I am happy to know that there are other ways to receive the new type of food for my spiritual life. I love God in both of my human capacities: heart and mind. Please accept my heartfelt gratitude for all your faithful support and love for our monastery. May God bless you with the graces and blessings you need, especially the urgent ones for your loved ones."
Through a US Federal Pell Grant, Sister Kateri is an on-line student at the University of New Mexico. She is working on a Bachelor of Arts in Liberal Arts. One of the upcoming classes for the Fall semester is "The Bible as Literature," studying the literary aspects of the OT and NT.
Thanks to technology Sister Kateri likes to interact on-line with the professors and students, which she finds more creative rather than being in a physical classroom. Of course, with Zoom chat, Sister Kateri is also able to have a one-on-one conversation with the professors.
SAINT KATERI COLLEGE – We would like to thank Dr. John Freeh for the times he has spent in teaching our sisters English, who are from different countries outside the USA. Please pray for him and his wife, Helen, who are founding a new college in the Diocese of Gallup, welcoming students in the Fall of 2024. Kateri College of the Liberal and Practical Arts is a faithful, independent Catholic school that exists to provide a four-year education which unites the liberal and practical arts. As noted in a brochure, "Our mission is to help our graduates understand, in St. John Henry Newman's words, God has created them 'for some definite service for which He has not created another.'" For more information, and support, please visit: http://www.katericollege.org
THIS AND THAT– In February 2022, our community received its first Oblate candidate, Sadie. Sister Mary is working with her as she prepares for the different stages, now going over Liturgy and the Rule of St. Benedict.
Our novice, Sister Scholastica, has an emergency stent procedure due to a heart attack in April 2022. Thanks to the people who assisted her at the San Juan Regional Medical Center, also during her 12-week cardiac rehabilitation therapies and the accommodations at the Connelly Hospitality House in Farmington, NM. She is back in the monastery full time.
Sister Lizabeth had a mild stroke early August 2022. Fortunately, Sister Mary was able to rush her to the San Juan Regional Medical Center in Farmington, NM, where she was given immediate attention and medication that reversed the stroke. She is currently receiving physical therapies at the San Juan Rehabilitation Hospital. Gradually, she is progressing. – Sister Frances is still in Vietnam taking care of her mother and aunt. Sister Agnes Le is seeking the life of a hermit. God willing, we will receive a woman from Kenya, Irene Olotch, who will be with us sometime before the end of this year.
Please pray for our upcoming retreat October 23-29, 2022. Each year, we have someone give us a retreat and it is a time of spiritual rest and deeper awareness of God's presence. The conferences will be given by Father Francis Benedict, OSB, from St. Andrews Abbey in Valyermo, CA.
REMEMBERING OUR FRIEND – Sister Sara Marie Gomez, 78, an Ursuline Sister of Mount Saint Joseph, died July 24, 2022, at Mount Saint Joseph, in her 60th year of religious life. She was a native of Gobernador, New Mexico. Sister Sara Marie was the epitome of hospitality and loved to share her southwestern cooking. She spent 36 years serving in New Mexico and was the last Ursuline Sister to serve there after 100 years of community educators. It is remembered that Sister Sara had "invited an old man who had no family to join (them) at the convent for Thanksgiving dinner; the old man was so grateful that he brought a bottle of homemade dandelion wine as a gift. It pretty much tasted like diesel fuel (she said). But Sara Marie, in her diplomatic and hospitable manner, said, 'This wine is so special that we'll save the rest of the bottle for future special occasions!" https://ursulinesmsj.org/sister-sara-marie-gomez-osu-aug-31-1943-july-24-2022/
On September 14, 2022, is the Exaltation of the Holy Cross, honoring the finding of the true cross by Emperor Constantine's mother, Helen, in 335. Most of all we celebrate Christ's victory over death by his Cross and Resurrection. "We adore you O Christ, and we bless you, because by your Cross you have redeemed the world."