Dear Friends,
PAX CHRISTI. On behalf of all the sisters of the Monastery of Our Lady of the Desert, we are grateful and appreciate all of you who support our community in so many ways. To mention a few:
Those who hold us in prayer
The many visitors and guests
Our neighbors
Those who ask for prayers by telephone or via Internet
For those who gift us with food and flowers
Those who maintain our garbage bins
For those who fill our propane tanks
The volunteers who always help us with a smile
The physicians volunteer their service
US Post Offices
The workers who help keep up the maintenance of our buildings         For the many gift donations
For those who forgive us for whatever wrong we do
To those who encourage us in our monastic way of life
We ask God to bless all our Chaplains.  During the upcoming Holy Days of November and December, we hold you and your dear ones in our prayers. "May the God of hope fill you with all joy and peace as you trust in Him, so that you may overflow with hope by the power of the Holy Spirit." (Romans 15:13)                                                                                                                                                         Thank you and God bless you!
Sister Hilda Tuyuc, OSB, Prioress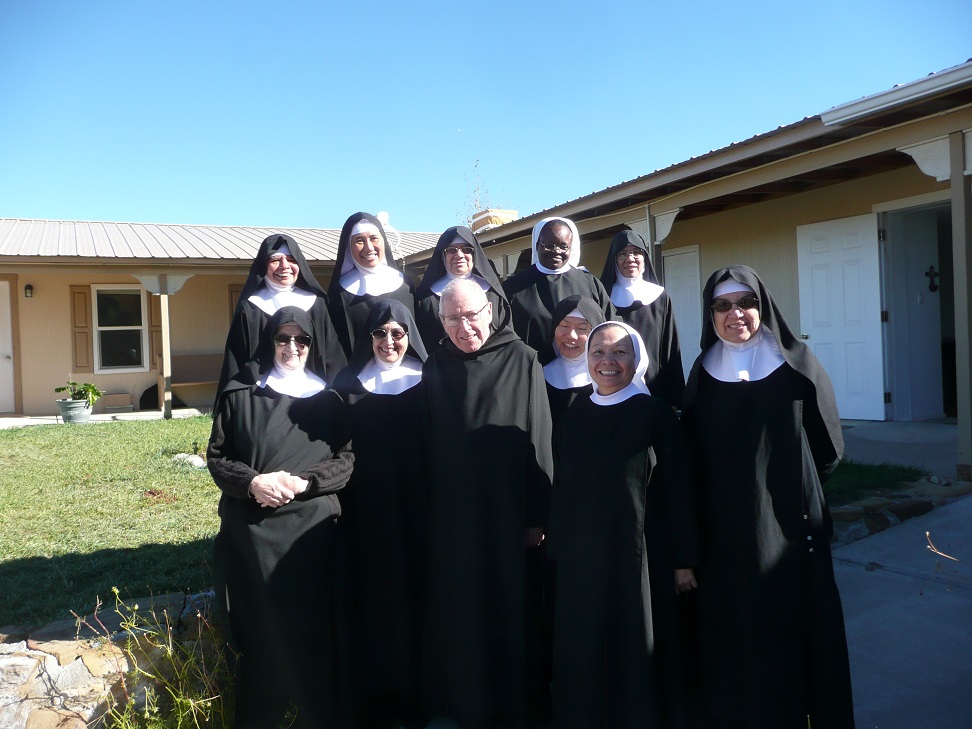 This past week, October 1-7, 2017,  our community has been on retreat with Fr. Caedman Holmes, from the Monastery of Christ in the Desert.  He has given us talks on the Little Way of St. Therese of Lisieux.   From her words, "I feel that my mission is only beginning; my mission to make the good God loved as I love Him, to give my little way to souls."  God bless you!  SK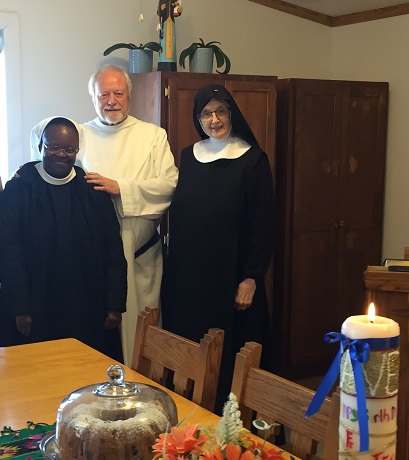 Father Stanley Rother, the Oklahoma-born martyr who served as a priest in Guatemala, was Beatified in Oklahoma City on September 23, 2017.  Our Prioress Hilda and Sister Kateri were blessed to attend the Beatification accompanied by Fr. Josh Mayer, Pastor of St. Mary's/St. Rose of Lima Parishes.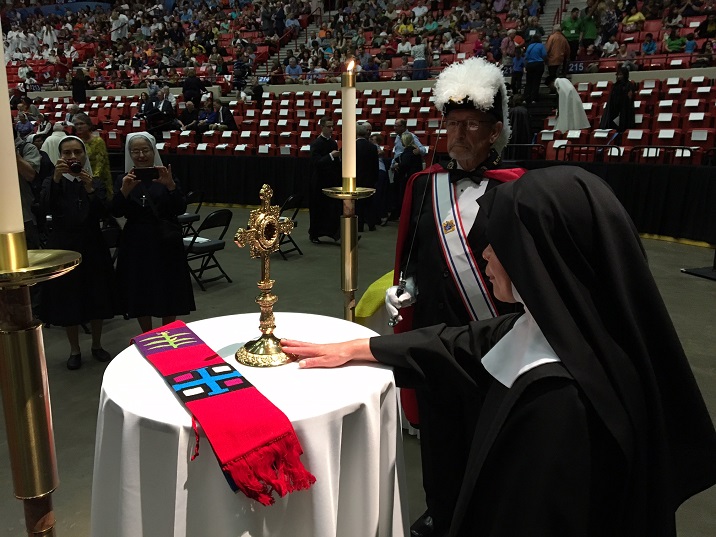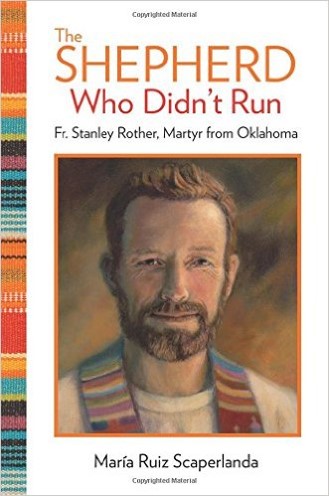 "In early 1981, his name was on a death list, so he returned to Oklahoma and was warned not to go back to Guatemala.  But he could not abandon his people so he went back, and made the ultimate sacrifice for his faith."  You might want to read more about Blessed Father Stanley Rother 
NEWSLETTER – SEPTEMBER 2017 "Let us then pursue what leads to peace and to building up one another."  In this quote from Romans 14, verse 19, we internalize ways of being in harmony with the other, trying to see the good in the other, seeing the ways that we can help the other.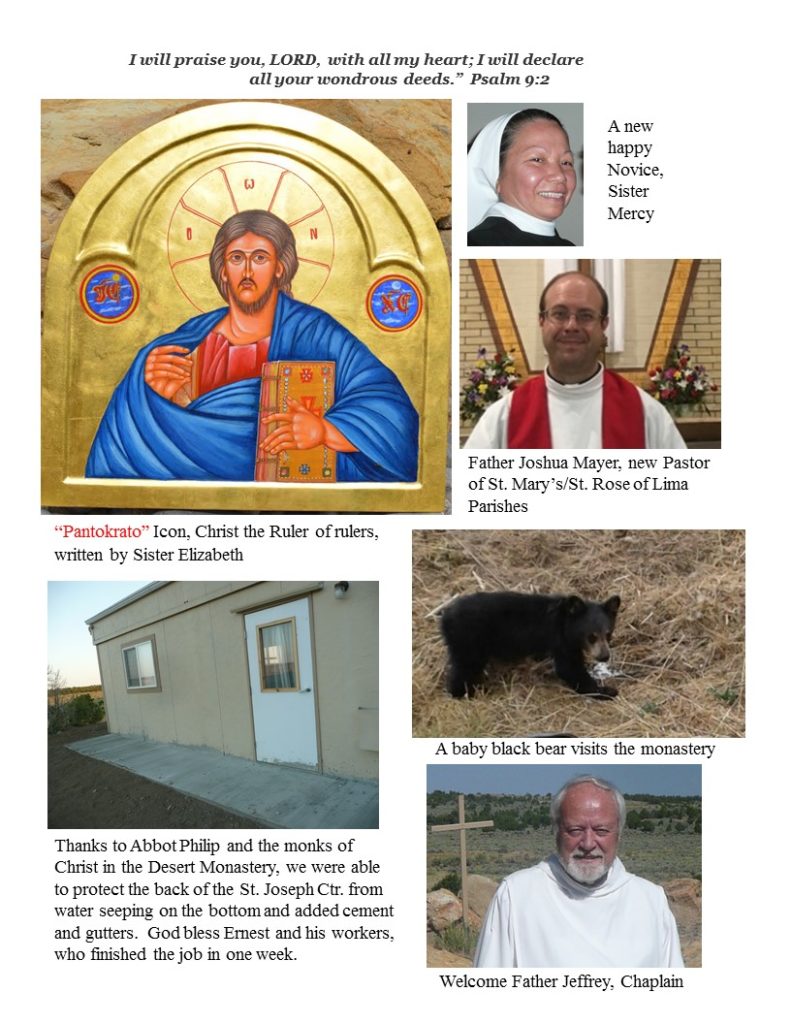 We give thanks to God for all His graces and gifts, and ask Our Lord to continue giving you peace and good health.  We appreciate all the prayer requests that come through our website.
St. Rose of Lima Fiesta, August 20, 2017 – Sister Mercy and Sister Kateri went to the Fiesta Mass, followed by a beautiful procession, lunch, auction, various activities, and a special Raffle drawing (proceeds going to our monastery).  We are grateful to Father Jim Walker, retired Pastor, and all the parishioners of St. Mary and St. Rose of Lima Parishes, who kindly sponsored the Raffle: "Northeast Shrines and Canada Tour Package for two, October 9-17, 2017, a nine-day North American tour from Washington, D.C, to Montreal and Toronto, then to Niagra Falls…"   The winner of the Raffle went to someone in La Vita, New Mexico.   Thank you for all who participated!  They raised a total of $7,213.00.  We hope to put up a porch in the St. Walburga modular building.
August 16, 2017, Sister Mary Fisher drove to Albuquerque, to pick up our Chaplain, Father Jeffrey Steele, traveling from St. Benedict's Abbey, in South Africa.  We are happy to welcome him again, as he was with us before from April-June 2016.  He recently had a bout with vertigo, but he is doing much better.
On July 10, 2017, we formally received Sister Mercy Hoang, into the Novitiate, for one year of canonical study.  We opened the celebration with a prayer to St. Benedict.  Sister Mercy received the white veil and we asked for the mercy of God in the sharing of our monastic way of life.  – Prioress Hilda had surgery to remove the fibroid tumors, July 5th.  She is progressing very well, but still needs to rest often.  God willing, she will visit her family in Guatemala, in November.  According to our Customary, the sisters can visit their families for one month every three years.  – Sister Benedicta is currently doing much better with medication to help stabilize her condition; the sisters take turns in helping her with appointments, medications, etc.  – We ask your prayers for Sister Julianne who will have out-patient surgery to correct the carpel tunnel syndrome of her right wrist.  In October, she will be giving a workshop to some of the parishioners of St. Mary's Parish, Farmington, NM. – Sister Mary will be doing a private retreat for eight days at the St. Andrews Abbey, in Valyermo, California.  From August 13-23, 2017, Sister Stephen Phiri had the opportunity of being a guest of the St. Walburga Abbey, Virginia Dale, Colorado, for about one week, learning more about lectio divina and the Divine Office. We appreciate all the efforts of Mother Maria-Michael, OSB, Sister Ancilla, and all the members of the community to make this happen.  – The rest of the sisters are doing fine, living the day-to-day monastic schedule.
If you have any special prayer requests, please let us know.  We ask for your prayers, as the sisters will be on their yearly retreat, the first week of October.  May Our Lord bless you and your loved ones, and we especially pray for all students as they have begun their new school terms.  God bless you!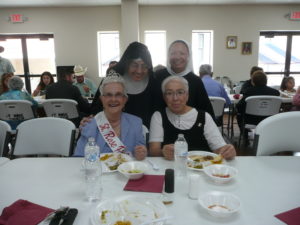 ST. ROSE OF LIMA FIESTA, AUG 20, 2017– Two of our sisters went to the Fiesta Mass, followed by a beautiful procession,  lunch, auction, various activities, and a special Raffle drawing (proceeds going to our monastery).  We are grateful to Father Jim Walker, retired Pastor, and all the parishioners of St. Mary and St. Rose of Lima Parishes, who kindly sponsored the Raffle: "Northeast Shrines and Canada Tour Package for two, October 9-17, 2017,  a nine-day North American tour from Washington, D.C, to Montreal and Toronto, then to Niagra Falls…"   The winner of the Raffle went to someone in La Vita, New Mexico.   Thank you for all who participated!  They raised a total of $7,213.00.      
RITE FOR THE RECEPTION OF NOVICES – July 10, 2017

– 
At 5 pm, we formally received Sister Mercy Hoang, into the Novitiate, for one year of canonical study.  We opened the celebration with a prayer to St. Benedict.  Sister Mercy formally asked Prioress Hilda for the mercy of God and a sharing in our monastic way of life.From the Rule of St. Benedict,
"If you are ready to give up your own will, once and for all, and armed with the strong and noble weapons of obedience to do battle for the true King, Christ the Lord…"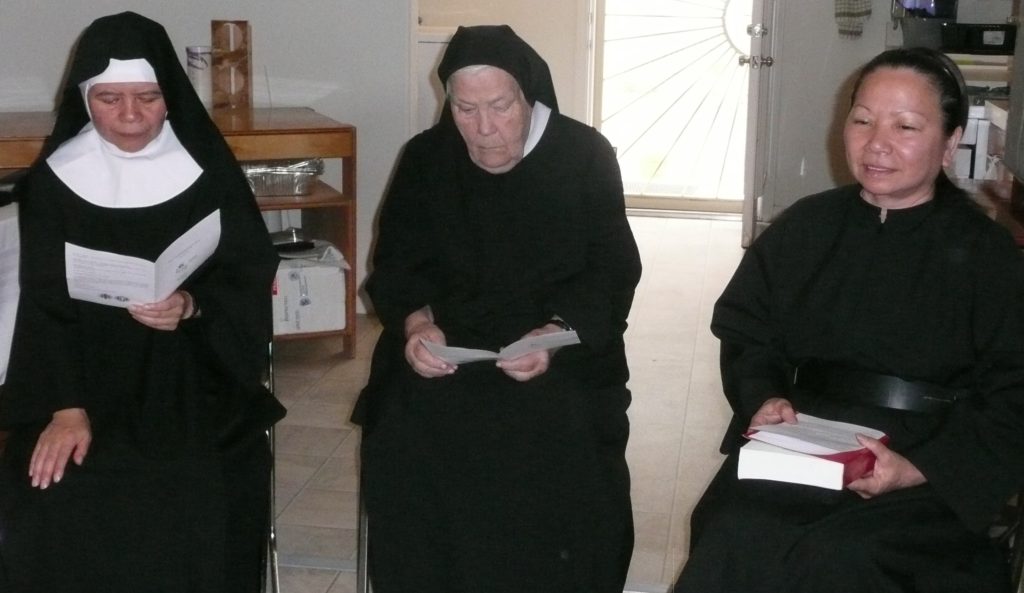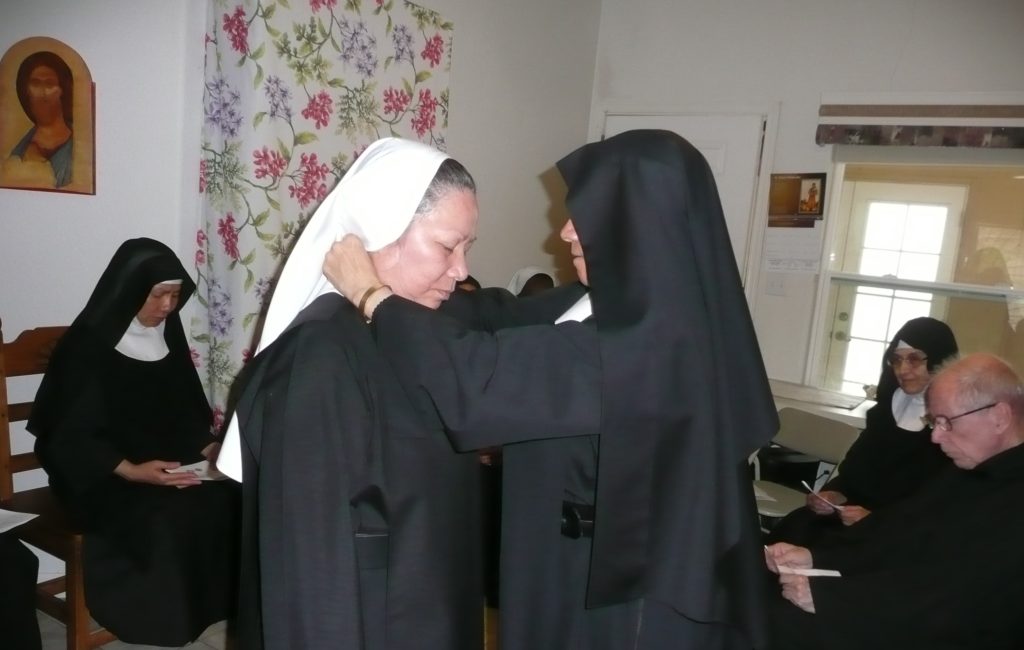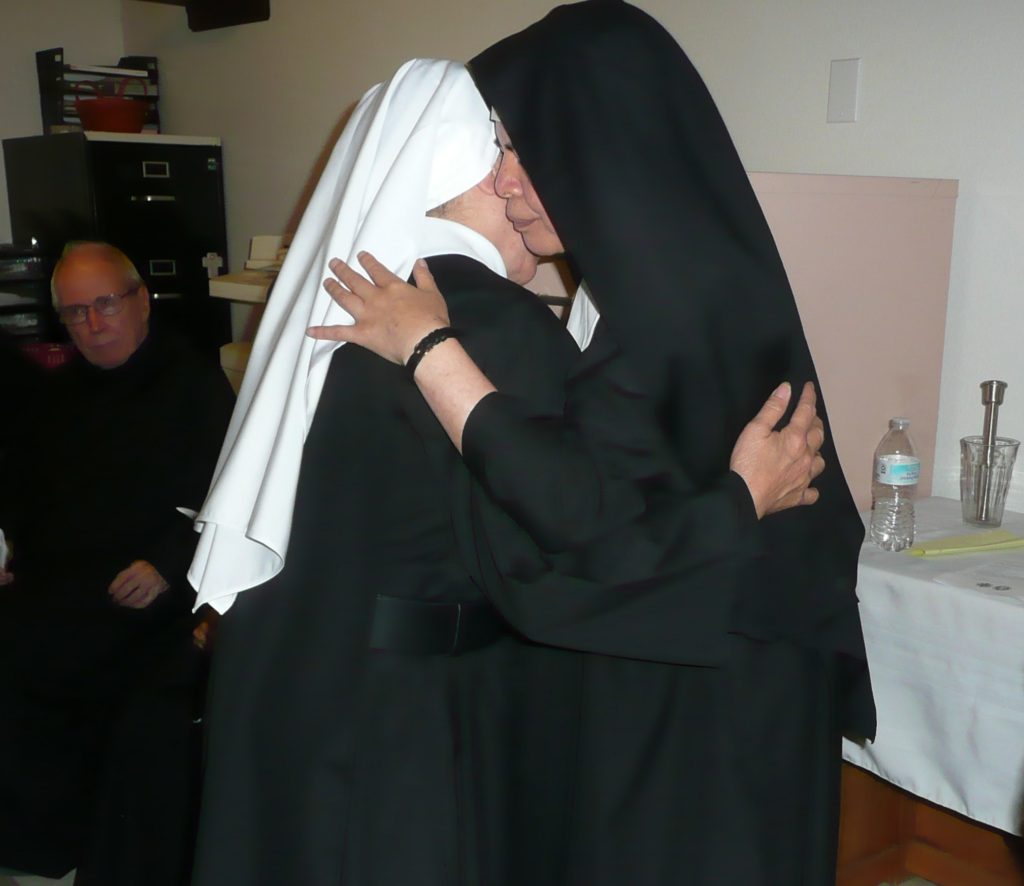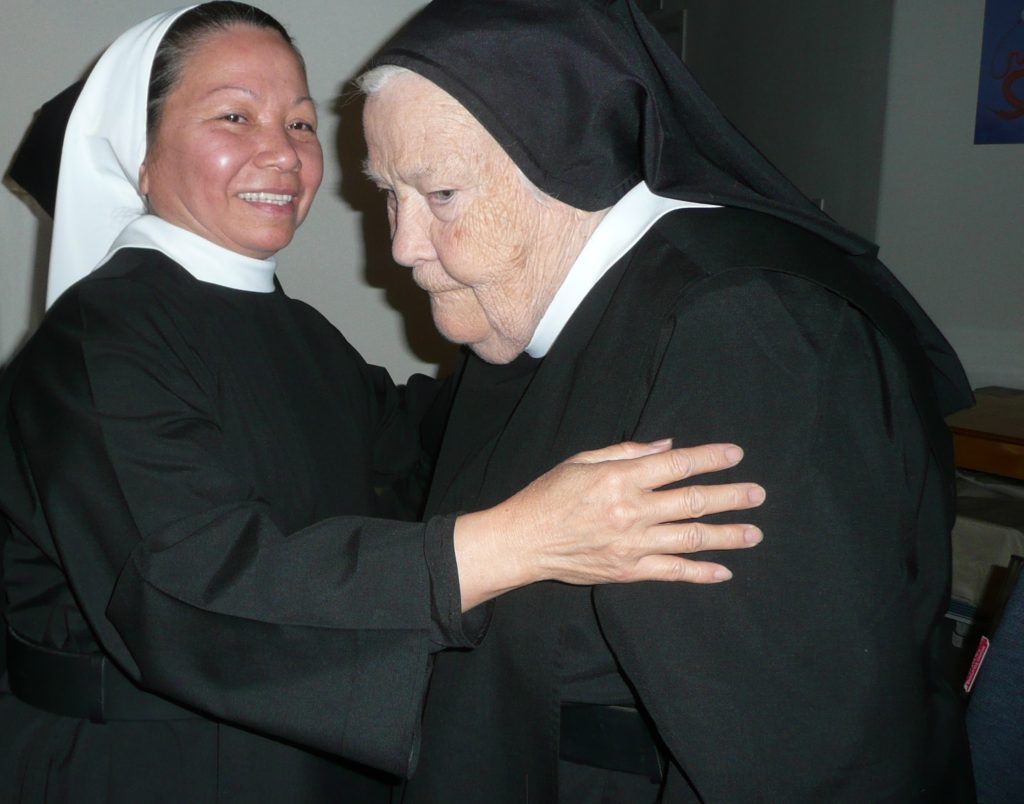 May 25, 2017 – Dear Friends,                                                                                           During this time of year, we joyfully greet you and hope that you are filled with God's blessings.  From the New Testament, Acts 1:1-11, is found that the resurrected Jesus was taken up to Heaven in his resurrected body, in the presence of eleven of his apostles, occurring 40 days after the resurrection.  "God our Father, make us joyful in the ascension of your Son Jesus Christ.  May we follow him into the new creation, for his Ascension is our glory and our hope."
Thank you for all your support these last five months.  Our last newsletter was on December 15, 2016.   Since then, we have posted some of our news on the website.  As most of you know, Prioress Hilda went to Rome, Italy, to attend the Formators' Program in March 2017.  Her feet and face began to swell and she was in the hospital in Rome for about three weeks.  She is now at the Monastery, with severe anemia, and will have surgery to remove the fibroid tumor in the uterus.  For now, she is at peace.  Sister Benedicta is back in the swing of things as she was convalescing away from the monastery for five months.  She is taking it easy for now, and catching up on thank yous from all the get-well cards and notes that have been sent to her.  Sister Julianne is asking for continued prayers for her niece, Terri, who is undergoing treatments for brain cancer.  You'll find Sister Julianne in the Bookkeepers Office, always ready to hand out black licorice.  Sister Mary is working in the Library, which was relocated to the St. Walburga Building.  Currently, she is entering titles of books on a new library program.  We are happy to have Sister Elizabeth back with us.  Sister Guadalupe is busy making sure our Divine Office books are up-to-date.  Sister Kateri "kicked the bucket," and is recuperating from three fractures.  The cast was removed after four weeks and she is going to physical therapy.  The sisters in formation, Sisters Agnes Le, Scholastica, and Stephen, are always on the go, supporting the older sisters, doing extra cooking and making sure things are in place at the monastery.  We are happy that Sister Stephen, will be taking Drivers Education very soon.
Know that we continue to pray for you, and we especially pray for all young children through the intercession of the recently canonized saints, St. Francisco and St. Jacinta Marto.  These saints are the youngest children canonized who were not martyrs.
May you and your families have a nice summer.  God bless you! From the Benedictine sisters of the Monastery of Our Lady of the Desert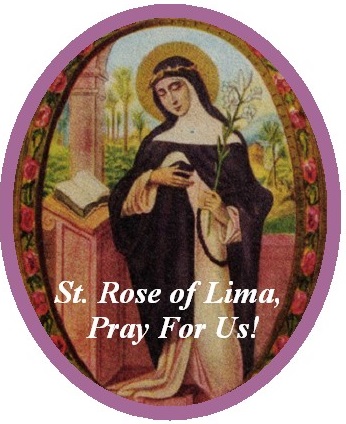 St. Rose of Lima Family Center – Dedication April 29, 2017 –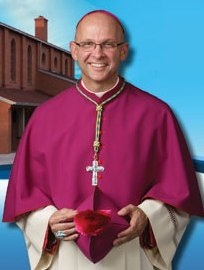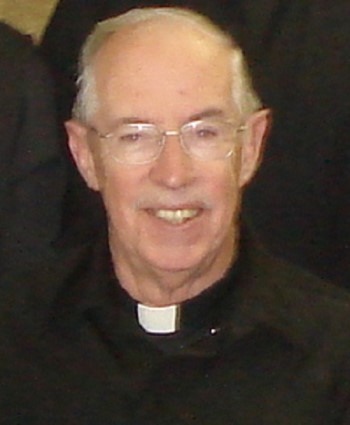 St. Rose of Lima Family Center Dedication April 29, 2017, Blanco, NM –  Some of the sisters went to this special dedication of a new parish hall.  As most of you remember, we were residents of the CCD classrooms above the St. Rose of Lima Church, June 2008, for twelve months.  –  There was quite a crowd for the Blessing given by Bishop James.  Special appreciation was given to Father Jim, Pastor of the Parish for his efforts and those of all who offered their prayers, work, and financial help  to make this a special day of joy and good food.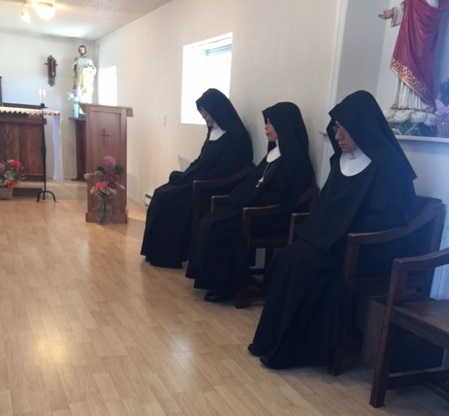 February 10, 2017, was a very special day for our community in that we received new veils.  We had prayed and discussed this decision and found it appropriate that we wear the very traditional veil with wimple.  Sister Guadalupe spent time after her home visit with the Benedictine Nuns of Vera Cruz, Mexico, to learn how to sew the new veils.   When we made the change on Feb 10th, S. Guadalupe helped each of us with a special time of silence.  We then processed into the Chapel.  The actual blessing  was by Abbot Philip who gave a sermon followed by a formal sprinkling of holy water on our veils. Our Novice continues to wear the original white veil given to her and God willing, in two years, she will receive a new veil as a Junior sister.  Now, can you recognize who's who?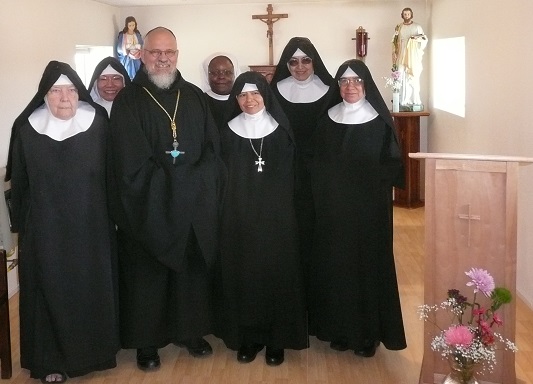 Effective January 1, 2017, Sister Hilda Tuyuc, was appointed Prioress of our community, a blessing by Abbess Mary Barnes,  of the Benedictine Abbey, Jamberoo, Australia.  Sister Benedicta Serna, will be relieved of her position as Prioress, and we are very grateful for the service that Sister Benedicta has provided over the last eleven years.In 1986, former Sister Hilda entered the Missionaries of the Eucharist in Guatemala and spent ten years doing missionary work.  During that time, she met Benedictine monks in Guatemala, and knew she wanted to be one of them, but there were no Benedictine nuns in Guatemala.  When she found Benedictines in New Mexico, USA, she wrote asking the community to give her an opportunity to visit.  They said yes.  The American Embassy made it very difficult for her to obtain a Visa; not until Sister Julianne Allen, former Superior of the Monastery of Our Lady of the Desert and Father Christian Leisy, from the Monastery of Christ in the Desert went to Guatemala and helped her obtain the Visa in 1998.Prioress Hilda quotes from the Rule of St. Benedict, that, "Our life in the monastery is 'ora et labora'.  We gather to pray the Divine Office seven times a day with daily Mass."   As any monastery, we have a schedule that allows us to spend time doing lectio divina, individual study, and recreation.  Since building a monastery, everything here is small like our Chapel, Guesthouse, etc.  Guests are usually happy to spend time at the monastery.  Our life in here in Gobernador is very simple like Bethlehem or Nazareth at the time of Jesus.  I am very grateful to God and to the community for allowing me to be a part of this monastic journey.  May God be glorified in everything."
Profession of Simple Monastic Vows of Sister Scholastica Nguyen December 6, 2016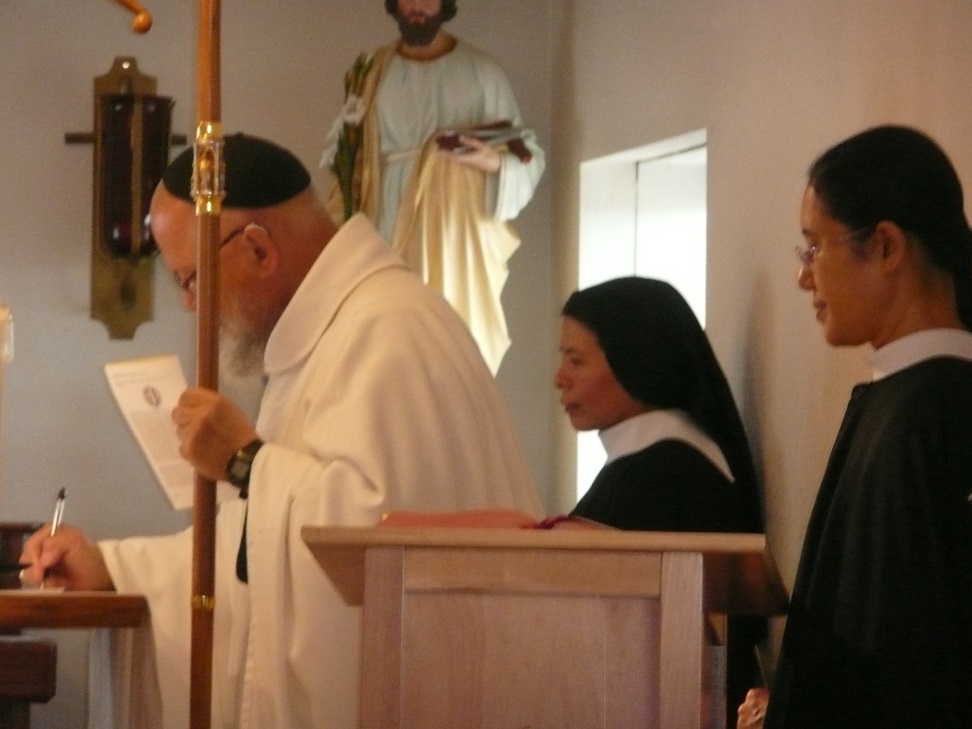 Following the Gospel of the Mass for the Blessed Virgin Mary, Sister Scholastica read the Chart of her Profession, promising Stability, Conversion of Life and Obedience according to the Rule of St. Benedict, and the Constitutions of the Abbey of the Presentation of the Lord in the Temple, for one year.  Abbot Philip Lawrence, from the Monastery of Christ in the Desert officiated the celebration.  Sister Scholastica, Sister Hilda and Abbot Philip go to the altar to sign the Profession of vows, which is left on the altar.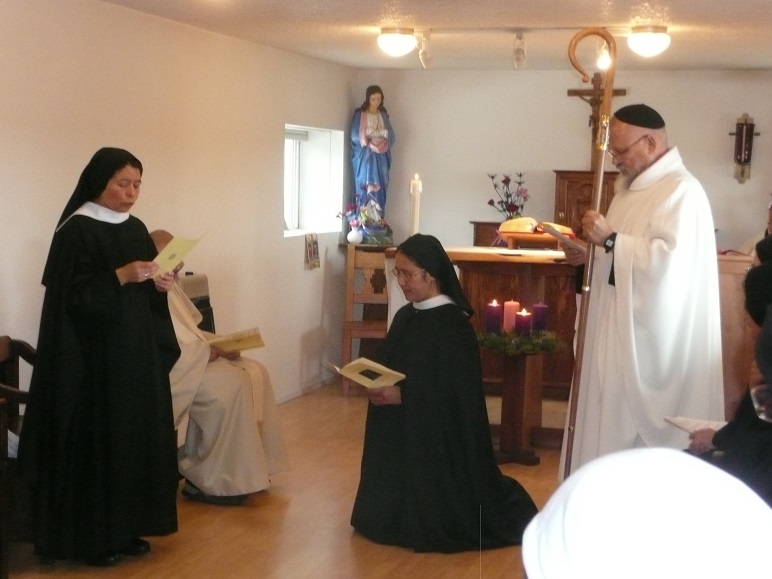 Sister Hilda reads:  "May Sister Scholastica continually ponder the Word of God as it comes to her in liturgy, Lectio and prayer, and in the sharing of the common life, and may she treasure that Word in her heart, as Mary did.  May His Word become of joy of her heart."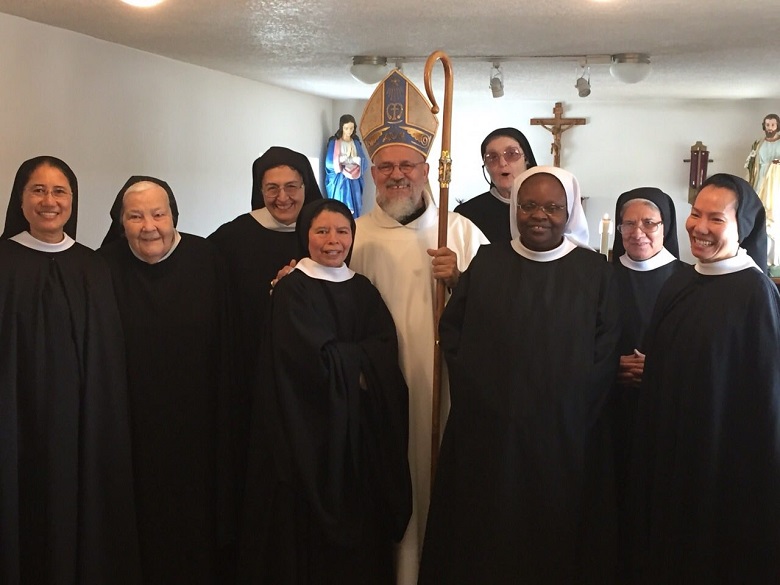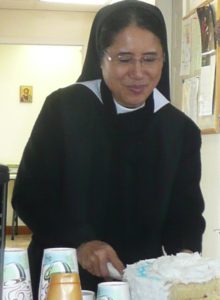 Sister Scholastic cuts a piece of cake for everyone!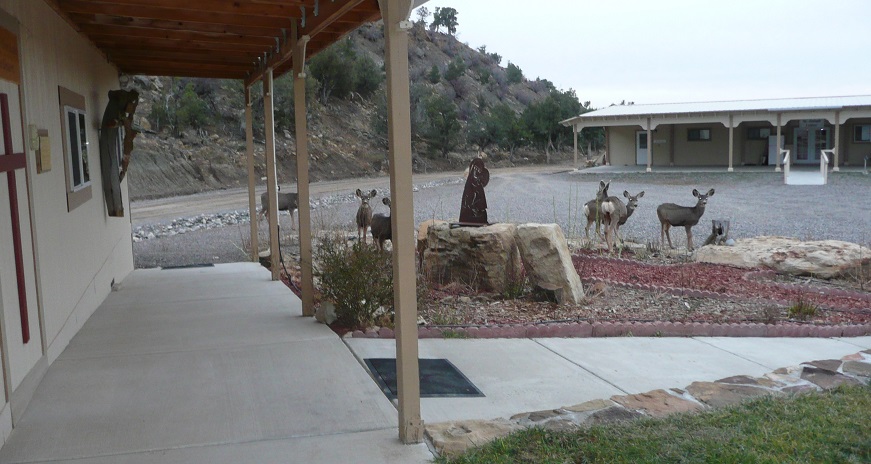 After the Divine Office of None, we had some visitors on November 26, 2016, in front of our Chapel.
Welcome our new Novice:  Sister Stephen Phiri, November 15, 2016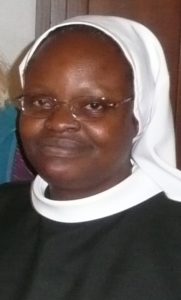 A Novice is a new Benedictine-in-training who has not yet made vows.  The novice-nun wears a white veil for two years.   Sister Stephen will be studying the vows of Obedience, Stability and Conversion; The Rule of St. Benedict, Psalms, Monastic History, and Prayer.  Please pray for her.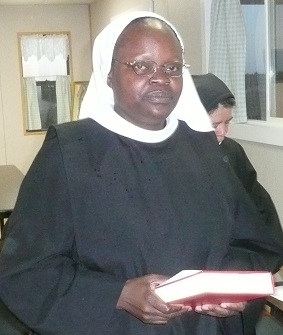 During the ceremony before she received her new name, she  was asked: "You have come here to seek God and Saint Benedict offers you his Rule to help you.  You have read it and you know what it asks.  You are free now to accept it or to choose some other way." Dailesi willingly received the Rule of St. Benedict.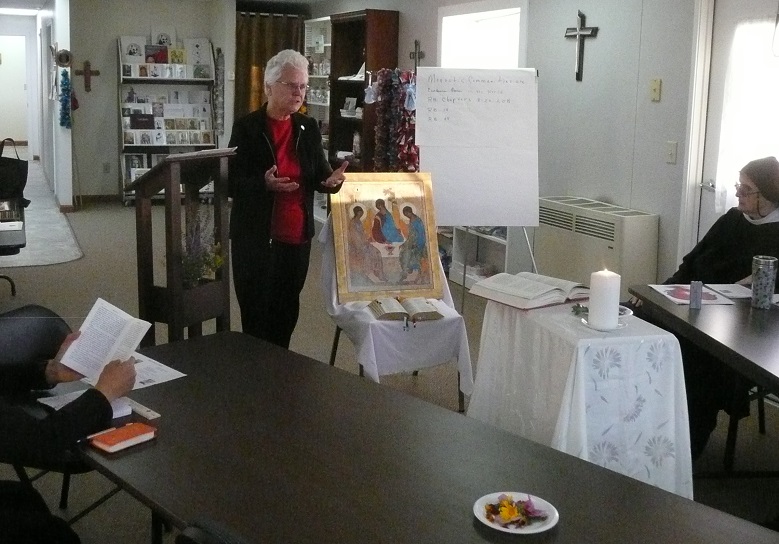 RETREAT – Sister Rose Ann Barmann, OSB, directed our yearly retreat, October 16-22, 2016.  Sister Rose Ann is from Benet  Hill, Colorado Springs, Colorado.   We also had time to rest and reflect.  Thank you for your prayers.
THE POPE'S PRAYER INTENTIO – The Subiaco Cassinese Congregation is an international union of Benedictine houses (abbeys and priories) within the Benedictine Confederation. It developed from the Subiaco Congregation, which was formed in 1867.  In 2013 the expanded congregation was given this new name. –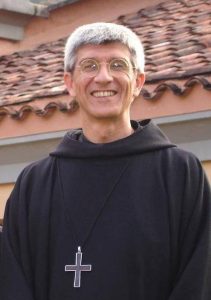 We were pleased to hear that the General Chapter of the Subiaco Cassinese Congregation elected Father Guillermo Arboleda Tamayo, abbot of the Abbey of Santa Maria of Medellin and Administrator of Guatape, Columbia to be the new Abbot President, on September 22, 2016.  Abbot Guillermo becomes the first Abbot President of the Subiaco Cassinese Congregation from the Americas. Congratulations and many prayers for you Abbot!Abbot Gregory Polan, O.S.B. Elected Abbot Primate of Benedictine Confederation – On September 10, 2016, Abbot Gregory Polan, O.S.B., of Conception Abbey, Conception, Mo., was elected Abbot Primate of the 1500-year-old Benedictine Order at the Congress of Abbots meeting in Rome, Italy held every four years.  which is made up of all abbots and conventual priors, both of monasteries that are members of congregations, as well as of those unaffiliated with any particular congregation. The Congress of Abbots elects the Abbot Primate, who serves a four-year term as the Confederation's representative and administrative head,  We congratulate and pray that the Holy Spirit will guide and inspire our new Abbot Primate.
On September 17, 2016, Dr. Francisco and Marie Colon, had a fund raiser Get-Together in their home.  This was the fifth year that they had such a wonderful Gala, catered by Marc and Anne Weigel's, "Come to the Feast."  Besides the delicious meal, the sisters sold their crafts and there was an auction of retablos and an icon.  We were blessed to raise more than $6k, which will go towards our general expenses.  Thank you Lori and Friends who provided a wonderful concert of Mozart music.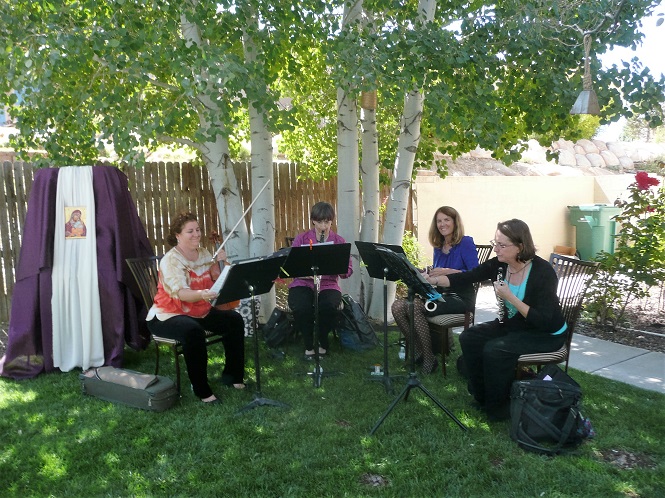 SUMMER NEWSLETTER 2016 – Dear Friends,   We hope that you are having a joyful summer with perhaps a visit to our National Parks for the 100th Anniversary Celebrations. We enjoy taking guests to Navajo Lake (13 miles from the monastery) and Aztec Ruins (47 miles from the monastery). We'd love to share these national treasures with you during your stay at our guesthouse!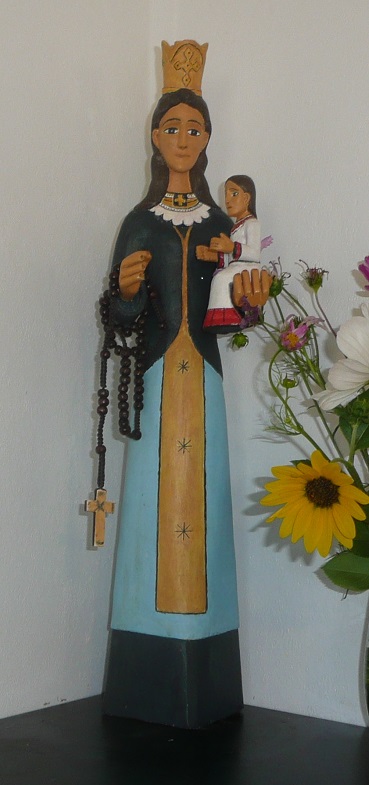 For the 26th Anniversary of our founding, February 2, 2016, a dear friend of the monastery gifted us with a Bulto of Our Lady of the Rosary, to add to our collection.  Bultos are wooden carvings of Santos (saints).  This primitive form of art is part of our state's history, brought to New Mexico by the early Spanish Conquistador settlers.   "We put all our confidence in you, oh Lady of the Rosary, since your prayers before God are most powerful. For the greater glory of God and for the sake of Jesus, your loving Son, hear and grant our prayers.   Sweet Heart of Mary, pray for us."In November 2015, we applied for a $5,400, grant through the Bishops Annual Appeal, Gallup Diocese, to refurbish our St. Joseph Center, especially the flooring, which due to peeling tile, is a growing safety hazard.  We received a check from Bishop James Wall in the amount of $2,000.00, for the renovation.  We use the Center for various lay groups,  hospitality, spiritual renewal, evangelization, ongoing education and large groups for Sunday Mass.  Could you please consider helping us to complete the total project which includes chairs, tables and a new heating and cooling unit, with a gift of $25.00?The sisters are all doing fine.  Rosario Rosario R., from Mexico spent three months with us as an Observer.  She was a a delight and has returned back home to discern her next step.
Our Postulant, Dailesi, loves gardening.  She and Sister Mary attended a "Prescribed Burn for Private Land Owners."  Tthrough this workshop State Forestry will advise us regarding restoration of our land to its original natural habitat and grasses.
Mother Julianne continues to inspire us with her wisdom and always manages a smile!   Sister Hilda and Sister Guadalupe continue to lead the liturgy and are doing a great job.  Sister Agnes Le tends beautiful vegetable and flower gardens.  For three months, Sister Agnes Le took care of Rosco, our Chaplain, Father Thomas Benedict's dog while he was away helping at St. Benedict's Abbey near Polokwane, South Africa. He assisted with formation classes and generally filled in.  This gave, Father Jeffrey, our Chaplain, a time of respite from his duties as Prior of St. Benedict's Abbey and his first visit to the USA.  Welcome back to Father Thomas-Benedict!  Sister Kateri spent two weeks with her parents as they need continued assistance.  She also enjoyed a short visit with  her 7-year-old grandson, Andrew Thomas.  On my birthday I landed up in the hospital for two days with a blood clot in my leg.  Not to worry all is well with modern treatment. This experience gave me a greater appreciation for 63 years of good health and a deeper understanding of St Benedict Rule to keep death always before us.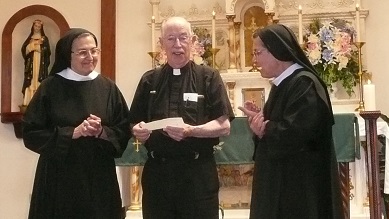 Our 6th Annual Ice Cream Social in June was a fun event with over 400 people, sharing a meal, auction, raffle, door prizes, entertainment and the special Bingo organized by the Knights of Columbus.  Thank you to all who participated and especially those who volunteered.  The grand prize of a Pilgrimage to Rome for two (donated by an anonymous donor) went to Madeleine M., from Farmington.   $22,322, was raised for the joint fundraiser with St. Rose of Lima Parish, half of the proceeds went to support the building of a new parish hall for St Rose in thanksgiving for the 1 ½ years we lived at St Rose Of Lima Church as we set up the monastery in Gobernador, 2007-2009.
Know that we continue to pray for you and your loved ones.   God bless you with peace and joy! Mother Benedicta Serna, OSB, Prioress
CLICK TO LISTEN TO MOTHER BENEDICTA WITH MARY WOODS, IMMACULATE HEART RADIO (click on Immaculate Heart) regarding our Ice Cream Social, June 4, 2016We were delighted to see so many of our friends at the 6th Annual Ice Cream Social, June 4, 2016, at the St. Mary's Parish Hall, Bloomfield, NM.  A big thank you to all those who participated in having a fun time.   There were eleven Raffles, eleven Bingos, eleven door prizes and lots of delicious tacos, fresh rice, beans, home made salsa with chips, silent auction and entertainment.  The winner of the GRAND PRIZE, A JUBILEE YEAR OF MERCY PILGRIMAGE TO ITALY with Father James Walker
&
Deacon Roger Garcia:  Departure U. S. October 12 Return to U. S. October 21 2016, went to someone from Farmington, NM.  Congratulations to all the winners!  God bless you and know that we pray that you have a safe summer.  SK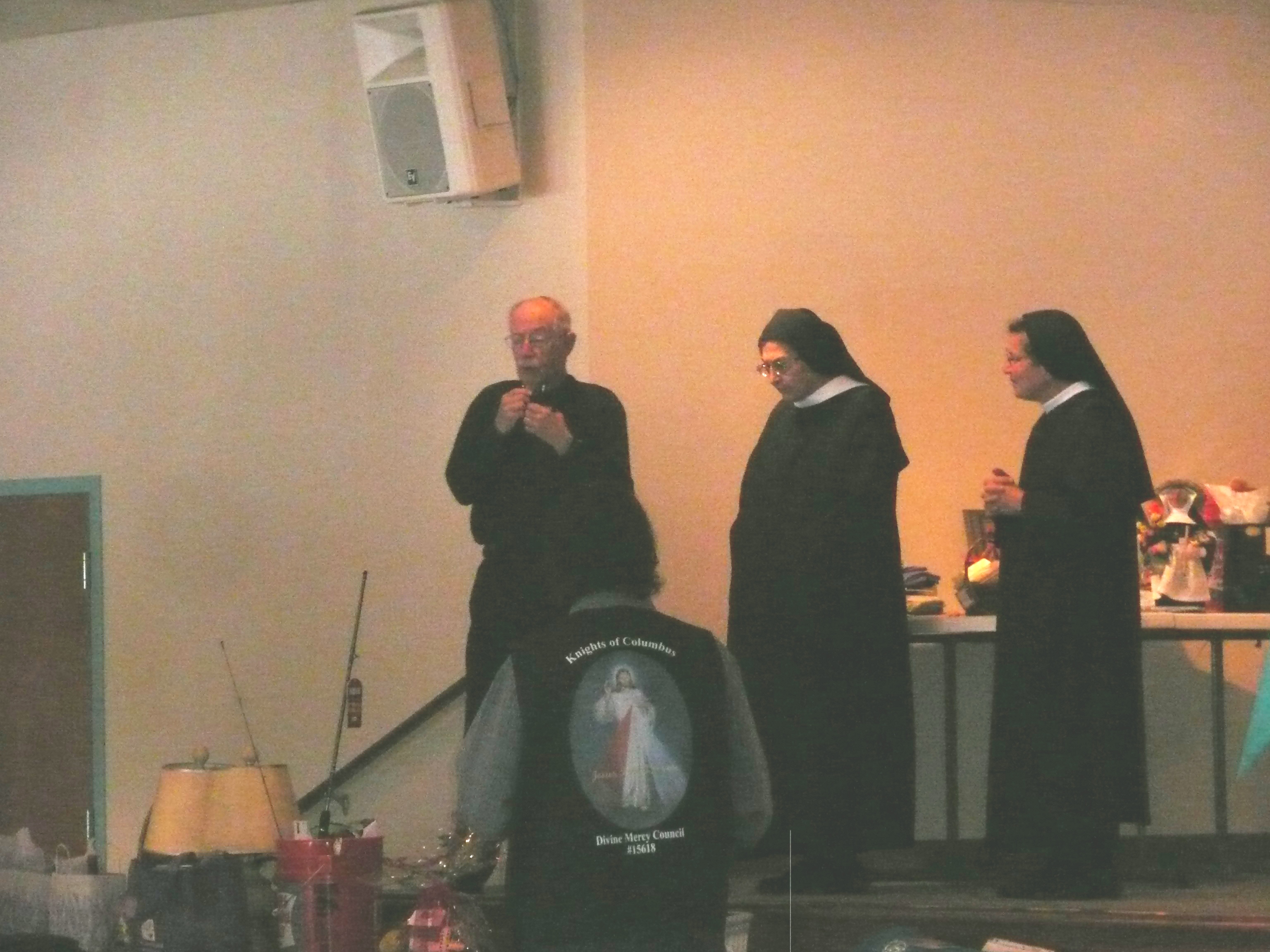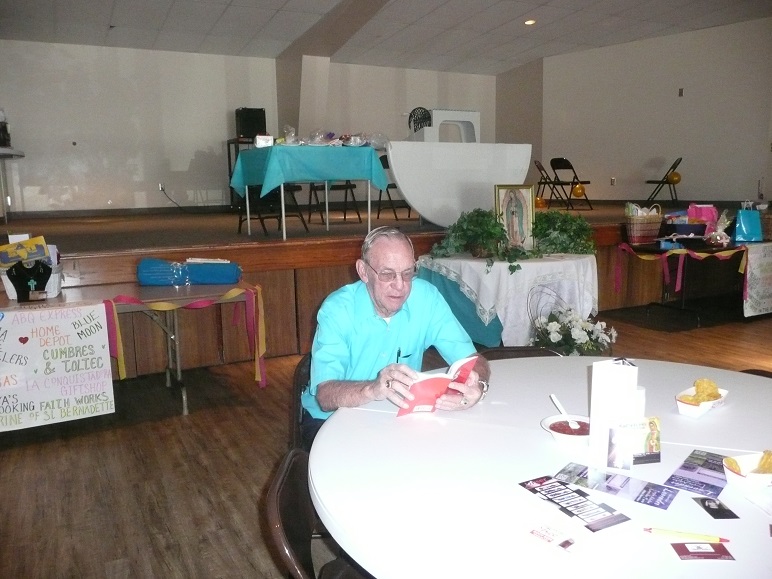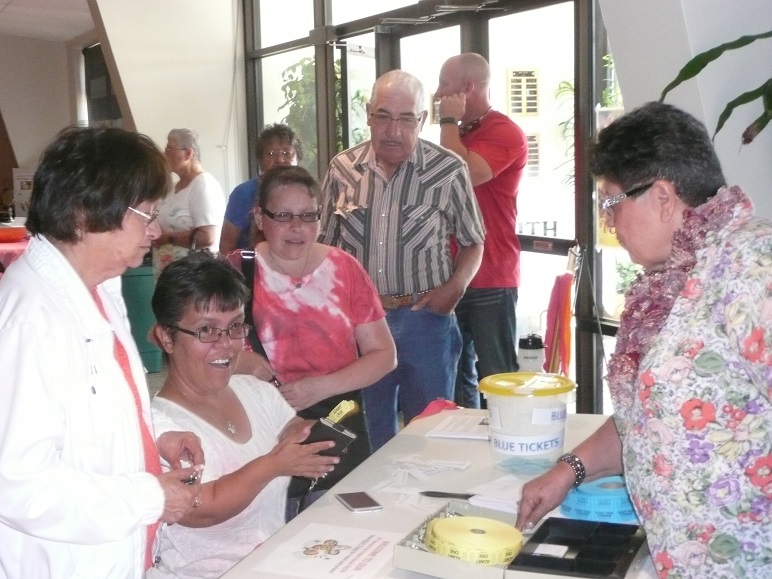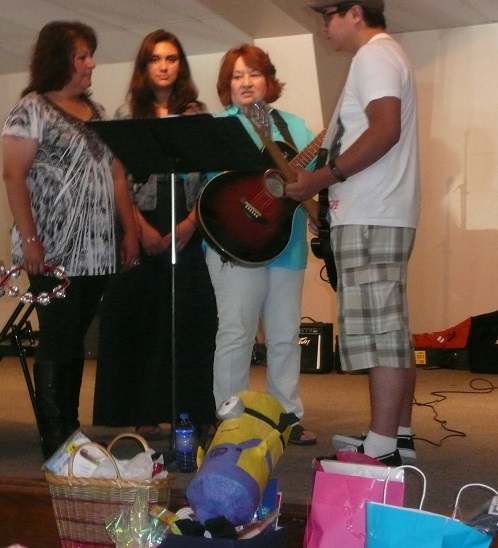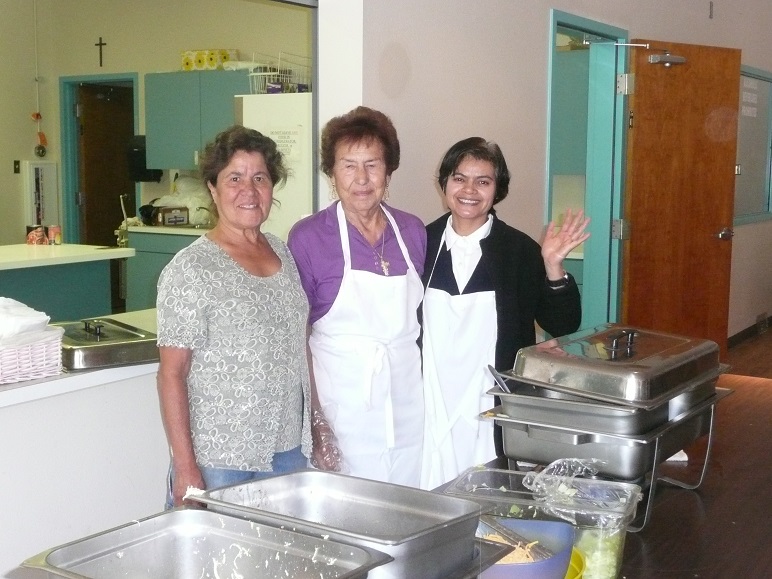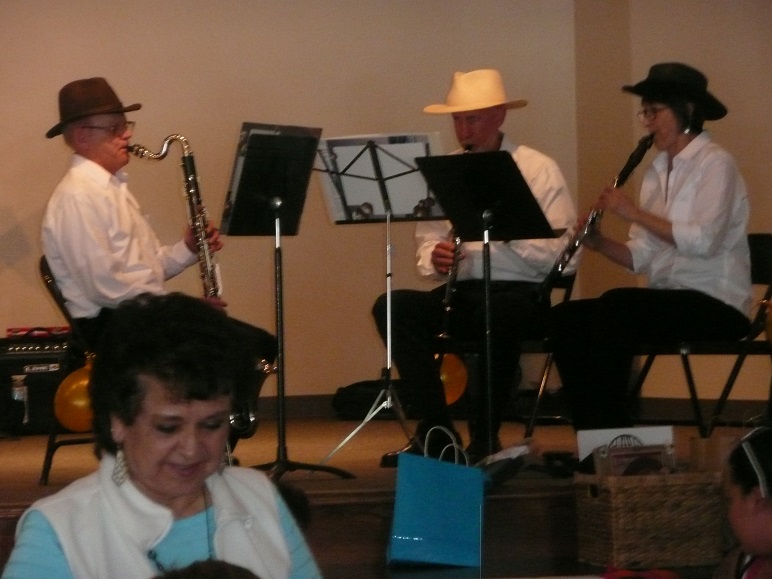 Click on our Easter Newsletter:  
easter2016nl
                                                 from Mother Benedicta.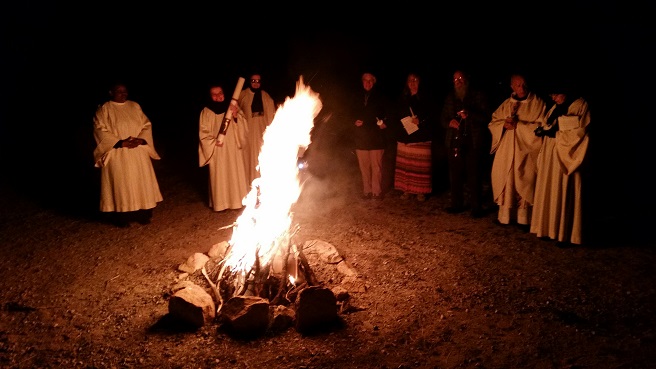 EASTER SUNDAY 2016- Vigil Fire was lit at 4:00 am, the Solemn Beginning of the Easter Vigil.  Few guests assembled with us, Mother Benedicta carrying the Paschal candle.  Father Thomas Benedict recited:  "On this most holy night, when Our Lord Jesus Christ passed from death to life, the Church invites her children, throughout the whole world to come together in vigil and prayer."
Holy Saturday –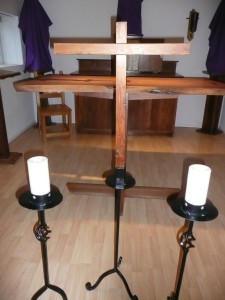 There is no Mass on Holy Saturday.  From Romans 6:4:  "We were indeed buried with him through baptism into death, so that, just as Christ was raised from the dead by the glory of the Father, we too might live in newness of life."  Today I think of life after our human death, at the same time trying to let go of the old or at least something that could be a positive change in my daily life.  God give us the grace to know that good things are there to grasp!  We pray for you.  God bless you!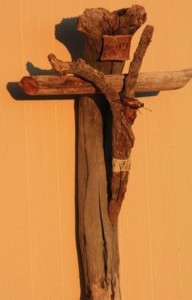 GOOD FRIDAY OF THE LORD'S PASSION – Isaiah 52:13-53:12 • Psalm  31:2,6,12-13,15-17,25 • Hebrews 4:14-16,5:7-9 • John 18:1-19:42 –  Here at Our Lady of the Desert, after we recited the Stations of The Cross, we had the Good Friday liturgy, which included the Passion of Our Lord Jesus Christ according to John, the Veration of the Cross as Father Thomas Benedict entoned, "This is the wood of the cross, on which hung the Savior of the world."  After the Veneration of the Cross, the Blessed Sacrament was brought in for the distribution of Holy Communion.  We had a few guests and with the silence and the sound of the wind blowing,  one could be in tune with the remembrance of Our Lord's Passion.   We remember that Jesus Christ is always with us during our passions, our struggles, our pains and illnesses because He suffered, He died and He rose.   Know that we keep you in our prayers.  God bless you! SK
HOLY THURSDAY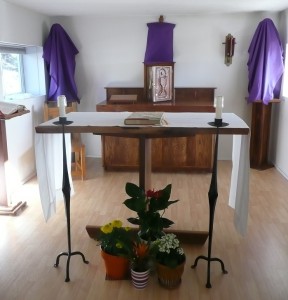 Our blessing cup is a communion with the blood of Christ.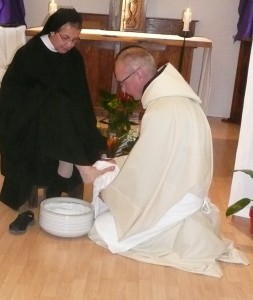 "When he had washed their feet and put on his clothes again he went back to the table. 'Do you understand' he said 'what I have done to you? You call me Master and Lord, and rightly; so I am. If I, then, the Lord and Master, have washed your feet, you should wash each other's feet. I have given you an example so that you may copy what I have done to you.'"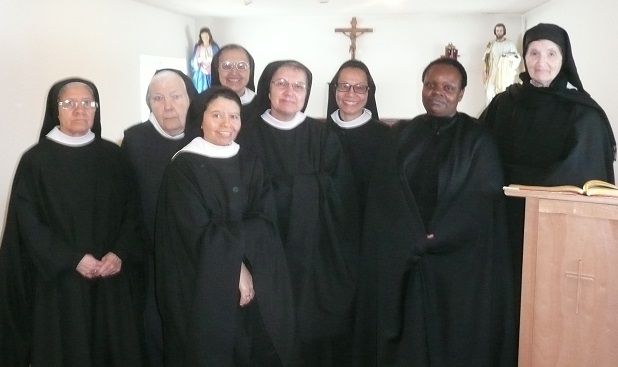 Picture taken on the 26th anniversary of our Founding, February 2, 2016, Presentation of the Lord.
Jose Merced Florez (1922 – 2016) –
Obituary

– 
José Merced Florez, 93, of Blanco, with his family by his side, gave his gentle and kind soul to the Lord Jesus on Saturday, Feb. 20, 2016. He knew no stranger and spent his entire life serving his family and his community. He was born March 19, 1922, in Gobernador, to Abel and Fidela Vasquez Florez. He served as a sergeant fourth class in the U.S. Army Air Force in the South Pacific Theater during 
World War II
. His service included the liberatio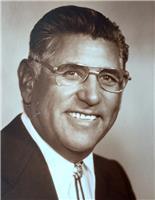 n of the Philippines in 1945. In 1946, José married Florence Hancock, and they were blessed with 12 children. They made their home in Blanco and were to celebrate 70 years of marriage on Oct. 26, 2016. In 1979, after 30 years of service, he retired from the El Paso Natural Gas Company and continued his passion for ranching, building the BAR MF family ranch along the San Juan River. In 2007, José being an extremely faithful man, donated land in Gobernador to the Benedictine Sisters to establish Our Lady of the Desert Monastery. He encouraged his family to be stewards of the monastery, voicing his wish that care for the sisters be continued for generations to come.On July 11, 2007, on the Feast of St. Benedict, marked a milestone in the history of the Monastery of Our Lady of the Desert!  Our friends, Mr. and Mrs. Jose and Florence Florez, officially signed over to the sisters 40 acres of land in Gobernador, New Mexico, near Chama.  This event took place during a ceremony with some of the Florez family, guests and monks in Phase III at the Monastery of Christ in the Desert.  We were delighted to have the presence of Reverend James Walker, Vicar General for the Diocese of Gallup, here to represent Bishop Donald Pelotte, Bishop of Gallup.  Louella B. Evans, daughter of Mr. and Mrs. Florez, Notary Public, signed and sealed the documents in order for them to be recorded in the county of Tierra Amarilla, this same day.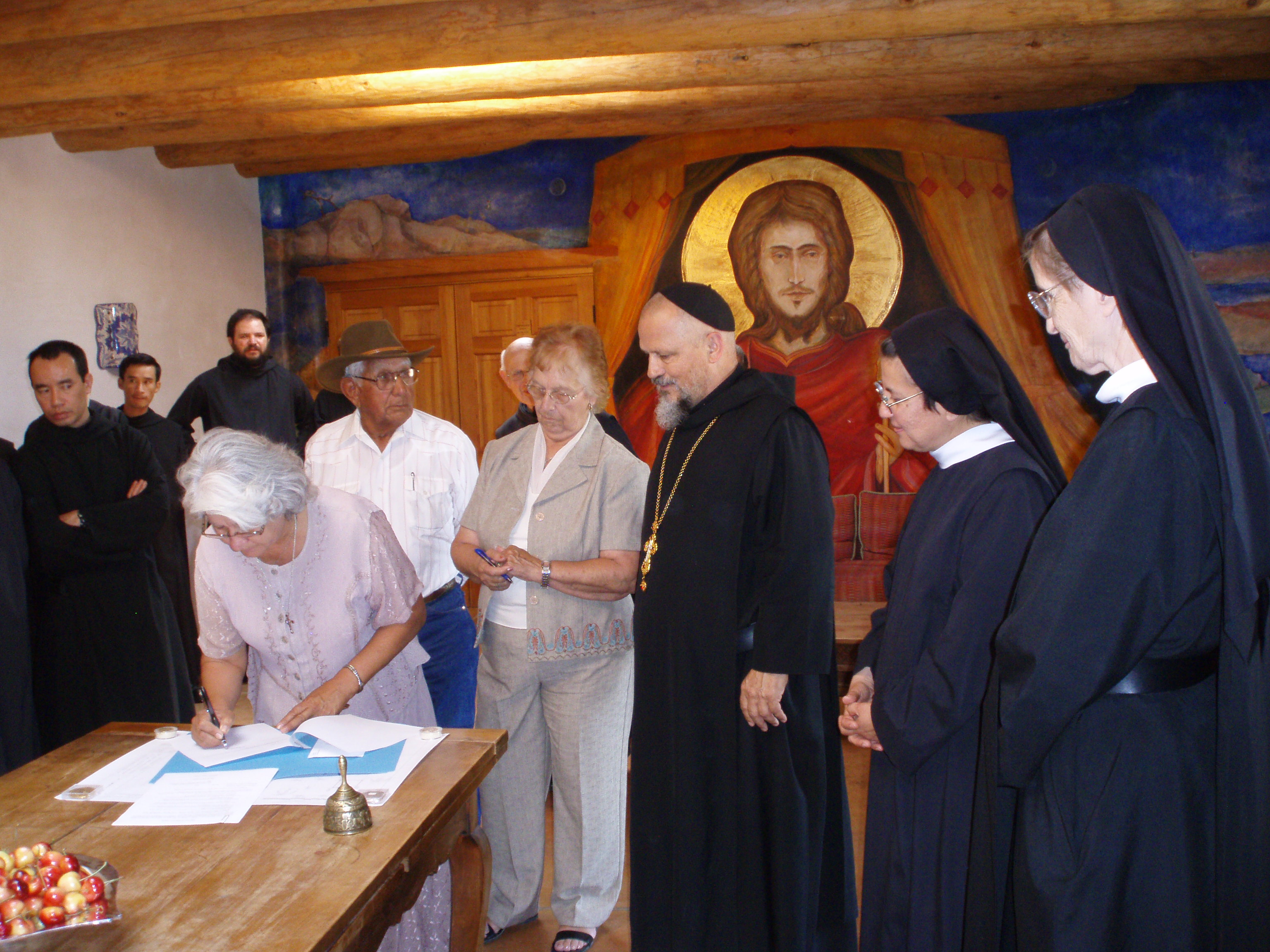 To review our recent newsletter, click:  
nl_sep15_web
25th Anniversary history, click:  
25th_anniv
On July 11, 2015, Solemnity of St. Benedict of Nursia, we celebrated 25 years of thanksgiving in remembering the past, celebrating the present and embracing the future as we move forward in our Journey of Faith. 
We ask God to bless all those who journeyed with us since the beginning of our dream to live the Benedictine way of seeking God in the desert. 
The Mass for the day was celebrated by Bishop James Wall and the music was sung by Abbot Philip, Brother Charles, Brother Dominic, Brother Bonaventure, Father Waldemar, Brother Marcel and Brother Francis Duc Vo.  We especially thank all those who helped make this celebration a special day for all those who participated.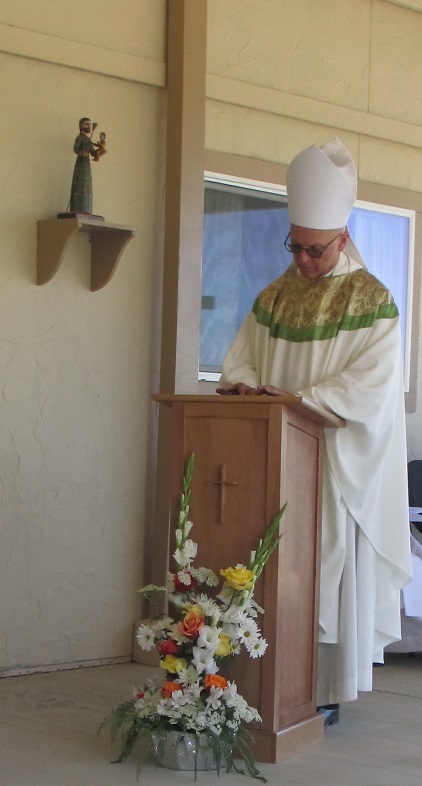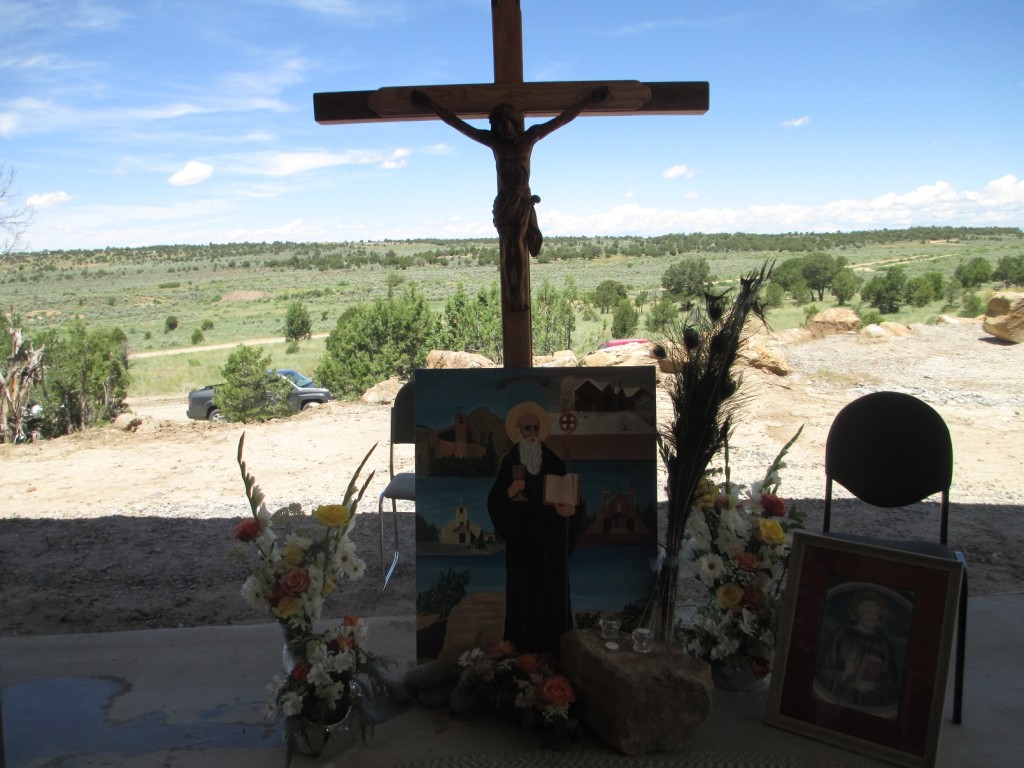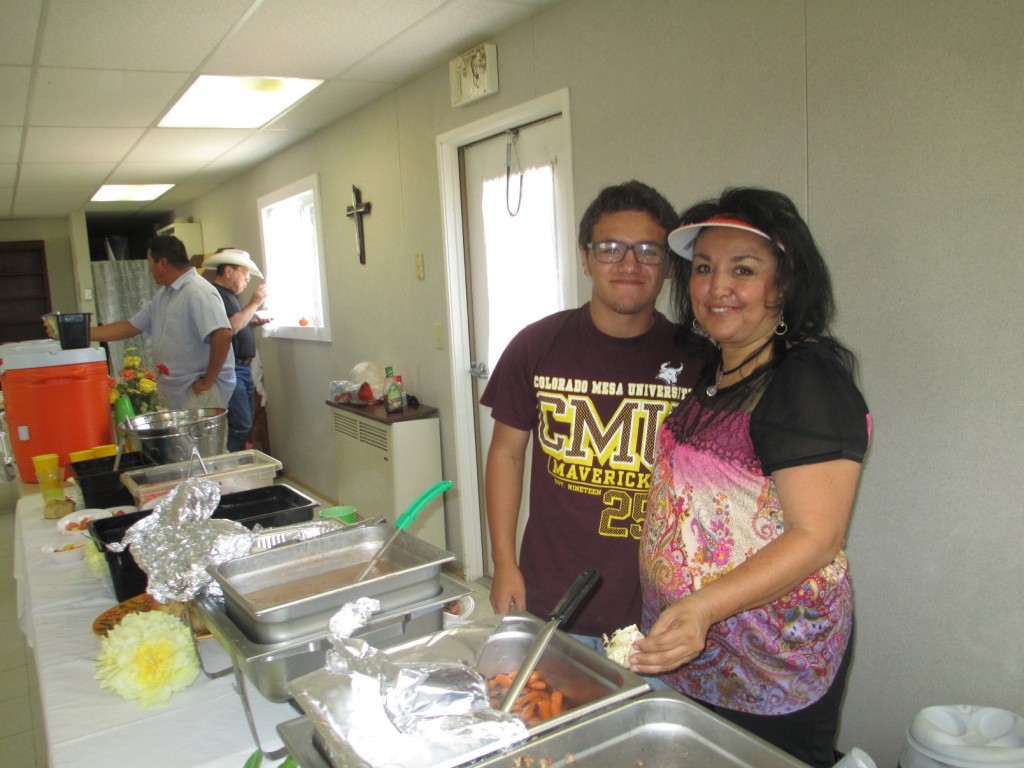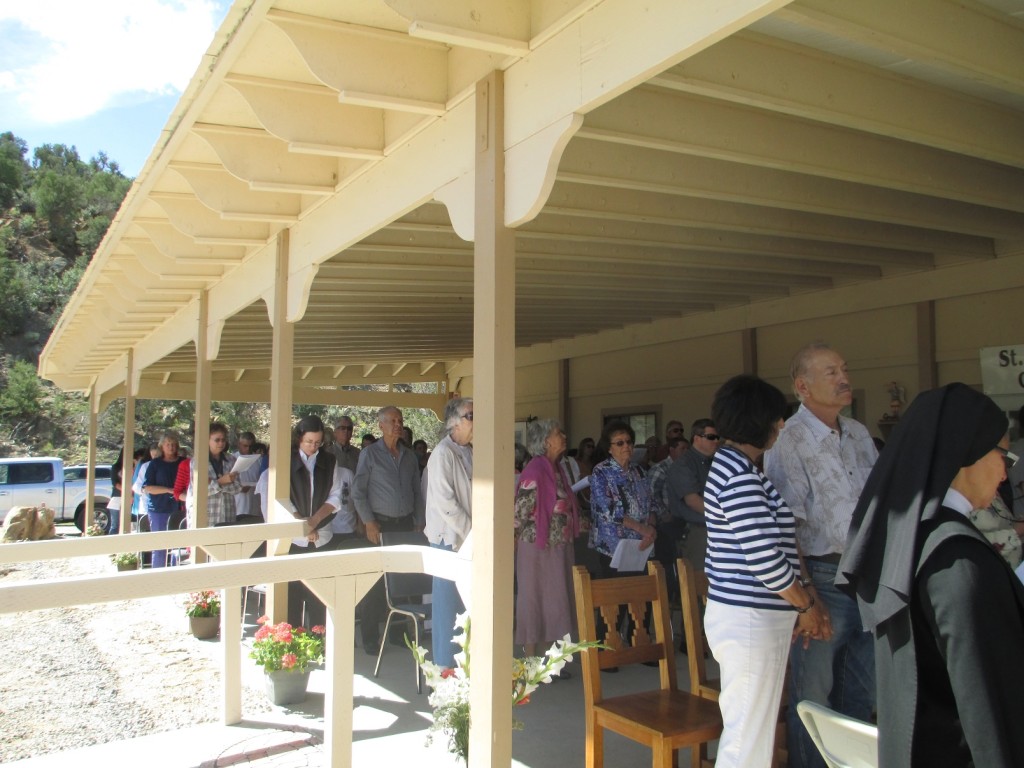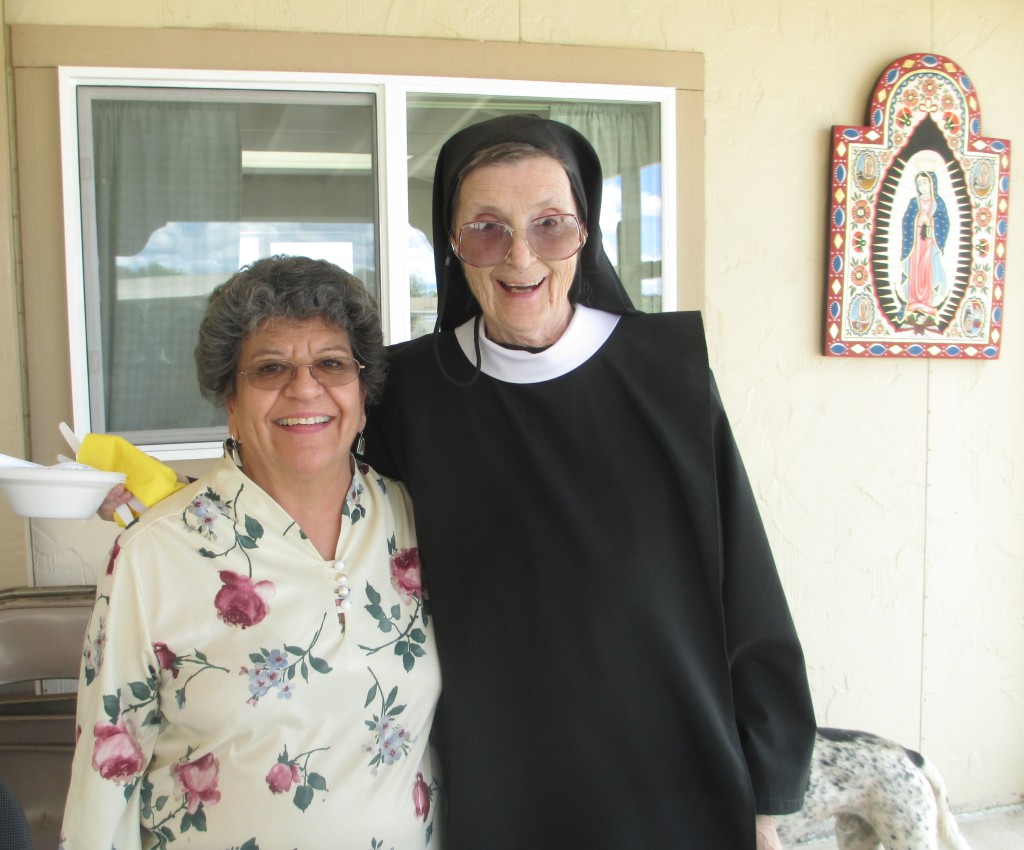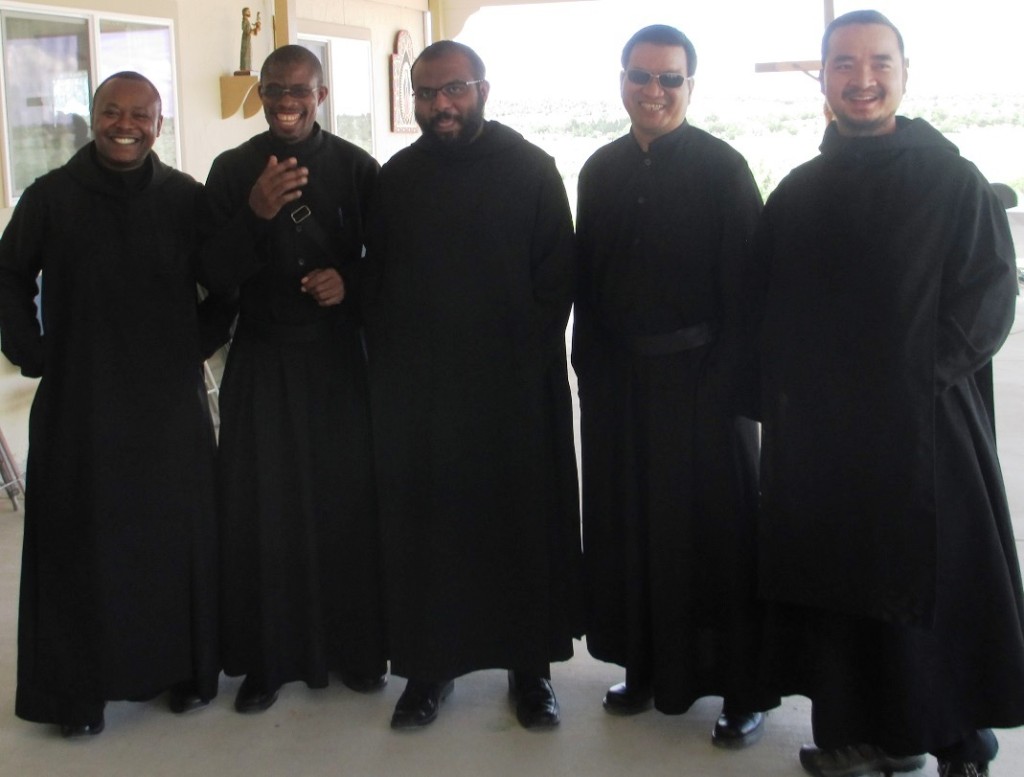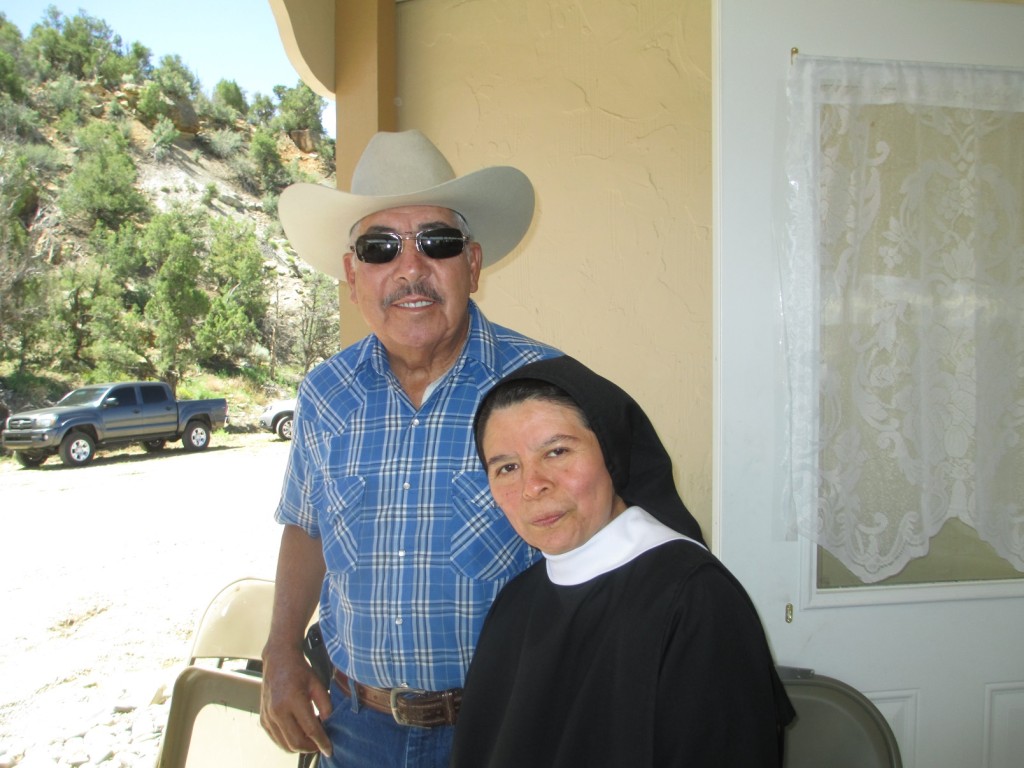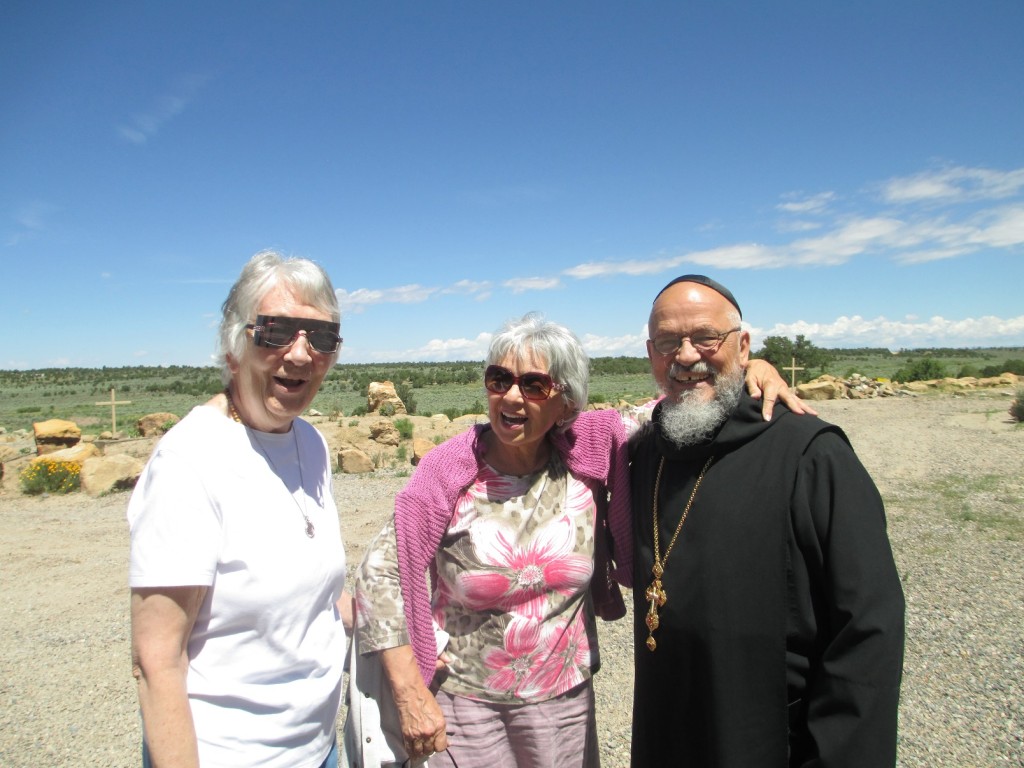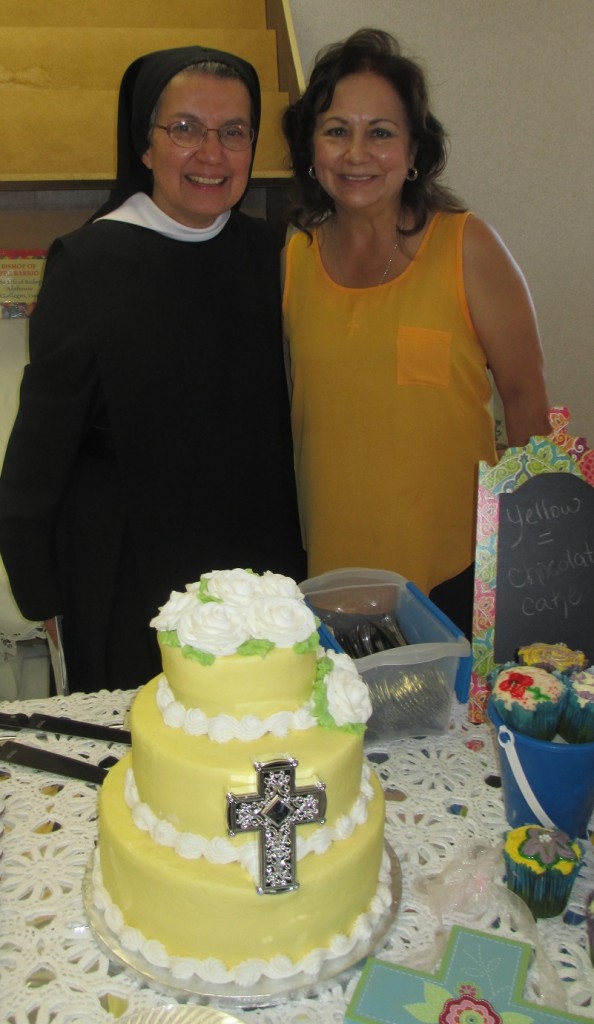 From Our Prioress – 
click to view our newsletters
Christmas 2006
Pentecost 2007
Aug 2007
April 2008
Advent 2009
Summer 2010
Lent 2011
Advent 2012
November 2013
Advent 2014
March 16, 2015

– Our sisters had the opportunity of attending a conference with Michael Casey this past weekend at the Monastery of Christ in the Desert Abiquiu, NM.  We were blessed to listen to his words of wisdom.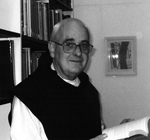 Michael Casey is a Cistercian monk of
Tarrawarra Abbey
in Australia. He is a well-known retreat master and lecturer on monastic spirituality. Casey is the author of many books, including
Benedict's Rule
,
The Road to Eternal Life: Reflections on the Prologue, Toward God: The Ancient Wisdom of Western Prayer; A Guide to Living in the Truth: Saint Benedict's Teaching on Humility; and Fully Human, Fully Divine: An Interactive Christology, Sacred Reading.  
A book suggested for Lent is entitled,
Return to the heart: Daily reflections for Lent.
In this, more than any other, we need the divine boldness to affirm that Christianity is not a matter of being good but of becoming God. It is only by the whole-hearted acceptance of the truth that God's son fully shared our humanity that we can be emboldened to find in him our way towards an intense and transforming relationship with the God who exists beyond human experience.
(from Michael Casey, OCSO, "Fully Human Fully Divine")  
"Is it possible for God, to prepare a table in the Desert? " Ps 77:19
LENT 2015 – Dear Friends,Greetings from our monastery!  Know that we added your needs in the recent Novena to St. Joseph, March 11-19th.  
"Though our sins are like scarlet, they may become white as snow."  Isaiah 1:16-18The Gospel reading for the second Sunday of Lent was of the Transfiguration of Jesus.  That day at the monastery we were experiencing the transfiguration of Gobernador into a beautiful pure white blanket of snow that surrounded us with God's silent love and peace.  The above words from Isaiah given for Lauds of the first week of Lent only added the beauty of our Lenten snow fall.We are grateful for this moisture that waters the earth and in the spring will bring green grass for the cattle and flowers to our wide open deserts.  Thank you Lord for this beautiful snow!  Mr. Jose Florez taught me a lesson during our first spring in Gobernador.  I was complaining about the rain.  He gently took me by my arm and said, "Sister, ranchers always thank God for rain and snow."Life in the desert is not possible without water; drilling the well was our first project.  We prayed our Novena to St. Joseph and sure enough the clear water came trickling out of the well and down the road.  The site of that running water brought sure joy to my heart; we were going to be able to build a monastery in Gobernador.As we grow we need water storage tanks and a larger water filter system for the drinking water and a reserve for possible fires.  A complete water system is crucial to our continued presence here.  Would you consider a gift of $25 or $50?  Just click on "Making a Donation."Thank you for your support as we celebrate our 25th year anniversary.  May this Lent bring you many graces, especially a heart as white as snow.  Peace and Blessings, Mother Benedicta Serna, OSB, Prioress
February 2, 2015

– Greetings from Our Lady of the Desert!  Today is the Feast of the Presentation of Our Lord in the Temple, the 25th Anniversary of our founding. In preparing for this day I pondered what would I say to my sisters, friends and families about the past 25 years of our monastic life?  The reason for coming to the monastery is to seek God and once I discovered this was the only purpose of monastic life it thrilled my heart to live for God. I was so excited about the possibilities!Twenty five years of searching for God in the desert, how have we as a community found God?  Well, I for one have not had visions of Jesus or his mighty angles or the holy saints and I do not spend my day in ecstasy as I have to admit I hoped for as a young nun! But I have learned to find this God of ours "among the pots and pans" as St. Theresa of Avila liked to say. God is found in our daily dealings with each other, the guest who comes to our door, in the silence and solitude of the monastery, not very glamorous but real.  One of those down to earth ways we encounter God is through the psalms that we chant seven times a day. I especially love the questions found throughout the Scripture:   Is there a message here for me in this question? Why this question?  How does it apply to my life? ….. The possibilities go on and on!  "Can God prepare a table in the desert?"  Sometime during the early days of our move to Gobernador, New Mexico on August 29, 2009, the verse from Psalm 77 caught my attention and began to accompany me on my desert journey. We chant Psalm 77 every 2nd Wednesday at the Divine Office of Vigils. The Introduction from the book, "The Psalms," tells us that, "The Psalms sing to us the human and divine history of Israel." Psalm 77 is the story of Israel's journey through the desert and in this translation is entitled, "God's patience and humanity's ingratitude".  And, I would like to add that the Psalms tell us of our own human and divine history – which includes our times of ingratitude, the human condition strikes again!But if there is anything this desert journey has taught me is that God's patience and compassion always win out in the end and with his grace so will our compassion and gratefulness.One dark morning at Vigils (4:30 am) as we made our way through the psalms in our little chapel here in Gobernador the question, "Can God prepare a table in the desert?",  became alive for me.  Psalm 77 is the story of the Israelite people wondering through the desert, they put God to the test in their hearts by demanding the food they craved.  I became aware that I was just as demanding as our Israelite ancestors. At those rough spots along the way, this question would appear to taunt me, "Is it possible for God to prepare a table in the desert?"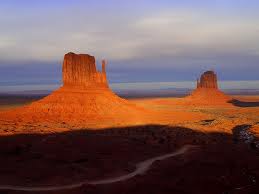 I came to see this question as the devil sitting on my left shoulder bringing my faith in our loving God into question. There were moments when it was hard to be still and listen for that still voice of God, full of compassion and there still are those moments and I'm sure they will continue.  When I feel like I am wondering aimlessly through the desert, doubts begin to flood my mind:  "Are we ever going to build a monastery, have a real home of our own?" along with "Will anyone ever come to join us?"Well, in reflecting over these past 25 years I realized God allowed these questions with all their doubts and fears to help me grow.  God took my faith that was the size of a mustard seed and planted it here in Gobernador where it was challenged and pruned and because of this question, "Can God prepare a table in the desert?" my answer has become, "Let me show you how God has prepared a table in the desert!"Looking back over the past 25 years I realize there were other questions and people who challenged my faith and in taking on the challenge, my faith grew.  One day at the Monastery of Christ in the Desert, Abiquiu, NM, I was talking to our dear friend Fred Believer, actually, it was more like complaining to Fred about heaven knows what, as St Benedict would say "murmuring" and Fred in his true monk style shot back at me, "Why not you?"  It was one of those questions that left me with my mouth open… not an easy pill to swallow but I knew in my heart he spoke truth and if I was going to continue this monastic journey in honesty I needed to take this challenge on. When I can give myself the time and space to be still and face the challenges that come my way, weather it is from my sisters and brothers or God's word I know I will see the marvelous deeds God has done for me.  He has done wonders in the sight of my doubts, in the plains of my fears. And, because of all the wonders I have seen in the past 25 years I know I will continue to see even greater.Even before Fred, there was Mother Julianne Allen's question, "Why are you doing that?" In our beginnings in Santa Cruz, New Mexico, Mother Julianne saw me doing things and saying things that probably did not make a lot of sense and she would pipe up, "Why are you doing that?" And, once again I would stand there with my mouth wide open and reply, "Ahh…," and in the end just shrug my shoulders. One day I was so frustrated with her, "Why are you doing that?" that I just blurted out, "Because the brothers do it!" and then the light went on and at that point something inside of me knew as much as I loved and admired the monks, I could not stay in the monastery, if everything I did was because the brothers did it.But with time these questions became a reality of God's presence in my monastic life. My faith grew with each step of the journey by the time we were on our way to Gobernador, it became a Journey of Trust, now I say it is a JOURNEY OF FAITH.Way back in the early days of my monastic life I read somewhere: "One trail prepares you for the next" Accompanied by Mother Julianne's comment, "It is the human condition,"  two more pills that were not easy to swallow but looking back over the last 25 years these insights have been pure gift from those who have accompanied me by challenging my faith. And, by the grace of God I was able to accept these challenges, many times resisting with all my stubborn might.But eventually with God's grace I have come to the point where I can say with confidence, "Yes, God can prepare a table in the desert."  We the sisters of Our Lady of the Desert are living witnesses to Him who is full of compassion, who forgives our doubts and spares us and who continues to lead us on this JOURNEY OF FAITH through the desert.The journey continues and the challenging questions along with it.  Last Saturday morning at Mass another challenge, how to be a Dom Bosco to my sisters? Dom Bosco was a man of deep love for the poor, especially the poor children.  This question challenges my heart:  "Can God prepare a Table in my heart? With fears and trepidation my faith tells me Yes, God can prepare a table in my heart!"Thank you for joining us on this JOURNEY OF FAITH; it is your love and support that have made it possible.  Please know we hold you in our daily prayers.  From Mother Benedicta Serna, Prioress
(NOTE:  Mother Benedicta joined the monastery on September 29, 1990)
December 27, 2014
– St. John Apostle and Evangelist – Please join us in thanksgiving as we celebrated the First Profession of Sister Agnes Le Doan today.  She made her commitment this morning during the celebration of Mass and received the black veil.  According to the Rule of St. Benedict, the Novice writes her document of Profession and lays it on the altar.  Just as the holy sacrifice of Jesus' Body and Blood is offered on the altar, so the whole life of Sister Agnes Le is offered to God.  We were delighted to welcome Abbot Philip as our Celebrant and some of the other monks of Christ in the Desert, to help with the singing.  An extra blessing was the presence of Sister Agnes Le's children who participated in the readings of the Mass and Prayer Intentions.  Congratulations, Sister Agnes Le!  (Just click on the picture to get a larger display.)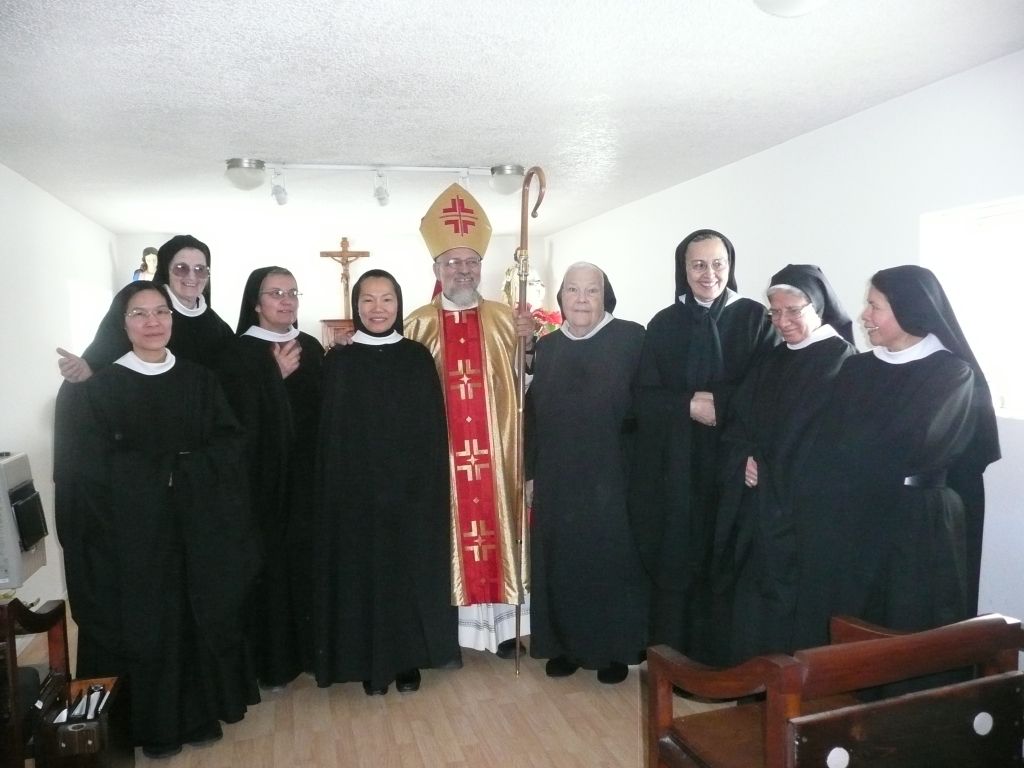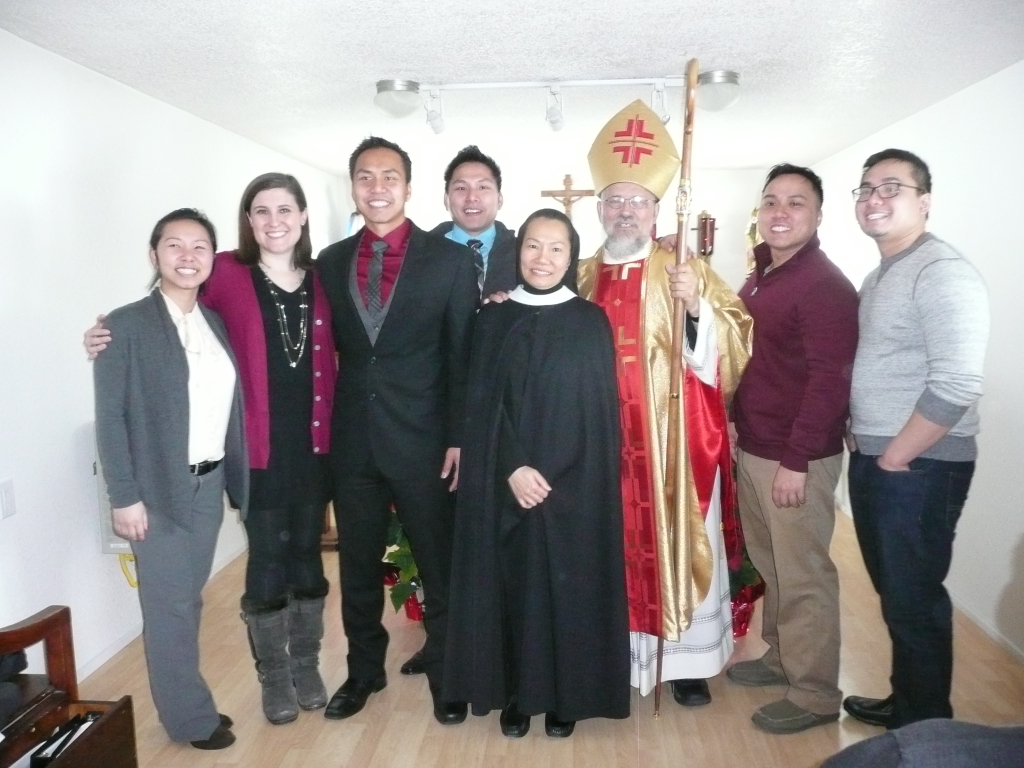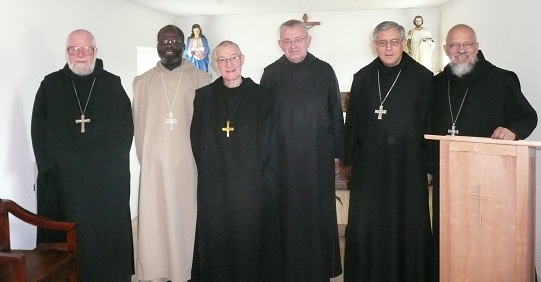 November 15, 2014  – We were happy to receive Abbots from the Subiaco Congregation for a visit which included the Divine Office of Middle Hour of Sext and a fine meal.  The Abbots and Visitors of the Congregation were at the Monastery of Christ in the Desert, Abiquiu, NM, for the past week.  The abbots pictured included:  Abbot Anselm–Visitor of the English Province, Abbot Theodore–Visitor of the Africa-Madagascar Province, Abbot Joel–Visitor of the French Province, Abbot Gerard–Visitor of the Flemish Dutch Province, Abbot Josep Maria–Visitor of the Hispanic Province, and Abbot Philip Lawrence, Monastery of Christ in the Desert, Host
Advent 2014 – With the income from the Annual Ice Cream Social, we have nearly completed Phase I which is the super insulating of our buildings against the extreme cold of winter and the heat of summer.  The next step is to replace the low grade windows for high grade windows that will save us 20% to 30% annually in heating costs.  The total of this project is $18,000.  That means that each replacement window will cost $500.  They will be professionally installed with a lifetime warranty on the windows and the installation.  The installation crew is fully bonded and insured.
I am asking if you would consider sponsoring one window of this project which means a gift of $500.  This would be a tremendous help to the community if you can say yes.  The sponsorship can be made in one payment or according to your own schedule.   Feel free to contact us.  For your convenience you can click on "Making a Donation."  Thank you for your prayers and support.  Peace and blessings, Mother Benedicta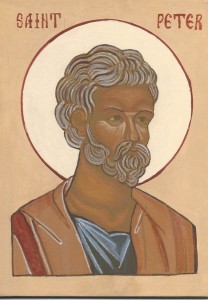 May 9, 2014 – The Open House with Bishop James Wall Friday, May 9, 2014, 2-4 pm was a wonderful ceremony, which included the Blessing of the Icon of St. Peter written by Mother Benedicta.  We had about 40 guests including many priests from the area and Abbot Philip and the monks of the Monastery of Christ in the Desert.  The Knights of Columbus were here also.  Thank you for your support!  Official names of the buildings are:  St. Benedict's Guesthouse, St. Joseph's Center, St. Walburga's (new Clayton Home modular), and Subiaco (sisters residence)
Feast of Our Lady of Guadalupe, December 12, 2013 – We celebrated the Eucharistic Liturgy and Rite of Solemn Monastic Profession and Consecration of Sister Guadalupe with the Most Reverend Bishop James S. Wall, as Main Celebrant, assisted by Deacon Nathaniel Block.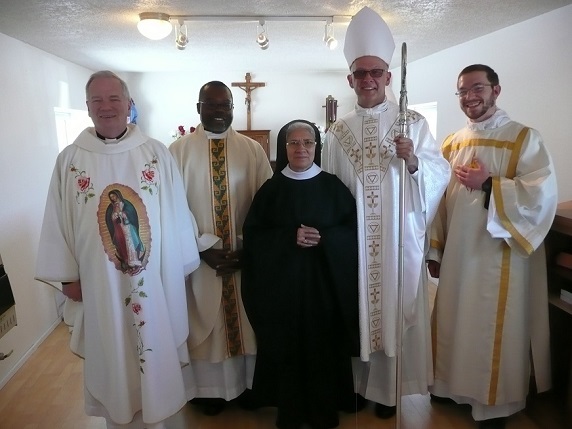 Reverend Robert E. Mathieu and Reverend Benjamin Onwumela joined as concelebrants.Please pray for Sister Guadalupe.  Sister Guadalupe reads the Chart of Profession and then it is signed by Sister Guadalupe and then by Mother Benedicta as delegate of Abbess Mary Gertrud (Jamberoo Abbey), and also by Bishop James.
January 1, 2014 – after Mass, our friend Julian, picked the winning tickets for our 2014 Winter Raffle. Thank you for your support!   Congratulations to our winners: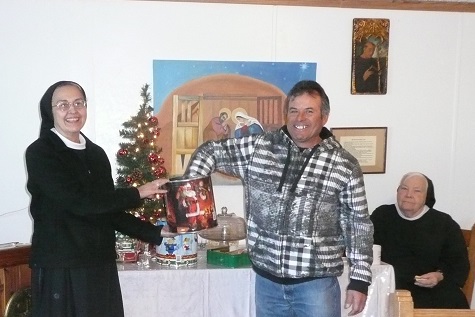 Prize #1 – $7,995 NECKLACE – Winner is Boleslo, from Albuquerque, NM.
Prize #2 – $500 QUILT – Won by Betsy from Buffalo, NY
Prize #3 – MONASTERY GUEST – Stay for two for two nights won by Paul Candelaria, Farmington, NM
Prize #4 – CHOOSE APPLE OR RUM CAKE – BAKED BY MOTHER JULIANNE – The winner from Shoreline, WA, Joseph, has chosen the rum cake.
CONGRATULATIONS TO OUR RAFFLE WINNER, LILLIAN CHAVEZ FROM BLANCO, NEW MEXICO! Mother Benedicta joyfully presented her the ring January 1, 2013. Thank you to all who participated in our 5th Annual Christmas Raffle. More details on this later.
December 2, 2012 – 1ST SUNDAY OF ADVENT – On December 1, 2012, we had our first group at St. Joseph Center.  It was in preparation of Advent.  Mother Benedicta and Sister Mary led the group in Lectio Divina.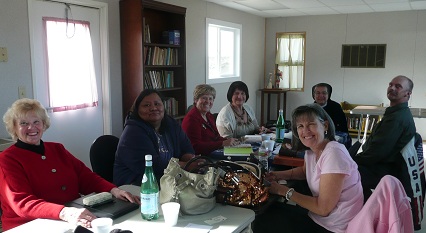 July 19, 2012 – Conversation on Monastic Living and Practices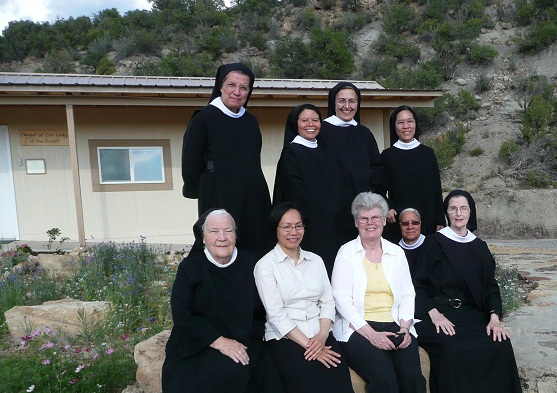 We are all smiles after our challenging workshop with Sister Aileen Bankamper, OSB, July 13-19, 2012. Our review included steps to improve communication and creating a healthy "monastic" attitude. This included discussions on the Rule of St. Benedict and its applicability in the manner of living monastic life, and strengthening our commitment to the community. Thank you all for your prayers. Have a safe trip back to Kentucky, Sister Aileen!
December 25, 2011 – From The Sunday Albuquerque Journal – Copyright © 2011 Albuquerque Journal
SILENT NIGHT, Holy Night, Sisters Mark Christmas, and Life, in Quiet Ways by Olivier Uytterbrouck, Journal Staff Writer
BLANCO – Christmas is a time of silence at the Monastery of Our Lady of the Desert.  The silence here is so profound it seems to amplify even tiny sounds, such as a whispered psalm or the clang of a bell that calls the sisters to prayer seven times each day.  "Silence doesn't mean no noise," said Sister Julianne Allen, 80, one of seven sisters who compose the small Benedictine community about 35 miles east of Farmington. "You can have exterior silence and be too busy in your head to hear anything."
More important than silence is "a quietness within."
"I think that's what Christmas is about – to find that silence, because Christ comes in silence," she said. "Christmas is really the time to be still so you can hear the gentle voice of God."
The silence and predawn darkness here have a gravity that city dwellers rarely experience.
Mother Benedicta Serna, the community's mother superior, stood in the freezing air before sunrise and pointed to the distant headlights of a car passing on U.S. 64, a mile north of the monastery – far enough away that the engine was inaudible. "There's the world passing by out there," she said.
Our Lady of the Desert is a silent religious order, meaning the sisters refrain from speaking at certain times, such as during meals. At other times, the monastery rings with talking and laughter or the clatter of pans and dishes as the sisters prepare meals.
The sisters' day will have started hours before most New Mexicans begin stirring on Christmas morning.
They rise at 4 a.m. every day and gather in the chapel a half-hour later to sing hymns, read psalms and pray.
The monastery is housed in a clutch of refurbished manufactured homes at the end of a dirt road. Earlier this month, workers hauled a new mobile home to the site to serve as guest quarters.
The sisters plan to eventually build a new monastery atop a high mesa nearby and use the current facilities to sponsor retreats and provide income for the community.
For now, the monastery remains largely dependent on donations of money, work and food. The sisters set aside a four-hour work period each day for tasks such as sewing, cleaning and making crafts for sale.
To the south looms 7,000-foot Gobernador Knob, named for the Navajo deity "Changing Woman."
For the women of Our Lady of the Desert, recent years have brought many changes.
In 2008, the nuns abandoned a comfortable home in Abiquiu where they had lived since 1997 under the protection of the Monastery of Christ in the Desert, a 37-year-old monastic community for men.
"Our life was good at Christ in the Desert, but we didn't own our own property," Sister Mary Fisher said. "We didn't have a say in any decisions. Nobody knew we were there. We were hidden away."
First, they moved to temporary quarters at St. Rose of Lima parish in Blanco, then in 2009 to their present home on 40 acres of donated land. In that time, the number of sisters dwindled from 11 to seven. They range in age from 44 to 80.
"It was very difficult," Fisher recalled. "We didn't have any money. We didn't know what we were in for." The sisters who left for other communities were troubled by the uncertainty, she said. "Some of the sisters couldn't handle it."
Evidence of Christmas is muted at Our Lady of the Desert during the Advent season. The sisters place a holly wreath in the chapel during the weeks of Advent and set up a nativity scene on Christmas Eve. But their daily cycle of prayer and work changes little.
Traditions such as Christmas trees, farolitos and caroling were absent at the first Christmas, and so they will be today at Our Lady of the Desert.
"Our silence of Christmas is like the silence of Our Savior being born in the stillness and quietness of the manger," Sister Kateri Lovato explained in an email. "It's so simple, it becomes hard to grasp."
— This article appeared on page A1 of the Albuquerque Journal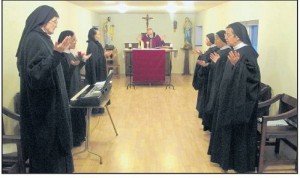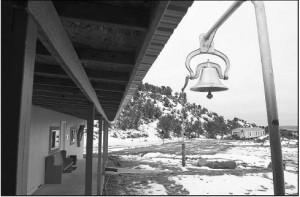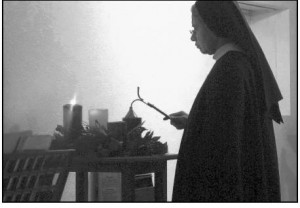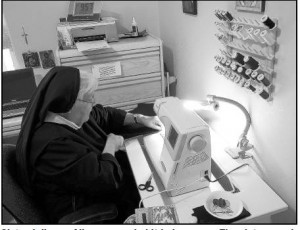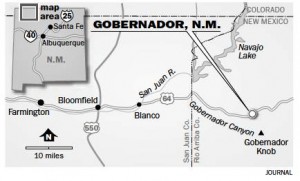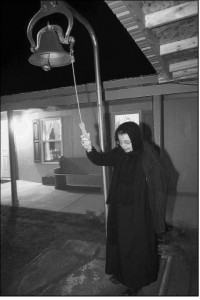 November 2011 –  Dear Friends, Greetings from Gobernador!  Joseph and Mary most likely traveled eighty miles by foot and donkey from Nazareth in Galilee to Bethlehem in Judea, a 15-17 day journey. Amid their uncertainties and doubts, their faith gave them the courage to continue the journey, knowing that the time would come for the birth of Our Savior.It has been a long "Advent" of waiting for the Guesthouse, a place for others to prepare their heart, mind and soul for the coming of Jesus. By the time you receive this newsletter, the Guesthouse will have been transported from California, (2 days) and delivered, ready to set up!
Thank you for your support and prayers; your love made this project possible.Among the challenges of our past year we were encouraged to continue the journey by many blessings, which included our yearly retreat. Father Christian Leisy, OSB, from the Monastery of Christ in the Desert, Abiquiu, NM, was our retreat director.
Fr. Christian began with the insight that a retreat is not an end in itself; it assists us to go to God, and that a retreat gives us the structure and support to do our spiritual work by renewing our faith, hope and love for God, our brothers and sisters and for our communities. When was the last time you were on retreat? For the sisters it is a yearly event.
You are probably asking yourself, "Why do nuns who pray all day need a retreat?" In Canon Law under the Obligations and Rights of Institutes, we are to faithfully observe a period of an annual retreat. For us it is a time for growth as individuals living in community, a time of rest, to stop, look and listen for the still voice of God. Once the Guesthouse is set up, we look forward to welcoming you for a time of renewal and refreshment in the silence and solitude of the desert.
We will soon post the upcoming opening and blessing of the Guesthouse. May this time of Advent waiting fill your hearts with joyful expectation for our Lord's coming. Please know we hold you and your loved ones in our daily prayers. We pray that you, your families and loved ones will be blessed with a joyful and peaceful Christmas along with a healthy and Happy New Year.  God bless you, Mother Benedicta Serna, Prioress
November 21, 2011 – Thank you to all the parishes that have supported us in our fund raising efforts for the Guesthouse. Recently, on November 19-20, 2011, Fr. Francisco Alanis, from the Monastery of Christ in the Desert chauffeured two of our sisters to the Colorado parishes of the Shrine of St. Anne, in Arvada, CO and St. Joseph Catholic Church in Fort Collins, CO. The craft sales brought in $3,000. We are very thankful for the support and hospitality received by the Pastors and parishioners. God bless you!
September 15, 2011 – Please join us as we welcome Le Doan who was received as a Postulant at the Entrance Ceremony on Thursday, September 15th, the Memorial of Our Lady of Sorrows.During the Ceremony, Mother Benedicta asked Le, "We have gathered here in the love of Christ to be with our Sister Le as she enters our Benedictine community. Le, what is your request?" Le responded, "I ask to make trial of my vocation under the Rule of St. Benedict as it is lived in this monastic community."
August 29, 2011 – From Mother Benedicta, Greetings of peace and joy from sunny Gobernador. I hope your summer was filled with fun! Be sure and click on Community New for some interesting updates from our sisters. On June 9th, 2011, we received word from our Mother House, Jamberoo Abbey that Sister Janice Robertson died from pancreatic cancer.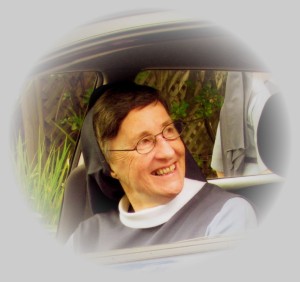 Sister Janice was with us February through April 2009, while we lived at St. Rose of Lima Parish. She introduced us to the 2-week cycle of the Divine Office, and compiled the books. We are indebted for all the love she showed us!As followers of St Benedict we welcome all guests as Christ. Everyone who comes to our door is Christ for us and in them we receive Christ. Joan Chittister's commentary on The Rule of Benedict: Insights for the Ages, explains hospitality beautifully, "'Hospitality is one form of worship,' the rabbis wrote and Benedictine spirituality takes this tendency seriously…We want the world to know they are welcome to come right in…You are the Christ for us today."
Last year, thanks to the highway department, large "MONASTERY" signs along our stretch of Highway 64, were installed, announcing our presence to all passing in either direction. Cars come and go throughout the day, some people stop and visit the Chapel, some just drive up, turn around and continue on their journey, others ring the bell to talk to a sister. I believe all of them come in search of God whether they know it or not. It is God that draws them to this oasis in the desert. We invite them to take a minute or two of silence in our Chapel and we share a word of encouragement and pray with them.
Just as we thought we would be signing the contract and making the down payment so the Guesthouse building could begin, we decided a separate electric panel for the backup system for the solar system was needed. Our energy efficient Guesthouse will have 4 rooms, along with a kitchenette where guests can prepare their breakfast and evening meals. The guests will eat the main meal with us.
As we enter the final days of planning the Guesthouse and the building begins, we thank you for making the Guesthouse possible.We were delighted to welcome Bishop James Wall and Deacon Roger Garcia for a short visit May 14. The kittens were fascinated with the Bishop's pectoral cross.In July the Spiritual Renewal Center (SRC), granted us a gift in the amount of $20,000. The SRC is supporting our purpose of a basic solar system for the modular Guesthouse.
Mother Benedicta and Sister Kateri joyfully received the check from Fran Whelan, Board President of the SRC. Other SRC Board members who joined us were David Tod, and Rebecca D. Vigil. God bless the Dominican Sisters of St. Catherine de'Ricci who operated and ministered the Spiritual Renewal Center since their beginnings since 1955, in Albuquerque, NM.Thanks to all the parishes throughout New Mexico and Arizona who have supported us by allowing us to sell our crafts following Sunday Masses. Please pray for our development projects. On June 8th, Sister Marie Fidégnon, OSB arrived from the Benedictine Monastery of the Assumption in Togo, Africa for two months. We are grateful for her voice training lessons, simplifying our tones for the Divine Office and teaching Sister Mary how to play the zither.Thanks to all who helped make our 2nd Annual Ice Cream Social a success, on July 9th at St. Rose of Lima Parish! We are pleased to have raised close to $10,000. It was fun for everyone and plenty of yummy grilled hamburgers and hot dogs with all the trimmings.
Sister Aileen Bankemper, OSB, from St. Walburg Monastery in Covington, Kentucky was with us from July 18-25. She helped us continue building up our Benedictine way of life by facilitating discussions, teaching us communication skills. We also took time for a relaxed community outing with S. Aileen to the Aztec Ruins, exploring 400 rooms.  Please know we hold you and your loved ones in our daily prayers.  We especially remember the students returning to school.  Peace and Joy from Mother Benedicta Serna, OSB, Prioress
August 21, 2011 – St. Benedict states in his Rule, Day by day remind yourself that you are going to die. (Chapter 4, Verse 47)
Snakey Trick by Mother Julianne – As some of you remember reading in our last newsletter, we mentioned  about Valentino, our new elk friend.  Just recently it was my day for cooking and as I reached for a sauce pan in a lower cupboard and I thought I saw a snake.  Well, I thought, "Who is playing a trick on me?"  Nobody, as I learned later.  I picked up the snake close to the head and then got my "picker upper" and the snake coiled itself around the handle.  As I went outside a few sisters were screaming but we managed to throw the bull snake far away.  Growing up on a Texas ranch, I learned quickly the difference between the venomous and nonvenomous snakes by the sound, color and shape.  There are only 8 poisonous snakes in New Mexico – a coral (easy to recognize) and 7 species of rattlesnakes, also easy to recognize.  All the others are helpful, so be friendly to them.  If anyone is interested I do have a delicious recipe for snake.  I am serious.
There is a story about a snake and St. Benedict in the "Life and Miracles of St. Benedict," by Pope St. Gregory the Great.  The story goes that one day, a fellow Roman was sent to St. Benedict with two wooden flasks of wine.  He delivered only one since he had hidden the other one along the way.  St. Benedict told the monk, "Take good care, my son, how you drink out of that flagon (flask) which you have hidden; pour out what is in it very gently, and you will see what it contains."  He obeyed Benedict, however, and carefully poured out the contents of the other flask – not wine, but a horrible snake.   The man was horrified, but St. Benedict understood imperfections and by the way, this man later became a monk.
Prefer nothing to the Love of Christ (RB4, Verse 45) By Sister Kateri – In the Old Testament I found that God was meant to be sacred and holy as he spoke not only to Moses, but throughout the early history of God's people.  The word "closer," stuck to my mind that week especially at Mass during the beginning of the Consecration, "Holy, Holy, Holy…"   Also, "Don't come any closer," brought to mind my outlook of Christ and myself and how I become distant to others and also, where is my heart?
Then, a week later, Sister Aileen arrived at the monastery.  She was going to be with us from July 18-25, 2011.  She had been highly recommended to us as we continue to build up our Benedictine way of life and in March she came for a short visit discussing communication, creating a healthy attitude and gave us a 'Map of Emotions.'  On July 18th at the first conference, she handed out blue folders with documents of help tools.  Oh no, I said to myself, "Don't get any closer."  Well, before me was the folder, and I was struck by the cover, a drawing painted by Sister Emmanuel Pieper, OSB, with the words, "Closer to Christ ∙ Closer to each other ∙ Closer to all people."  Believe it or not, that word "closer," became my mantra during that week as the community explored ways of communication, boundaries, forgiveness, attitudes, life's traumas and the list goes on.  At times I felt I was on the hot seat but the support of my sisters, and the time allotted for rest, good meals, and of course, Mass and the Divine Office, made the week worthwhile.
Now the blue folder is on the shelf, but the picture is viewed daily on my calendar.  The word "Closer," reminds me what I became aware of during that week, learning to look at my attitude towards Christ, myself and others. Thank you Sister Aileen and Sister Emmanuel.
…We intend to establish a school for the Lord's service from the Rule of St. Benedict, Prologue, Verse 45
By Sister Guadalupe – The Monastery of Our Lady of the Desert has been a school of learning for me in doing the will of God.  Learning English has been a good experience for me.  As you know I have been studying English at the Community College of New Mexico in Albuquerque, NM and I am very thankful for all the support I receive from the teachers and students.  I always meet people who ask for prayers and I am happy to let them know there are other sisters that pray for them also.
By Sister Hilda – As you know I am originally from Guatemala.  Before I came to join the Monastery of Our Lady of the Desert in NM, I never thought that I would ever have the chance to visit my family again.  Some of you remember that Mother Julianne Allen and Father Christian Leisy, from the Monastery of Christ in the Desert, went to the USA Embassy in Guatemala 1998 in order to help me get an American Visa for me.   During that visit, one of my brothers was brave enough to ask Mother Julianne if I was going to visit the family sometime.  The answer was, "Yes, every three years for a month."  "Wow," I said, "That is nice."
On May 13th of this year Mother Benedicta accompanied me for a few days during my home visit.  It was a special time for my family since we knew that the health of my father, Juan, was deteriorating with leukemia.  I had the feeling that my dad was waiting for me to spend some time together and to formally say goodbye.  My father passed away a few weeks after I came back to the Monastery on Sunday, July 24, 2011.  I am very confident that he is at peace in heaven.  His devotion and love to Our Lady of Grace was great.  We miss him but we know that one day we will join him again.  I want to take this opportunity to thank you for all your prayers, your love and support to me and my family at this time.
July 14, 2011 – We are very grateful to receive from the Spiritual Renewal Center, Inc. (SRC), Albuquerque, New Mexico, a one-time financial gift in the amount of $20,000. The SRC reviewed our recent application and voted yes to support our cause of purchasing and installing the solar panel for our new Guesthouse.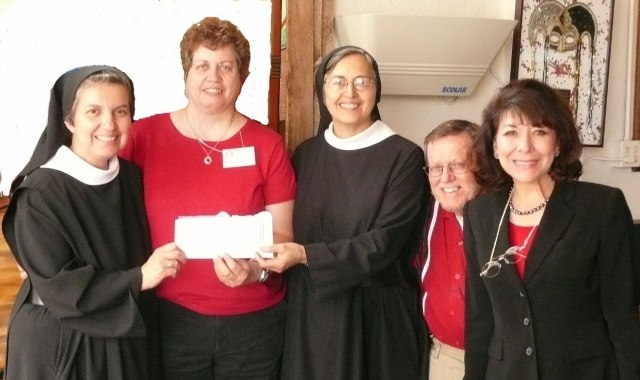 We joyfully received the gift. Below is a picture of Mother Benedicta receiving the check from Fran Whelan, Board President of the SRC. Also pictures are Sister Kateri, SRC Board members, David Tod, and Rebecca D. Vigil.
July 12, 2011 – Thank you for your support in making our 2nd Annual Ice Cream Social on July 9th a success.  We raised over $10,000.  We thank all those who attended and especially all the businesses who supported us.  Special thank you to the Knights of Columbus, to Greg and Antonio who kindly barbecued the meat for us in this heat.  We had over 200 people who attended the fun event.  With the generous support of people like you, we are coming closer to purchasing our modular Guesthouse and also providing assistance to help build a new parish hall for St. Rose of Lima.  Enjoy some of the pictures.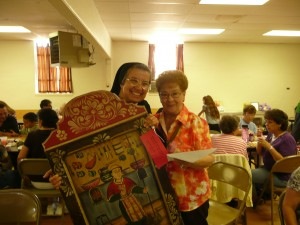 April 26, 2011 – A very Happy Easter to you!  Our Triduum for Holy Thursday included Mother Benedicta washing our feet during the Mass celebrated by Fr. Luis.  We had a few guests who joined us.  On Good Friday we had the Stations of the Cross outside and thanks to God for good weather.  We were happy to see the youth who joined us.  During Holy Saturday, which is the day Jesus lay in the tomb, the sisters were busy preparing for the liturgy of Easter and making sure our Chapel was set according to rubrics.   The Easter Vigil included a fire outside behind our Chapel even though it was rainy.  We managed to light our candles from the Easter candle, but when we put the candle in the candle holder in the Chapel is was too high and was burning the paint from the ceiling, so, the sisters took turns holding this big candle.  It was unexpected but we understood the light of the world more deeply.  Thank you for all who participated in guessing how many pennies were donated by Joey Paul in the peanut butter jar (Lenten newsletter 2011).  The amount is  $4.86, and the winner remains anonymous, but is from Albuquerque, NM.
Sister Mary and Sister Kateri are preparing to sell religious items and our crafts May 6 & 7, at St. Rita Catholic Church, in Show Low, Arizona, which is part of the Gallup Diocese.
With the approval of Fr. Bob Mathieu, St. Rose of Lima Parish, we will be having an upcoming joint ICE CREAM SOCIAL BINGO, JULY 9th.  The proceeds will be going to help fund a new parish hall and to help fund our Guesthouse.  More on this later.  In the meantime, marke your calendar!
March 2011 – Return to the Lord your God.     (From the book of the prophet Joel 2:12)  Dear Friends, Thank you for your love, support and prayers, as we celebrate our second Lent here in Gobernador. The Rule of St Benedict has a chapter just on Lent, Chapter 49 The Observance of Lent, in which Benedict tells us that Lent is a time for us to wash away the negligence of the past year, a time to return to the Lord our God. Well, my Lenten return started a little early this year.
After three years of fundraising, two moves and seemingly nonstop building projects, it was time for me as Prioress, to take a break.  I spent two weeks at Santa Rita Abbey, Trappestine Monastery  in the desert foothills of the Santa Rita Mountains south of Tucson, Arizona.
Until I returned to the monastery and found myself in quiet peaceful prayer, I didn't even know how much I needed this time away.  Remaining still, at peace, in solitude, I saw an image of what my prayer time had become – hamster running on the tread mill, round and round, getting nowhere.  I, of  course, was the hamster.   As I let everything around me build up, the lists of community needs, the needs of the monastery, building plans, circled around me making a useless running.  And then I was continuing to scurry by on my treadmill made of needs.  Finally, through the help of the good sisters of Santa Rita, the hand of God reached down and stopped the tread mill, and I got off.  Even in the monastery how easy it is to get caught up in the concerns and worries of life. Did you know we can miss heaven by 18 inches? This is the approximate distance between the head and the heart. (American Feb 7, 2011, A Theology of Migration by Daniel G. Groody). The silence and solitude of Santa Rita Abbey helped me to become aware of where my thoughts were taking me.  My time away allowed me to stop, step off the tread mill and begin the 18 inch journey back to my heart.
I look forward to the completion of our Guesthouse, a place where the silence and solitude of the desert can renew the hearts of those searching for God and allow them to hear the gentle voice of the Holy Spirit. Until our Guesthouse is ready please take time for a retreat, two weeks, one week, one day, half a day, half an hour. Find a monastery or retreat house or a church.  Many cities now have Blessed Sacrament Chapels; stop by for 10 minutes with Jesus! Return to the Lord your God!  Our prayers are with you and your loved ones during this Holy Season of Lent.
Peace and Blessings, M Benedicta Serna, OSB, Prioress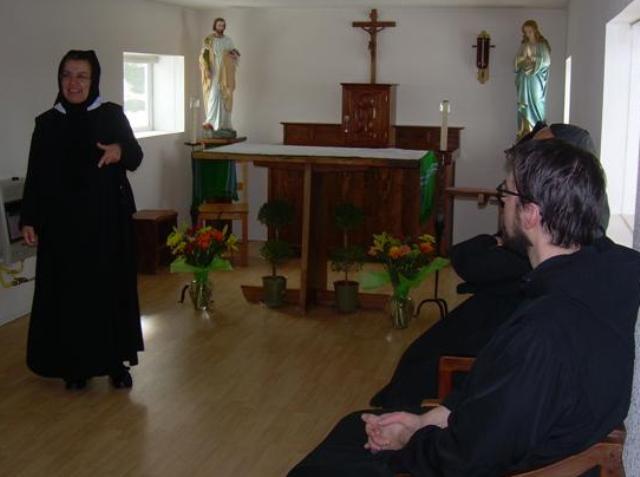 January 17-21, 2011 – Mother Benedicta attended the Mexican and USA superiors meeting of the Subiaco Congregation at the Monastery of Christ in the Desert.  She is shown welcoming the superiors to our monastery.  She enjoys showing visitors our chapel – all the good God has done for us through the help of so many loving, generous people!
November 30, 2010  – On this beautiful feast of St. Andrew we have two guests who arrived this morning, Sister Josefina Damián Reyes, and Sister Juana Espinosa Velasquez, both Poor Clares from Yautepec Morelos, Mexico, Monastery of Our Lady of the Rosary and St. Clare, established in 1997.  As Franciscans they live a contemplative life with eight other women in the Diocese of Cuernavaca, about a two-hour drive South from the City of Mexico.  We are delighted that the sisters will be with us for about three days.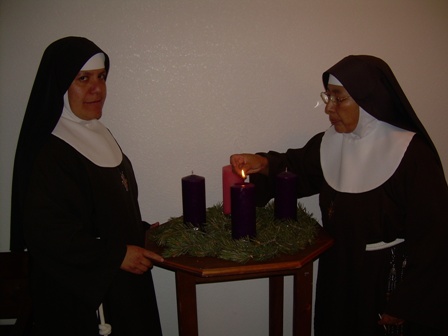 October 28, 2010  – Father Bede Kierney from St. Mary's Monastery gave our annual retreat October 17-27.  As our Chaplain, Fr. Bede shared his conferences on the Psalms with a touch of laughter, funny stories, and of course, a gifted humorous personality.  As mentioned in our recent newsletter, Sister Therese Gilmour, from Jamberoo Abbey, Australia, has been with us and she also had the opportunity of being here for the retreat.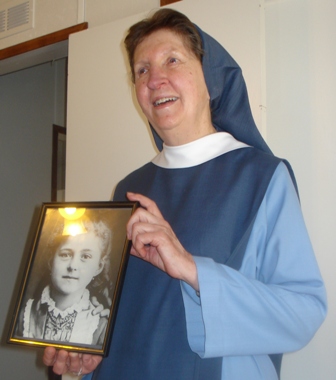 Our meeting conferences with Sister Therese began on September 27, 2010, which included topics that she referenced back to the Rule of St. Benedict.  The sessions were in the mornings, which included group discussions and input.  Encouraged to participate individually, some of the topics included:
"Our History"
"Communication and Listening in Monastic Life"
"Authenticity in Monastic Life"
"Patience"
"Day-To-Day Community Life"
"Re-Building"
"Looking Back and Looking Ahead in Hope"
To end our meeting conferences, we had a community celebration and blessing with the recitation of Vespers on October 27, 2010.  Mother Benedicta opened the ceremony with a prayer:
O God, You call us to live your way of love through Stability, Obedience and Conversion of Life.  May we open our hearts to the gift of peace you offer us, so that we may be healed and strengthened to live in union with you, and in loving and compassionate care of each other in the spirit of our holy father, St. Benedict.
September 21, 2010 – Welcome Elvira!  We are pleased to announce that we have another sister with us, Sister Elvira Leyva-Padilla (future name Sister Guadalupe), who is very thankful to Our Lady of Guadalupe.  Mother Benedicta brought her from the airport on Tuesday, and they arrived to the monastery on September 16, 2010.  Sister Elvira was here for her Observation from Oct 2009-March 2010.  We processed her Immigration forms and thanks to God she is approved to come from Mexico.  We ask for your prayers that Our Lord may continue to guide her in her monastic way of life. 
August 15, 2010  – On this Solemnity of the Assumption of the Blessed Virgin Mary, we also celebrate the 60th Anniversary of vows for Mother Julianne Allen.  As most of you know she was a Sister of St. Mary of Namur and in 1990-2005 Abbot Philip Lawrence of the Monastery of Christ in the Desert appointed her as the superior of this community.  On February 2, 2005, Mother Julianne transferred her vows to the Monastery of Our Lady of the Desert.   Her favorite quote is Be still and know that I am God, taken from Psalm 45 In simplicity and joy I have given all to God.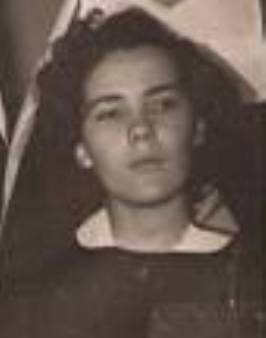 Please join us in congratulating Mother Julianne for her 60 years of dedication to the religious life.  A picture of Mother Julianne when she was a postulant taken in 1950.
August 10, 2010 – On Tuesday, August 10, we had three abbots with us for the Middle hour of Sext and the main meal.  We welcomed Abbot Philip Lawrence, from the Monastery of Christ in the Desert (CID), in Abiquiu, NM, Abbot Anselm Atkinson, from our English/American Province, and Abbot Albert Altenähr, from the Abbey of Korelimünster in Germany.  Abbot Anselm and Abbot Albert were doing a follow-up canonical visitation at CID.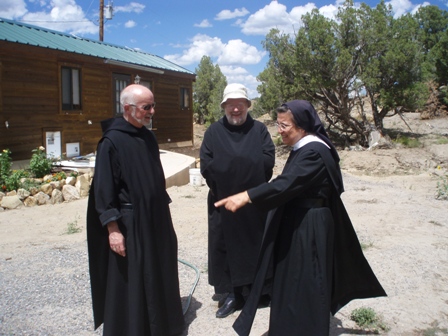 Mother Benedicta on the right showing the Abbots the ground near the Chaplain's Quarters
As many of you know we belong to the Diocese of Gallup.  The newspaper for this Diocese is called, "Voice of the Southwest."
Voice_of_the_Southwest_June_July_2010_P1
Voice_of_the_Southwest_June_July_2010_P12
July 30, 2010 –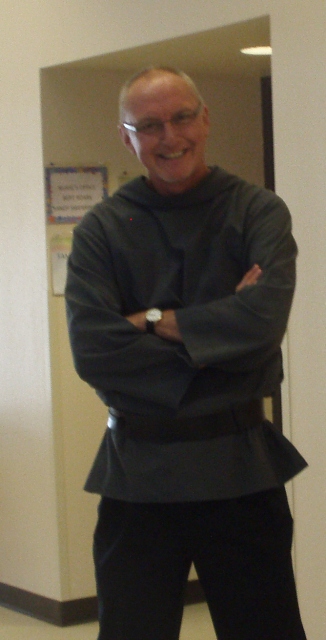 Father Thomas Baxter was our Chaplain for 7 months and we are very grateful for his presence.  And, of course, we can't leave out his dog, Barnaby.  Not only was Father available for us for Mass and the sacraments, but he was always willing to help us in so many ways!  We will miss him and please pray for him as he will be assigned to South Africa in Polokwane.
July 28, 2010
We welcomed the Daughters of the Holy Spirit, a group of Catholic women from St. Mary's Church in Bloomfield, NM, who were here to share Mass with us;  Father Bob Mathieu and Deacon Pat Valdez also joined us.  After Mass, Sister Mary gave the ladies a tour of our monastery.  They brought food and soft drinks to share with us and we had a talking meal.  Mother Julianne also spoke to the group about our schedule in the monastic way of life.  Our guests also joined us for the Middle Hour of Sext at 1 pm.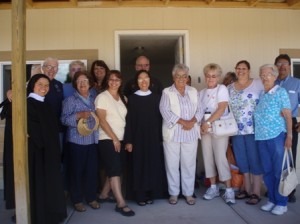 The Daughters of the Holy Spirit meet for spiritual fellowship and support.
The women meet twice a month on the 2nd and 4th Wednesday at the John Paul Room, CCD Hall.  If you are interested please call Julie Armenta at 505-330-9892.
July 22, 2010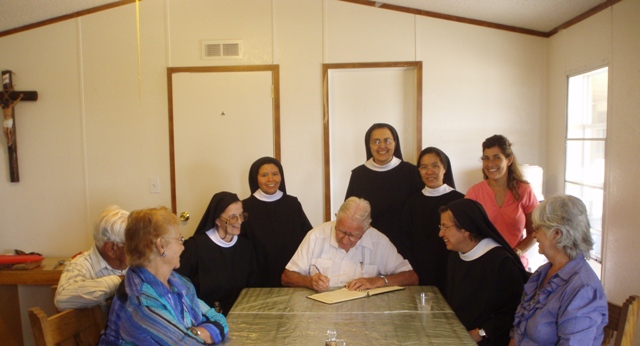 Father Chrysostom Partee, ofm, is shown signing our guestbook.  Father Chrysostom was the former Pastor of the community of St. Rose of Lima Parish 1952-1963. Father celebrated Mass for us and our guests.  Father is a Franciscan and belongs to Our Lady of Guadalupe Province.
July 11, 2010 – Solemnity of Our Holy Father St. Benedict of Nursia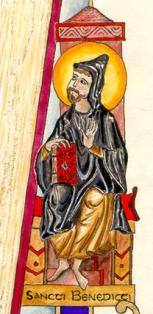 God our Father, you made Saint Benedict an outstanding guide to teach us how to live in your service. Grant that by preferring your love to everything else, we may walk in the way of your commandments.
As we celebrate this solemnity, we have Fr. Thomas Baxter's famous blueberry pancakes for breakfast.  Sister Kateri Lovato assisted him also with the main meal.   It is a blessed day.
August 2010 – In Grateful Gratitude – The nuns couldn't do the building projects without the fantastic support of churches and businesses and all those that have given their donations in the form of in-kind services and items needed for the monastery, especially those helping hands that contributed their time and efforts to our Ice Cream Social in June.   Many thanks to the many devoted people and we apologize for those that we have not included, especially to Juan Trujillo, who we overlooked thanking in our December newsletter.  Mr. Trujillo hired a professional painter who not only painted the Chapel, but also textured and trimmed the edges of its walls, windows and ceilings.  Thank you for helping to making our Chapel so beautiful.  This summer we had many angels helping us with gifts of service and/or materials.
"See how the Lord in His love shows us the way of life," from the Prologue, Rule of St. Benedict
Come join our Benedictine Oblate Program – You may be asking, "What is an Oblate?"   Benedictine Oblates are Christian men and women who wish to offer themselves to God through association with a Benedictine Religious Community so as to deepen, strengthen and enrich their Christian Faith.  The word oblate comes from the Medieval Latin word Oblatus.- one who offers herself/ himself to a monastery. Benedictine Oblates have been in existence since the 6th century. Their history is fascinating, but that's for another time.
What does it mean to become an Oblate of the Monastery of Our Lady of the Desert?   As Christians we know that God first loved us and chose us (Jn. 15:16). He offered up His only begotten Son, to take on our humanity, in obedience unto death on a cross (Phil. 2:6-11), so as to enable us to grow into all that he created us to be. The life of every Christian is a self offering in which with great love and gratitude we respond to His choosing us first.
The Oblate program is a means through which one can grow more deeply into the image and likeness of Christ through Prayer; Lectio Divina (prayerful reading, meditating and praying with the Scriptures); mutual support with like minded Christians; discussions; etc.   We will come together once a month at the monastery for Mass, sharing a meal, a spiritual exercise, etc. Each Oblate group is generally organized according to the needs of its members. If you would like to know more about the Oblate program, please contact Mother Benedicta  by phone: 505-419-2938 or 505-419-3302.
Community Update – As we have mentioned the Koch Foundation was generous to grant us $20,000 and we have recently received $6,400 from the Subiaco Solidarity Fund.
Listen…And incline the ear of your heart
"If there is a single master-theme in the prologue, it is the need for action. The first verse states succinctly: Accept my words and translate them into action! Through-out the exhortation, the listener is urged to take concrete steps to put the doctrine, Christian and monastic, into energetic practice. A religion such as Christianity, with its huge body of subtle and complex doctrines, runs the risk of getting bogged down in a morass of speculation; conversely, it can float around as a cloud of irrelevant piety. The Prologue takes a much more hardheaded line, demanding that we prove our religious convictions by solid deeds of fidelity to God." (Benedict's Rule, A Translation and Commentary by Terrence G. Kardong, pg. 28)