2nd Sunday of Advent, December 10, 2017 – Readings: Isaiah 40:1-5, 9-11; RESPONSORIAL PSALM 85:9-10,11-12,13-14; SECOND READING 2 Peter 3:8-14; GOSPEL Mark 1:1-8
Getting ready for an event takes preparation, organization and a key sense of awareness. We can all think about something that we've had to prepare for. On this 2nd Sunday of Advent, we prepare for the coming of Our Savior. Maybe we are not in the desert like John the Baptist, but we have our deserts of challenges, our deserts of troubles and unrest.
We look to peace within our hearts to "Prepare the way of the Lord, make straight his paths." We ask God to intercede the world with peace, as we light the second purple candle in our hearts. – You will soon receive our Christmas newsletter. Know that we pray for you.  SK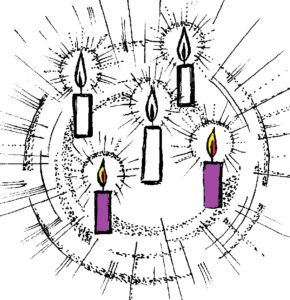 ADVENT PRAYER – Father, in the wilderness of the Jordan you sent a messenger to prepare people's hearts for the coming of your Son. Help me to hear his words and repent of my sins, so that I may clearly see the way to walk, the truth to speak, and the life to live for Him, our Lord Jesus Christ. Amen. (from Today's Missal)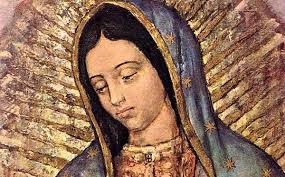 December 12 – Feast of Our Lady of Guadalupe  – O God, you have been pleased to bestow upon us unceasing favors by having placed us under the special protection of the Most Blessed Virgin Mary. Grant us, your humble servants, who rejoice in honoring her today upon earth, the happiness of seeing her face to face in heaven. O Virgin of Guadalupe, you want to remain with us through your admirable Image, you who are our Mother, our health, and our life. Placing ourselves beneath your maternal gaze, and having recourse to you in all our necessities, we need do nothing more. O Holy Mother of God, despise not our petitions, but in your mercy hear and answer us.  Amen (from America Needs Fatima)
The Holy Father's prayer intentions for December 2017:  The Elderly:That the elderly, sustained by families and Christian communities, may apply their wisdom and experience to spreading the faith and forming the new generations.
MISSION STATEMENT – The Monastery of Our Lady of the Desert is a monastic community of women in the Benedictine tradition.  We profess vows of stability, conversion of life and obedience.  Our primary mission is to seek God through a life of prayer, silence and solitude.  Our way of life frees us to give glory and praise to God, intercede through prayer for the needs of the world and hospitality.