August 25, 2019 –  TWENTY FIRST SUNDAY IN ORDINARY TIME. Mass Readings:  Is 66: 18-21; Ps 117: 1,2; Heb 12: 5-7, 11-13; Lk 13: 22-30
There is something to be said about the word "discipline."  Its not punishment and not a correction but a reminder of the correct way of living our lives.  In the Gospel, Jesus reminds us of the narrow gate towards our salvation.  Narrow refers to our responsibility of commitment to live holy lives.  It refers to our continual transformation, a change within us.  We must respond positively each day even with all the negative challenges we face with the help of God's grace.  "Father help us to seek the values that will bring us lasting joy in this changing world.  In our desire for what you promise make us one in mind and heart…" from the Opening Prayer for this Sunday.  God bless each of your loved ones with continued peace.  SK
You are invited to celebrate our 10-year anniversary on August 29, 2019, with the celebration of Mass with Fr. Jeffrey Steele, our Chaplain.  Thanks to the many people who have supported our endeavors of living the monastery life in the desert.  Please pray for us.    
Newsletter:  Most of you have received the recent newsletter this month.  To view, click on ourladyofthedesert.
March 25, 2019 – Abbatial Blessing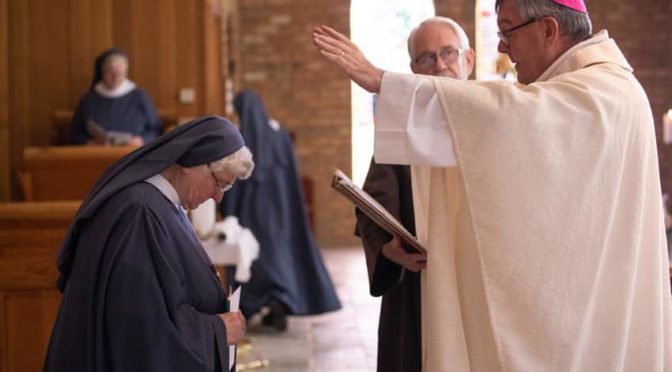 Mother Hilda Scott osb receives an Abbatial Blessing from Bishop Brian Mascord. PHOTO: Daniel Hopper
Congratulations to Sister Hilda!  We are happy to announce from our Mother House that the nuns of Jamberoo Abbey ask you to please pray for Sr Hilda Scott who has been elected Abbess of their Benedictine community.  The Abbatial Blessing  took place on March 25, 2019, the Solemnity of the Annunciation of the Lord.
Pope Francis Monthly Intention for August 2019                                  Families, Schools of Human Growth
That families, through their life of prayer and love, become ever more clearly "schools of true human growth."
MISSION STATEMENT – The Monastery of Our Lady of the Desert is a monastic community of women in the Benedictine tradition.  We profess vows of stability, conversion of life and obedience.  Our primary mission,  is to seek God through a life of prayer, silence and solitude.  Our way of life frees us to give glory and praise to God, intercede through prayer for the needs of the world and hospitality.