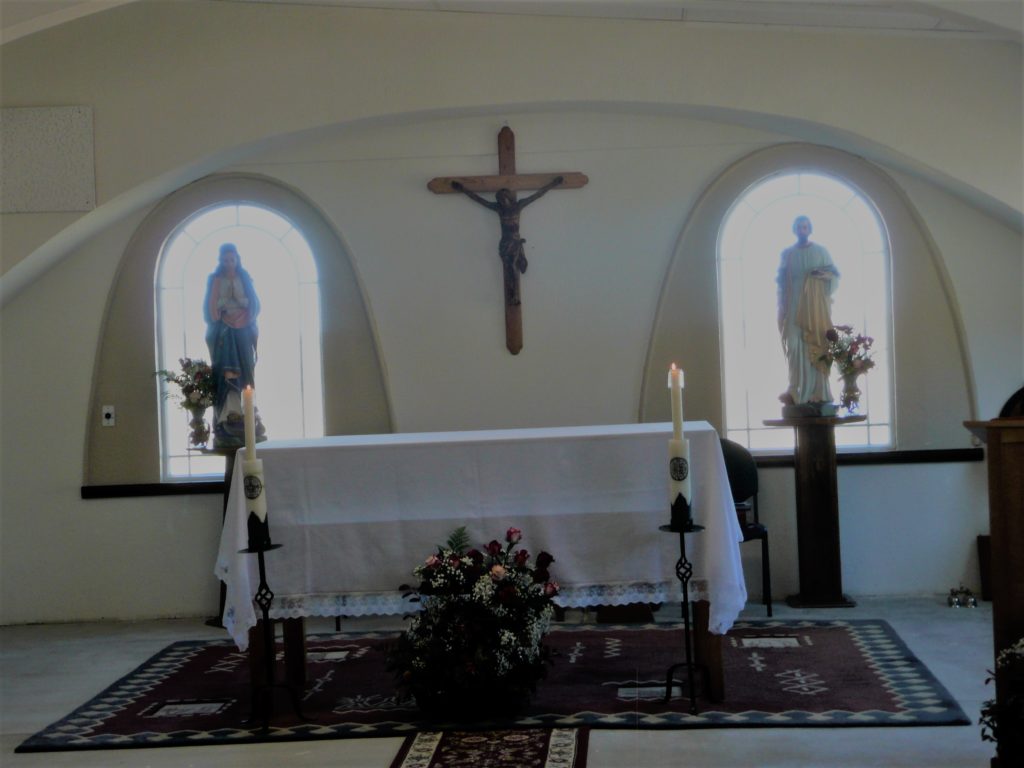 November 17, 2018 – Today, Bishop James Wall, Gallup Diocese, received the 1st vows of our Sister Stephen.  It was a very joyous day and we thank all those who helped make this day a very blessed one.  We especially thank our workers who diligently worked to finish the remodeling of our porch into a Chapel.   We had about 100 guests.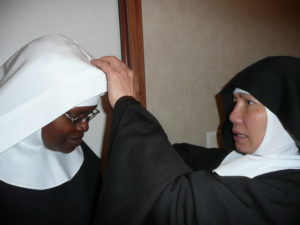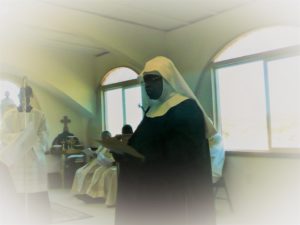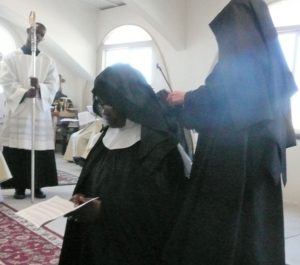 In her Chart of Profession, Sister Stephen read, "…in response to Christ's call and preferring nothing to his love, promise Stability, Conversion of Life and Obedience, according to the Rule of Our Holy Father Benedict and the Constitutions of the Abbey of the Presentation of the Lord in the Temple for three years.  With my whole heart and relying on the grace of the Holy Spirit, the intercession of the Blessed Virgin Mary and the support of my community, I offer myself to God to seek the fullness of love in his service and that of the Church through the ministry of prayer and worship."
November 17, 2018 – THIRTY-THIRD SUNDAY IN ORDINARY TIME.  Dn 12: 1-3; Ps 16: 5,8, 9-10, 11; Heb 10: 11-14, 18; Mk 13: 24-32  – As we come to the end of Ordinary Time, the Readings for this Sunday shake me up somewhat as Jesus explains, "The sun will be darkened, and the moon will not give its light, and the stars will be falling from the sky, and the powers in the heavens will be shaken…but of that day or hour, no one knows, neither the angles in heaven, nor the Son, but only the Father."  When the sky is blue as it was today in Gobernador, all seems well; however, one must keep in mind that someday there will not be a blue sky and yes, there will be an end to our bodies, but there will also be a world that will end.  But the good news is that Jesus has saved us and awaits us to live with Him in heaven for ever.  "You are my inheritance, O Lord," as the Psalm reads.  Let us cling to the Lord, let Him be our path always.  Let us do away with our fears, and truly hold fast to God, our Savior.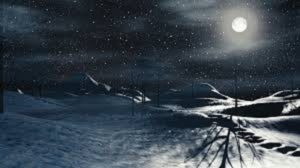 The Entrance Antiphon for this Sunday explains it thoughtfully, Jer 29:11,12,13, "The Lord says:  my plans for you are preace and not disaster, when you call to me, I will listen to you, and I will bring you back to the place from which I exiled you."
Our retreat was a time of rest and much reflection with our Retreat Master, Fr. Dunstan, November 4-9, 2018.   Father is from St. Mary's Monastery, Petersham, Massachusetts.  Thank you for your wisdom, Father!
Pope's Monthly Intention for November 2018:  Universal – In Service of Peace – That the language of love and dialogue may always prevail over the language of conflict.
MISSION STATEMENT – The Monastery of Our Lady of the Desert is a monastic community of women in the Benedictine tradition.  We profess vows of stability, conversion of life and obedience.  Our primary mission is to seek God through a life of prayer, silence and solitude.  Our way of life frees us to give glory and praise to God, intercede through prayer for the needs of the world and hospitality.
St. Joseph, Pray For Us!