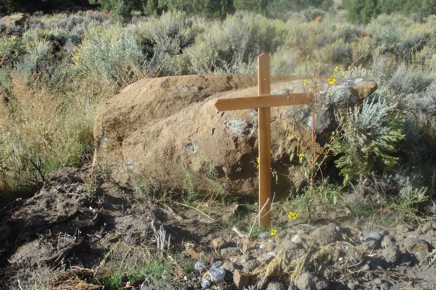 ASH WEDNESDAY – BEGINNING OF LENT
What is Lent?  When in history did Lent begin?  Why are there 40 days for Lent?  These are questions I have always wondered about every time I get the black ashes put on my forehead on Ash Wednesday.
In Jerusalem, people fasted for 40 days and in Rome I have read that people fasted for six weeks, which came about to be 40 days before Easter. After a little research, the number 40 goes back to Moses who was in the presence of the Lord for 40 days. (Ex 34:28) Then there is Elijah mentioned in Exodus 34:28. Jesus prayed and fasted for 40 days in the desert. (Mathew 4:2)
The liturgical season of forty days begins with Ash Wednesday and ends with the celebration of the Paschal Mystery (Easter Triduum). Lent is the primary penitential season in the Church's liturgical year, reflecting the forty days Jesus spent in the desert in fasting and prayer (You can read from the Catechism, #540, 1095, 1438)."
Fasting from those little things like anger, being unkind to others, or jealousy, or misuse of God's gifts, are worth thinking about. Most of all let us give thanks for the many blessings that God gives us, even those that we don't understand but accept with His grace. We continue to pray for you and your families. God bless you. SK
Fifth Sunday in Ordinary Time:  Is 6:1-2A,3-8   •    Ps 138:1-2,2-3,4-5,7-9   •   1 COR 15:1-11   •  LK 5:1-11
In the Gospel we read,  "Do not be afraid; from now on you will be catching men."  When they brought their boats to the shore,
they left everything and followed him.
We are all called to vocation and with the grace of God, we do it. There are only three vocations:  SIngle life, Married life and Religious life.   May we encourage the youth of today to respect these choices.
Prayer for Vocations:  God, Our Father, Thank you for your son, Jesus, our Good Shepherd, who leads us to fullness of life.  By our baptism, we are called by name to continue the mission of Jesus.  Give us the grace to listen with an open heart to the voice of Jesus and to respond generously with a joyful spirit. Strengthen the men and women you called to serve through marriage, the single life, the diaconate, priesthood, and consecrated life. Guide all who are discerning their Christian vocation. In gratitude we offer this prayer through Jesus and the Holy Spirit, united with you forever. Amen.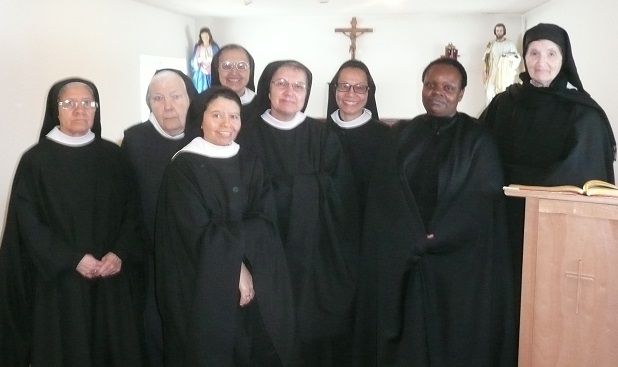 The Year of Mercy December 8, 2015 – November 20, 2016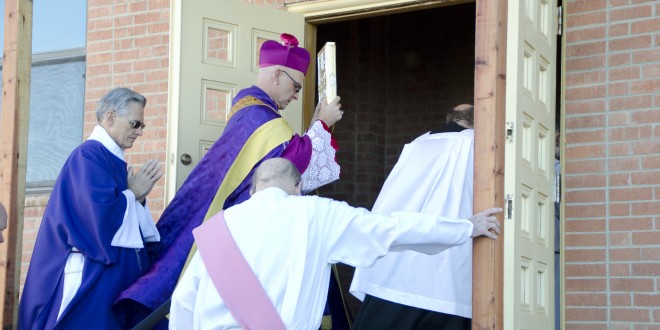 From the Bishop: Opening the Door to the Year of Mercy
"Dear Brothers and Sisters in Christ,
On December 8, the Feast of the Immaculate Conception, Pope Francis formally began the Extraordinary Jubilee of Mercy when he opened the Holy Door at the Basilica of St. John Lateran in Rome. Following his example, cathedrals and churches across the world opened their own Holy Doors. On December 13, I opened a special Holy Door at the Cathedral of the Sacred Heart in Gallup, New Mexico.
In the Scriptures, we are reminded again and again of the infinite compassion of God, who is rich in mercy. It is appropriate that the beginning of the "Year of Mercy" falls during Advent, the season in which we celebrate Christ humbling Himself to live among us. There is no greater display of God's love than Christ, the living manifestation of the Father's face of mercy. The words and deeds of Christ are continually at work in the Church through the gifts and guidance of the Holy Spirit.
The opening of a door is a physical reminder of God's call to grace. As Pope Francis stated in his opening remarks: "This Extraordinary Holy Year is itself a gift of grace. To pass through the Holy Door means to rediscover the infinite mercy of the Father who welcomes everyone and goes out personally to encounter each of them." It also shows that we recognize Christ as the sole door through which we enter salvation and the one way that leads to the Father. We must not be afraid to seek an encounter with Christ, and in doing so open ourselves to the gift of His infinite grace and compassion.
This Year of Mercy does not mean that Christ is suddenly more receptive to us than before. He has always loved us and desired us to know, love, and serve Him. Rather, this year is meant to stand in stark contrast to violence and evils committed by human beings which at times can be overwhelming. We must remember that Jesus Christ is the same yesterday, today, and forever (Heb 13:8). This is the ongoing pilgrimage of the Church: to move always toward Christ. What better way for a fallen world to make that pilgrimage than through a door, a symbol of hope, of grace, and of mercy.
In Christ, Bishop James S. Wall"                                                                             (from "Voice of the Southwest," December 15, 2015)
Featured in the Voice of the Southwest, News for the Catholic Diocese of Gallup.  Click on December 1, 2015.

MISSION STATEMENT – The Monastery of Our Lady of the Desert is a monastic community of women in the Benedictine tradition.  We profess vows of stability, conversion of life and obedience.  Our primary mission is to seek God through a life of prayer, silence and solitude.  Our way of life frees us to give glory and praise to God, intercede through prayer for the needs of the world and hospitality.