4th Sunday of Easter
Acts 4:8-12 •  Psalm 118:1,89,21-23,26,28-29 •
1 John 3:1-2 •  John 10:11-18
Thanks to the Internet search engines, I found that the word "sheep," is mentioned more than 500 times in the Bible. Sheep were important to the Hebrew people and nomads. This analogy is significant because it refers to God's people. The importance of the shepherd plays a close relationship with the sheep, which are familiar with the voice of the shepherd who take care, guide and defend the sheep. So, there is a sense of trust. Interestingly, I read that sheep have excellent memories for faces.
Also, in the Rule of St. Benedict, there is a reference of sheep and/or shepherd in Chapter 1: "Living in two's and three's, or even singly, without a shepherd, enclosed, not in the Lord's sheepfold, but in their own, the gratification of their desires is law unto them; because what they choose to do they call holy, but what they dislike they hold to be unlawful."
Chapter 2, "And let the Abbot know that whatever lack of profit the master of the house shall find in the sheep, will be laid to the blame of the shepherd…On the other hand he will be blameless, if he gave all a shepherd's care to his restless and unruly flock, and took all pains to correct their corrupt manners; so that their shepherd, acquitted at the Lord's judgment seat…And thus, whilst he is in constant fear of the Shepherd's future examination about the sheep entrusted to him, and is watchful of his account for others, he is made solicitous also on his own account; and whilst by his admonitions he had administered correction to others, he is freed from his own failings.
In Chapter 27, "He (Superior) is to imitate the loving example of the Good Shepherd who left he ninety-nine sheep in the mountains and went in search of the one sheep that had strayed."
The analogy of the sheep and shepherd brings one to be open to Our Lord, knowing full well that Jesus is the good shepherd, who gave his life for us, who knows us and who leads us to love. May the grace of God continue to flow in our lives by trusting, and listening to the will of God daily and see the face of Jesus in others. Easter joy to you and Easter blessings of peace. SK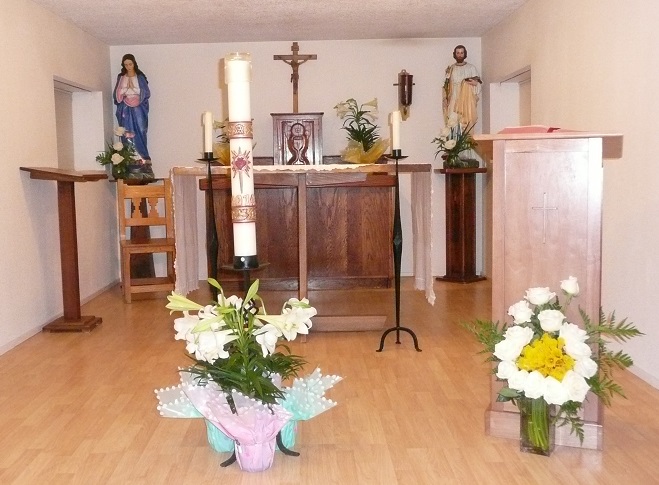 ALLELUIA – "While St. Benedict was dwelling as a hermit, the Lord appeared to a priest who was preparing his Easter dinner.  He said: 'You have prepared delicacies for yourself, while my servant in such and such a place is afflicted with hunger pangs.'  Hearing this, the priest rose up on Easter day and went with the foot he had prepared to seek the man of God amid the steep hills and low valleys and hollow ditches, and finally found him in his cave.  They prayed together, blessed almighty God, and after spiritual conversation, the priest said:  'Get up brother, and let us dine, because today is Easter.'  The man of God answered, 'I know that it is Easter because I have had the honor of seeing you.'  For he had been away from human society for so long that he did not know it was the Solemnity of Easter.  But the venerable priest insisted:  'Really, today is the feast of Our Lord's Resurrection and it is not right for you to fast.  That is why I have been sent, so that we might eat together of almighty God's gifts.'  So, blessing God, they ate their meal."              DIOLOGUES II, I
Consecrated Life – As most of you know, Pope Francis declared that a Year of Consecrated Life be celebrated throughout the world, beginning on the First Sunday of Advent, November 30, 2014. It will close on the World Day of Consecrated Life, February 2, 2016.
We pray for all those who are discerning their vocation in life, particularly those whom the Lord is calling to consecrated life. May they be given the wisdom to hear God's call and the courage to respond generously.
MISSION STATEMENT
The Monastery of Our Lady of the Desert is a monastic community of women in the Benedictine tradition.  We profess vows of stability, conversion of life and obedience.  Our primary mission is to seek God through a life of prayer, silence and solitude.  Our way of life frees us to give glory and praise to God, intercede through prayer for the needs of the world and hospitality.