PALM SUNDAY  - April 13, 2014  - At The Procession With Palms – Gospel – MT 21:1-11
When Jesus and the disciples drew near Jerusalem
and came to Bethphage on the Mount of Olives, 
Jesus sent two disciples, saying to them, 
"Go into the village opposite you, 
and immediately you will find an ass tethered,
and a colt with her.
Untie them and bring them here to me.
And if anyone should say anything to you, reply, 
'The master has need of them.'
Then he will send them at once."
This happened so that what had been spoken through the prophet 
might be fulfilled:
Say to daughter Zion,
"Behold, your king comes to you,
meek and riding on an ass,
and on a colt, the foal of a beast of burden."
The disciples went and did as Jesus had ordered them.
They brought the ass and the colt and laid their cloaks over them, 
and he sat upon them.
The very large crowd spread their cloaks on the road, 
while others cut branches from the trees 
and strewed them on the road.

The crowds preceding him and those following
kept crying out and saying:
"Hosanna to the Son of David;
blessed is the he who comes in the name of the Lord;
hosanna in the highest."
 
And when he entered Jerusalem the whole city was shaken and asked, "Who is this?" And the crowds replied, "This is Jesus the prophet, from Nazareth in Galilee."
As we begin Holy week, let us gather the palms of our daily offerings, those experiences that need faith, courage, trust,  and love, and set them before the Lord.  May the Passion of Our Lord Jesus Christ bring us all a deeper acceptance of our crosses.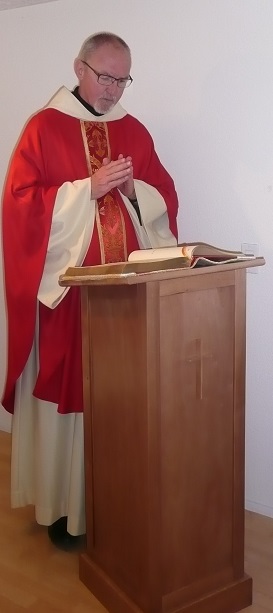 We are happy to have Father Thomas Benedict, OSB, from the Monastery of Christ in the Desert, as our Chaplain.  PLEASE note the schedule of the Triduum.  God bless you and know that we continue to pray for you and your loved ones.  SK

  
Feast of Our Lady of Guadalupe, December 12, 2013

- We celebrated the Eucharistic Liturgy and Rite of Solemn Monastic Profession and Consecration of Sister Guadalupe with the Most Reverend Bishop James S. Wall, as Main Celebrant, assisted by Deacon Nathaniel Block.  Reverend Robert E. Mathieu and Reverend Benjamin Onwumela joined as concelebrants.  Please pray for Sister Guadalupe.
Sister Guadalupe reads the Chart of Profession and then it is signed by Sister Guadalupe and then by Mother Benedicta as delegate of Abbess Mary Gertrud (Jamberoo Abbey), and also by
Bishop James.
SUNDAY MASS WILL BE AT 9:00 AM, IN OUR CHAPEL  
CLICK ON A RECENT ARTICLE ABOUT THE SISTERS IN "VOICE OF THE