ICON CLASS – March 21, 22, 23, 2014
Our friend, Kati Ritchie, has offered to teach "Introduction to Icon Painting," here at our monastery.  Kati studied under Ksenia Pokrovsky and Marek Czarnecki and has been writing icons for thirteen years, taught art for eighteen years.
Claybord panels will be used in the classroom.  You will learn to make your own paint using natural pigments and egg/vinegar emulsion. Students will choose between two beginning icon prototypes. Although art training might be helpful, it is not necessary.
Because of space, we are accepting six students only.  As of today, one student has already registered.
Cost of $234, for three days includes all materials provided for the class, accommodations and meals.  An 80% discount for those coming during the day only.  There will be a charge of $278, for those needed to stay two extra nights (Thursday and Monday).
For further information, or to inquire about a scholarship, please contact Mother Benedicta at 505-419-2938.
March 9, 2014 – First Sunday of Lent – Genesis 2:7-9;3:1-7 • Psalm 51:3-6, 12-13, 17 •  Romans 5:12-19 •  Matthew 4:1-11
At that time Jesus was led by the Spirit into the desert
to be tempted by the devil.
He fasted for forty days and forty nights,
and afterwards he was hungry.
The tempter approached and said to him,
"If you are the Son of God,
command that these stones become loaves of bread."
He said in reply,
"It is written:
One does not live on bread alone,
but on every word that comes forth
from the mouth of God
."
Then the devil took him to the holy city,
and made him stand on the parapet of the temple,
and said to him, "If you are the Son of God, throw yourself down.
For it is written:
He will command his angels concerning you
and with their hands they will support you,
lest you dash your foot against a stone."
Jesus answered him,
"Again it is written,
You shall not put the Lord, your God, to the test."
Then the devil took him up to a very high mountain,
and showed him all the kingdoms of the world in their magnificence,
and he said to him, "All these I shall give to you,
if you will prostrate yourself and worship me."
At this, Jesus said to him,
"Get away, Satan!
It is written:
The Lord, your God, shall you worship
and him alone shall you serve."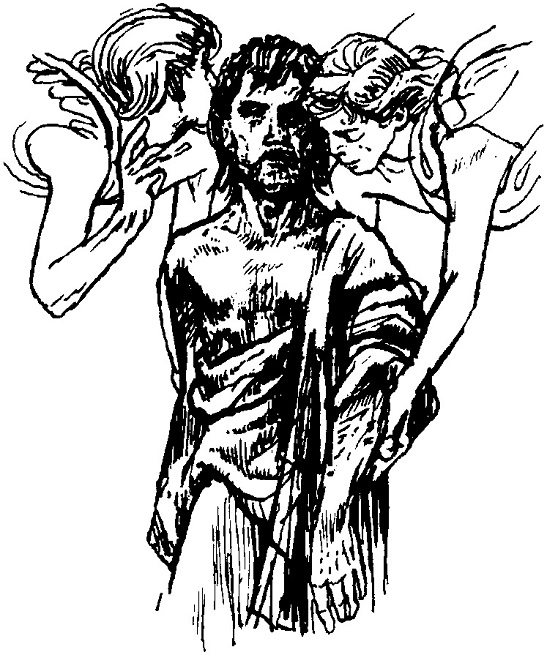 When the turning signals don't work in your vehicle it is difficult to let other drivers know when you are turning, especially when the window is broken and you can't make the arm signals for a left or right turn.  This is the experience Sister Mary and I had when we drove to Arizona this weekend to do fundraising.  The confusion caused for other drivers made me think of the confusing signals we give ourselves and others when we encounter temptations.   The lies we tell ourselves or the lies we accept from others seem logical and right; but, to stay on the path of righteousness is a challenge.  The example of Jesus during his temptations can give us the faith and trust to rely on God's good graces.  We continue to pray for you during this Lenten season.  May it be a time of awareness for all.  God bless you!  SK
Feast of Our Lady of Guadalupe, December 12, 2013 –
This morning at 10 am, we celebrated the Eucharistic Liturgy and Rite of Solemn Monastic Profession and Consecration of Sister Guadalupe with the Most Reverend Bishop James S. Wall, as Main Celebrant, assisted by Deacon Nathaniel Block.  Reverend Robert E. Mathieu and Reverend Benjamin Onwumela joined as concelebrants.  Please pray for Sister Guadalupe.
MASS WILL BE AT 7:00 AM, IN OUR CHAPEL  
CLICK ON A RECENT ARTICLE ABOUT THE SISTERS IN "VOICE OF THE SOUTHWEST," NEWS FOR THE CATHOLIC DIOCESE OF GALLUP: 

Be still and Know that I am God