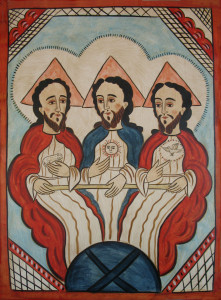 THE MOST HOLY TRINITY, May 22, 2016  – Proverbs 8:22-31 • Psalm 8:4-9 •   Romans 5:1-5  • John 16:12-15
 Light, Radiance, and Grace are in the Trinity and from the Trinity, A Letter by St. Athanasius  …We acknowledge the Trinity, holy and perfect, to consist of the Father, the Son and the Holy Spirit. In this Trinity there is no intrusion of any alien element or of anything from outside, nor is the Trinity a blend of creative and created being. It is a wholly creative and energizing reality, self-consistent and undivided in its active power, for the Father makes all things through the Word and in the Holy Spirit, and in this way the unity of the holy Trinity is preserved. Accordingly, in the Church, one God is preached, one God who is above all things and through all things and in all things.God is above all things as Father, for he is principle and source; he is through all things through the Word; and he is in all things in the Holy Spirit…Even the gifts that the Spirit dispenses to individuals are given by the Father through the Word. For all that belongs to the Father belongs also to the Son, and so the graces given by the Son in the Spirit are true gifts of the Father. Similarly, when the Spirit dwells in us, the Word who bestows the Spirit is in us too, and the Father is present in the Word. This is the meaning of the text: My Father and I will come to him and make our home with him. For where the light is, there also is the radiance; and where the radiance is, there too are its power and its resplendent grace…"
The Bible clearly speaks of God the Son, God the Father, and God the Holy Spirit, but emphasizes that there is only ONE God.  This is a mystery and is believed by faith.  When we chant or recite the Divine Office at the monastery, we praise the Trinity at the end of each psalm:  "Glory be to the Father, and to the Son, and to the Holy Spirit. Amen."  May the celebration of the Holy Spirit help us to reflect this Divinity and this love of God!  Blessings of peace to each of you and your families.  We pray for all those students who are graduating at this time, also.  SK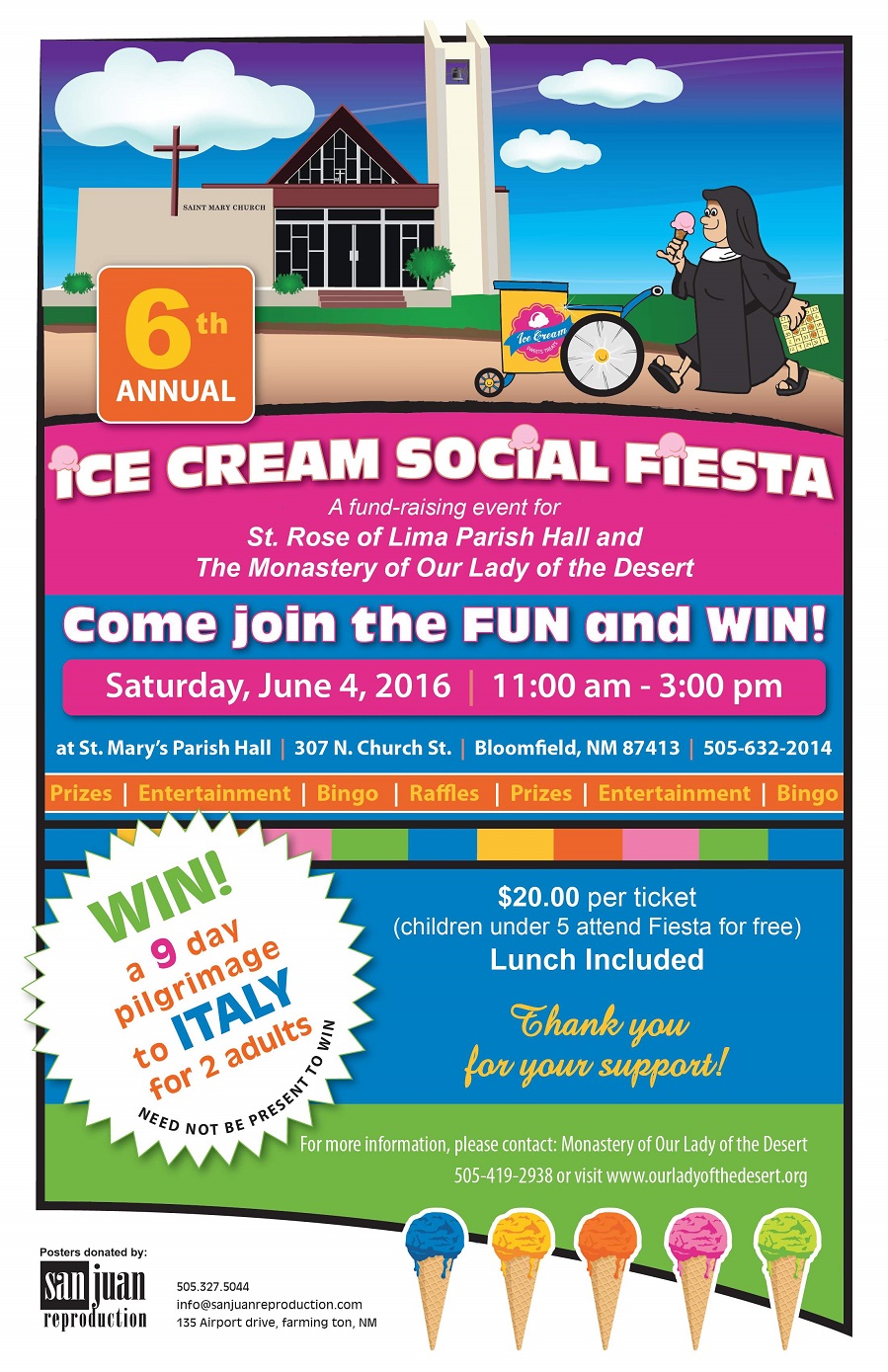 TICKETS (click)                                                                                                                  
We've had requests to pubish the Itinerary to Italy:
A JUBILEE YEAR OF MERCY PILGRIMAGE TO ITALY With Father James Walker & Deacon Roger Garcia:  Departure U. S. October 12 Return to U. S. October 21 2016 
Day 01 Wednesday October 12 – U.S. / Milan – Departure from ABQ airport for Milan Malpensa airport with Delta Airlines via Salt Lake City / JFK. (S.T.C)
 Day 02   Thursday October 13      Milan – Venice    B/D – Morning arrival at Milan Malpensa Airport. After picking up our luggage and clearing customs we will be met by our tour escort Gaia Meuti. Board our deluxe motor coach for our transfer to Padua, (approximately 4 hour drive with a couple of stops for lunch and bathroom.)  Arrival in Padua early afternoon and enjoy a short drive to visit the medieval walled city of Padua. We will stop to see the Basilica of St. Anthony including the high altar with splendid bronze art works by Donatello, containing his relics. Continue to hotel NH Mantegna for check – in.  Later we will meet in the lobby to go to mass at the Shrine of St. Leopoldo.  Return to hotel for our welcome dinner in hotel
Day 03 Friday October 14      Padua – Venice B/D –  Breakfast in hotel. Today we visit the magical and truly romantic Venice "Pearl of the Adriatic" via a private water taxi on the Grand Canal filled with Gondolas, Motor boats and Peppermint stick Moorings. Mass near St. Mark's before we start our tour to visit St. Mark's Basilica famous for its Byzantine and Gothic design, mosaics, precious marble sculptures; St. Mark's Square with its15th century Clock Tower, Doges Palace (outside visit), and the Bridge of Sighs.  End your tour with a visit to a Venetian glassblowing factory and admire the masters at work.  Remainder of the afternoon to discover Venice on your own, perhaps a Gondola ride, walk across the Rialto Bridge or enjoy a Campari at the Florian Café.   Dinner & overnight in Padua.
Day 04   Saturday October 15      Padua – Forli – Assisi  Breakfast and check out. Morning departure for Assisi. Before going to Assisi we will stop in the town of Forli located close to the Adriatic coast. Here we will have mass at the shrine of St. Peregrine (patron for cancer victims). After mass and time for lunch, we will continue for Assisi. Before arriving at our hotel we will stop for a visit at the Basilica of Saint Mary of the Angels, and the famous Porziuncola (little church St. Francis built), the thorn-less bush, and the cave where St. Francis retired for prayer.   Continue to Upper Assisi where we will check into the Hotel Giotto for dinner and overnight B/D
Day 05   Sunday October 16.   Assisi and Siena   Breakfast in the hotel and morning mass at the Basilica of St. Francis. After mass we will visit the upper and lower Basilica with Giotto's frescos including 28 episodes from the "life of St. Francis." Continue to the Basilica of St. Clare, housing her incorrupt body and also the cross of San Damiano. Continue for a visit of the Church of St. Damien.  We will then board our bus for an afternoon excursion to Siena, the birthplace of Saints Catherine and Bernardine and one of Italy's loveliest medieval cities. Here we will stroll the Piazza Del Campo, one of Italy's finest squares and visit the Cathedral and the Basilica of St. Francis, containing the miraculous consecrated hosts that remained intact since 1730. View the incorrupt head of St. Catherine at the Basilica of St. Dominic. Return to Assisi for dinner and overnight. B/D
Day 06   Monday October 17.  Assisi – Norcia- Cascia – Rome Breakfast and check out. Departure for Rome. First we will stop in Norcia with a visit of the church of St. Benedict. Continue to   Cascia, home of St. Rita of Cascia.  Her incorrupt body lies in the Major Basilica. Below in the Minor Basilica is the Eucharistic Miracle and the remains of Blessed Simone Fidati, a priest involved in the miracle. Here we will have mass and time for lunch. Before continuing for Rome. Check into the Residenza Madri Pie located less than a five minute walk from St. Peter's Basilica. Check into hotel.  Enjoy dinner this evening in a local trattoria next to hotel. B/D
Day 07   Tuesday October 18   Rome   Breakfast in hotel. Today we will enjoy a full day tour of Christian Rome visiting three of the major basilicas of Rome: St. Mary Major, St. John in Lateran and St. Paul's Outside the Walls. During our full day we will also visit and have Mass at St. Bartolomeo's Basilica located on the Tiber Island.  Tonight dinner is on your own. You may wish to choose one of the many restaurants located in the area of Trastevere.   B
Day 08   Wednesday October 19   Rome    After breakfast at the hotel, we will walk to St. Peter's Square to attend the Papal Audience; subject to the availability of His Holiness Pope Francis. After the audience we will have time for lunch and then we will board our bus for a drive along the Old Appian Way to visit one of the magnificent Catacombs of Rome. This curious underground maze of tunnels is hollowed out of rock. Here the early Christians, persecuted by the Romans, practiced in secret, their religious rites and buried their dead.   We will have mass in one of the catacombs.  Return to the hotel for dinner and overnight. B/D
Day 09   Thursday October 20   Rome    Early breakfast in hotel and then walk to St. Peter's for mass. After mass the day is free for personal activities. For those who are interested we will offer an optional guided tour visiting the Vatican Museum, Sistine Chapel and the Basilica of St. Peter; (we will need to know who is interested upon registering).  Tonight we will have our last dinner in Rome. You will be instructed on procedures for our check out and transfer for the following day. B/D
Day 10   Friday October 21   Rome – U.S. Breakfast in hotel. Check out and board bus for our transfer to Rome airport to board our Delta Flight For ABQ via Atlanta B
Click on our Easter Newsletter:  easter2016nl                                                 from Mother Benedicta.
WELCOME  Father Jeffrey Steele, will be with us from April-July2016 to serve as our Chaplain. 

Father Jeffrey is from the St. Benedict's Abbey, in Polokwane, South Africa. He arrived April 6, 2016 and in good spirits.
Father Thomas Benedict, our current Chaplain, assigned from the Monastery of Christ in the Desert, will be spending three months at the St. Benedict's Abbey to work on formation for the community.  Please pray for both of them!
Prayer for Vocations:  God, Our Father, Thank you for your son, Jesus, our Good Shepherd, who leads us to fullness of life.  By our baptism, we are called by name to continue the mission of Jesus.  Give us the grace to listen with an open heart to the voice of Jesus and to respond generously with a joyful spirit. Strengthen the men and women you called to serve through marriage, the single life, the diaconate, priesthood, and consecrated life. Guide all who are discerning their Christian vocation. In gratitude we offer this prayer through Jesus and the Holy Spirit, united with you forever. Amen.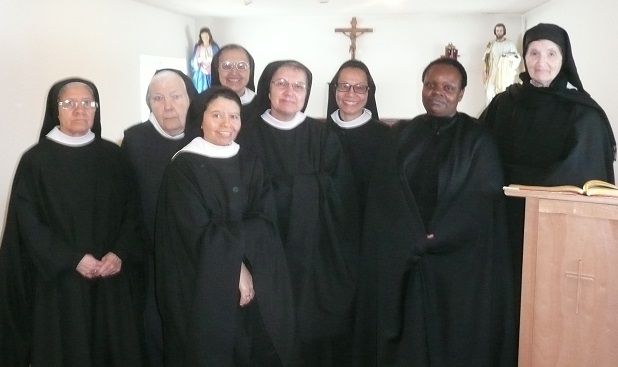 The Year of Mercy December 8, 2015 – November 20, 2016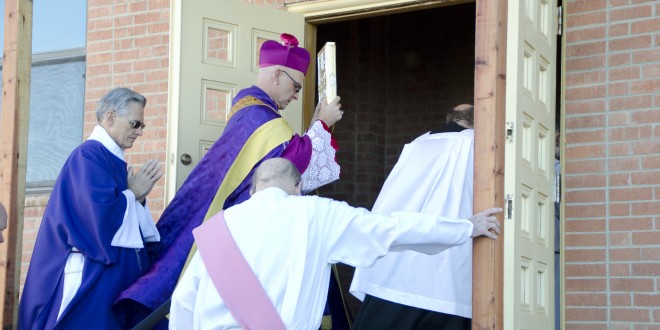 From the Bishop: Opening the Door to the Year of Mercy
"Dear Brothers and Sisters in Christ, On December 8, the Feast of the Immaculate Conception, Pope Francis formally began the Extraordinary Jubilee of Mercy when he opened the Holy Door at the Basilica of St. John Lateran in Rome. Following his example, cathedrals and churches across the world opened their own Holy Doors. On December 13, I opened a special Holy Door at the Cathedral of the Sacred Heart in Gallup, New Mexico…The opening of a door is a physical reminder of God's call to grace. As Pope Francis stated in his opening remarks: "This Extraordinary Holy Year is itself a gift of grace. To pass through the Holy Door means to rediscover the infinite mercy of the Father who welcomes everyone and goes out personally to encounter each of them." It also shows that we recognize Christ as the sole door through which we enter salvation and the one way that leads to the Father. We must not be afraid to seek an encounter with Christ, and in doing so open ourselves to the gift of His infinite grace and compassion.
This Year of Mercy does not mean that Christ is suddenly more receptive to us than before. He has always loved us and desired us to know, love, and serve Him. Rather, this year is meant to stand in stark contrast to violence and evils committed by human beings which at times can be overwhelming. We must remember that Jesus Christ is the same yesterday, today, and forever (Heb 13:8). This is the ongoing pilgrimage of the Church: to move always toward Christ. What better way for a fallen world to make that pilgrimage than through a door, a symbol of hope, of grace, and of mercy.  In Christ, Bishop James S. Wall"                                                                             (from "Voice of the Southwest," December 15, 2015)
The Pope's Prayer Intentions for March 2016, entrusted to the Apostleship of Paryer:  April 2016  – Universal: Small Farmers – That small farmers may receive a just reward for their precious labor.
Evangelization: African Christians – That Christians in Africa may give witness to love and faith in Jesus Christ amid political-religious conflicts.
 MISSION STATEMENT – The Monastery of Our Lady of the Desert is a monastic community of women in the Benedictine tradition.  We profess vows of stability, conversion of life and obedience.  Our primary mission is to seek God through a life of prayer, silence and solitude.  Our way of life frees us to give glory and praise to God, intercede through prayer for the needs of the world and hospitality.