December 16, 2018, 3rd Sunday of Advent – Readings:  Zep 3: 14-18a; Is 12: 2-3, 4, 5-6; Phil 4: 4-7; Lk 3: 10-18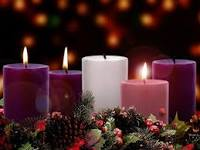 Have you ever been in a predicament when you ask yourselves, "What should we do?"  This is the question I had since we did not have Internet in our monastery for about a week, and the copy machine needed repair, and the phones were not functioning very well due to the weather.  At the end positive steps were taken but it gave me quality time to really dwell on this question spiritually.
In today's Gospel, people are asking John the Baptist this same question.  How would you answer?  Well, John is the Precursor of Jesus and he specifically tells those around him to be just, prudent, generous, and humble.  John is quoted as saying, "I am not worthy to loosen the thongs of his sandals."  This 3rd week of Advent we rejoice because the Lord is near.  "Lord God, may we, your people, who look forward to the birthday of Christ, experience the joy of salvation and celebrate that feast with love and thanksgiving." (opening prayer for the celebration of Mass).  We keep you and your families in our prayers.  God bless you. SK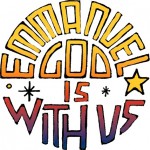 ADVENT NEWSLETTER                                        December 1, 2018  
A "just shoot" from the house of David, Jesus Christ, will return in majesty.  Am I ready for His coming?
Dear Friends,  In most stores, Christmas decorations are seen during the month of October.  For all those I-Phone and I-Pad users, Ads flash Christmas trees, etc., with just a "click" away.  Yes, it is a joyful time gathering with loved ones, lighted trees, carols, etc., but what is Advent?
The Latin word for Advent means, "to come to," and of course this refers to the coming of Christ.  In history He was born at a certain time, but how does the coming of Christ affect us?  Now more than ever, one needs to reflect on personal faith and hope and to discover the coming of grace into our hearts.  Advent is celebrated this year from December 1-24, 2018.  Let us reflect as St. Charles Borromeo expressed:
"Now is the acceptable time spoken of by the Spirit, the day of salvation, peace and reconciliation:  the great season of Advent…
Each year, as the church recalls this mystery, she urges us to renew the memory of the great LOVE God has shown us.  This holy season teaches us that Christs's coming was not only for the benefit of his contemporaries; His power has still to be communicated to us all.  We shall share His power, if through holy faith and the sacraments, we willingly accept the grace Christ earned for us and live by that grace and in obedience to Christ…When we remove all obstacles to His presence He will come, at any hour and moment, to dwell spiritually in our hearts, bringing with Him the riches of His grace."
As we enter into a new liturgical season, we give thanks for all the blessings of the past year, your prayers and gifts, especially for those who helped make possible the move of the trailers from Colorado.  God willing, they will be moved soon, depending on the weather.
We at the monastery wish you a fervent Advent.  May God bless each of you and your loved ones with PEACE, especially for the New Year 2019.  Your Sisters in Christ
November 17, 2018 – Today, Bishop James Wall, Gallup Diocese, received the 1st vows of our Sister Stephen.  It was a very joyous day and we thank all those who helped make this day a very blessed one.  We especially thank our workers who diligently worked to finish the remodeling of our porch into a Chapel.   We had about 100 guests.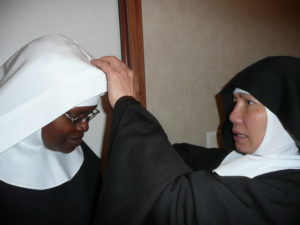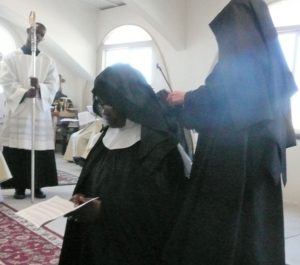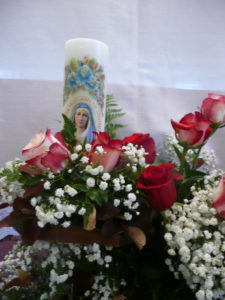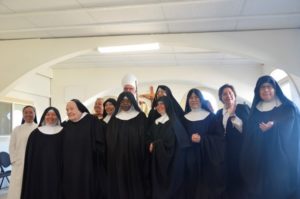 In her Chart of Profession, Sister Stephen read, "…in response to Christ's call and preferring nothing to his love, promise Stability, Conversion of Life and Obedience, according to the Rule of Our Holy Father Benedict and the Constitutions of the Abbey of the Presentation of the Lord in the Temple for three years.  With my whole heart and relying on the grace of the Holy Spirit, the intercession of the Blessed Virgin Mary and the support of my community, I offer myself to God to seek the fullness of love in his service and that of the Church through the ministry of prayer and worship."
Our retreat was a time of rest and much reflection with our Retreat Master, Fr. Dunstan, November 4-9, 2018.   Father is from St. Mary's Monastery, Petersham, Massachusetts.  Thank you for your wisdom, Father!
Pope's Monthly Intention for December 2018:   In the Service of the Transmission of Faith That people, who are involved in the service and transmission of faith, may find, in their dialogue with culture, a language suited to the conditions of the present time.
MISSION STATEMENT – The Monastery of Our Lady of the Desert is a monastic community of women in the Benedictine tradition.  We profess vows of stability, conversion of life and obedience.  Our primary mission is to seek God through a life of prayer, silence and solitude.  Our way of life frees us to give glory and praise to God, intercede through prayer for the needs of the world and hospitality.
St. Joseph, Pray For Us!