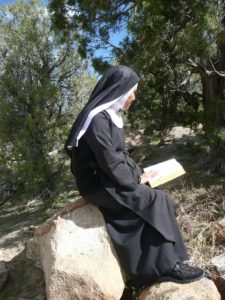 You are invited to attend the Final Profession of Sister Frances  on Monday, April 23, 2018.  The Eucharistic Liturgy and Rite of Solemn Monastic Profession and Consecration will be at 10 am, here at the Monastery.  ­­­­­­­­­­­­­­­­­­+Most Reverend Bishop James S. Wall, will be the Main Celebrant, to be followed by a luncheon.  Please pray for Sister Frances.
April 15, 2018 – 3rd SUNDAY OF EASTER –  Acts 3: 13-15, 17-19; Ps 4: 2,4, 7-8, 9; 1Jn 2: 1-5a; Lk 24: 35-48
"Why are you troubled?  And why do questions arise in your hearts?" – These words struck me as we continue to celebrate the season of Easter.  We can all identify with these questions, but Jesus is telling the Apostles to be at peace.  So many times, I am troubled and I have many questions about different things, but with faith, i can learn new approaches to my troubles especially when I speak to someone that I trust.  I remember someone said to me once, the dumb question is the one not asked.  So, I figure its never too late to ask.  We go through life wondering about the mysteries of life, but then again, its good to ask questions.  If I am in doubt and can't get an answer, I pray about it.  Answers take a long time but patience wins out and we are at peace.  May the graces of Easter be with you.  God Bless you! SK
From St. Padre Pio:  "Pray, hope, and don't worry. Worry is useless. God is merciful and will hear your prayer."
ROSARY CRAFT:  The sisters are in the Rosary making again.  Contact us to place an order or call 505-419-3300.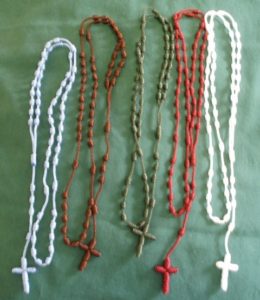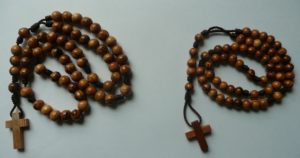 Pope's Monthly Intention for April 2018:  Universal – For those who have Responsibility in Economic Matters – That economists may have the courage to reject any economy of exclusion and know how to open new paths.
MISSION STATEMENT – The Monastery of Our Lady of the Desert is a monastic community of women in the Benedictine tradition.  We profess vows of stability, conversion of life and obedience.  Our primary mission is to seek God through a life of prayer, silence and solitude.  Our way of life frees us to give glory and praise to God, intercede through prayer for the needs of the world and hospitality.
St. Joseph, Pray For Us!