October 26 , 2014, 30th Sunday in Ordinary Time
Exodus 22:20-26  •  Psalm 17:2-4,47.51 • 1 Thessalonians 1:5-10 • Matthew 22:34-40
"If he cries to me, I will listen, for I am full of pity."  In the Book of Exodus, 1st Reading, I remember how I used to cry when I was challenged as a young adult.  But someone in my circle of friends or family, especially my mother, would always listen to me with kindness and mercy.  How much more does Our Lord listen to us when we feel afflicted with our particular sorrows?  Then in the Gospel, Jesus states that the greatest commandment is about LOVE, loving God, loving our neighbor as our self.  Love is only a four letter word and yet a huge word, a word that calls for patience, understanding and kindness.  As we approach the end of October, may you be blessed with LOVE.  Know that you are in our prayers.  SK
from the Prioress

 
Even though I walk through the valley of the shadow of  I will fear no evil, for you are with me; they comfort me. Psalm 23:4

Dear Friend,
As you may be aware, my brother, Johnny Serna, died July 28, 2014.  He was diagnosed with cancer and suffered for one month.  Thank you all for your prayers and cards of consolation.  As I have his picture on my dresser, he will always be in my heart.
Many of you have loved ones or family that have died, also.   We always remember the souls of the departed in our daily praying of the Divine Office.  At the end of each Office we chant, "May the souls of the faithful departed through the mercy of God rest in peace, Amen." For me this is such a comfort.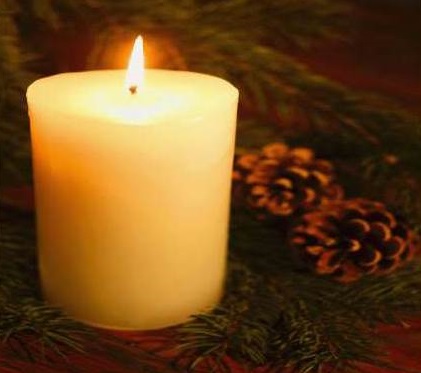 On November 2nd, the Church commemorates all the faithful departed.  During this month the names of your beloved dead will be remembered in our prayers, which will be placed before the altar during the celebration of the Holy Mass and Divine Office. Click on "Prayer Requests," to the left.
Your prayers for us as we live our monastic life in honor of Our Lady of the Desert are needed and appreciated.  May Our Lord comfort you in the loss of your loved ones and know that someday we will unite with them in eternity with God.
Blessings of Peace,
Mother Benedicta Serna, OSB
One of the most important theologians of the 20th Century, German-born Karl Rahner wrote:  "The great mistake of many people – among them, even pious persons – is to imagine that those whom death has taken, leave us.  They do not leave us.  They remain!  Where are they?  In Darkness?  Oh, no!  It is we wo are in darkness.  We do not see them, but they see us.  Their eyes, radiant with glory, are fixed upon our eyes full of tears.  Oh, infinite consolation!  Though invisible to us, our dead are not absent."