He is risen!  Alleluia!  Alleluia!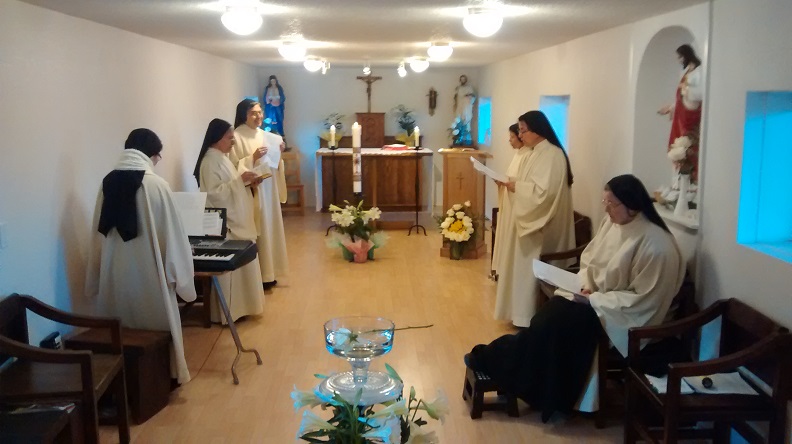 "God is infinite love, boundless mercy, and that love has conquered evil at its root through the death and Resurrection of Christ."  Pope Francis  
On behalf of our community, we wish you a blessed and Holy Easter season with continued hope and joy for you and your loved ones.
 
The Easter Vigil of the Lord's Resurrection with the Eucharist was celebrated as usual, with seven readings.  However, it seemed very short to me maybe because I was half asleep and yet trying to pay attention to the readings at 4 am in the dark.  We started with a big fire outside our chapel with the Chaplain reading from a Kindle, which I assumed was an I-pod.  For a minute I thought the actual book of readings was lost, but then again half asleep I hung on to the incense burner and incense.  Very reverently, the Chaplain proceeded to bless the fire and lit the big Paschal candle.  I awoke when I heard the words, "May the light of Christ, rising in glory, dispel the darkness of our hearts and minds."  The more I reflected and listened, the more I became personally involved in the ceremony.  After holding a little flash light for the beginning of the ceremony, I came to realize that Christ is our light always.  Yes, we had the usual seven readings, but this year, the sacredness and the solemnity of the long celebration made better sense.  - Our Easter season will last for fifty days.  Know that our community keeps you in prayer.  Alleluia.  SK  "Anything exposed by the light will be illuminated and anything illuminated turns into light.  That is why it is said:  'Wake up from your sleep, rise from the dead, and Christ will shine on you.'" Ephesians 5:14