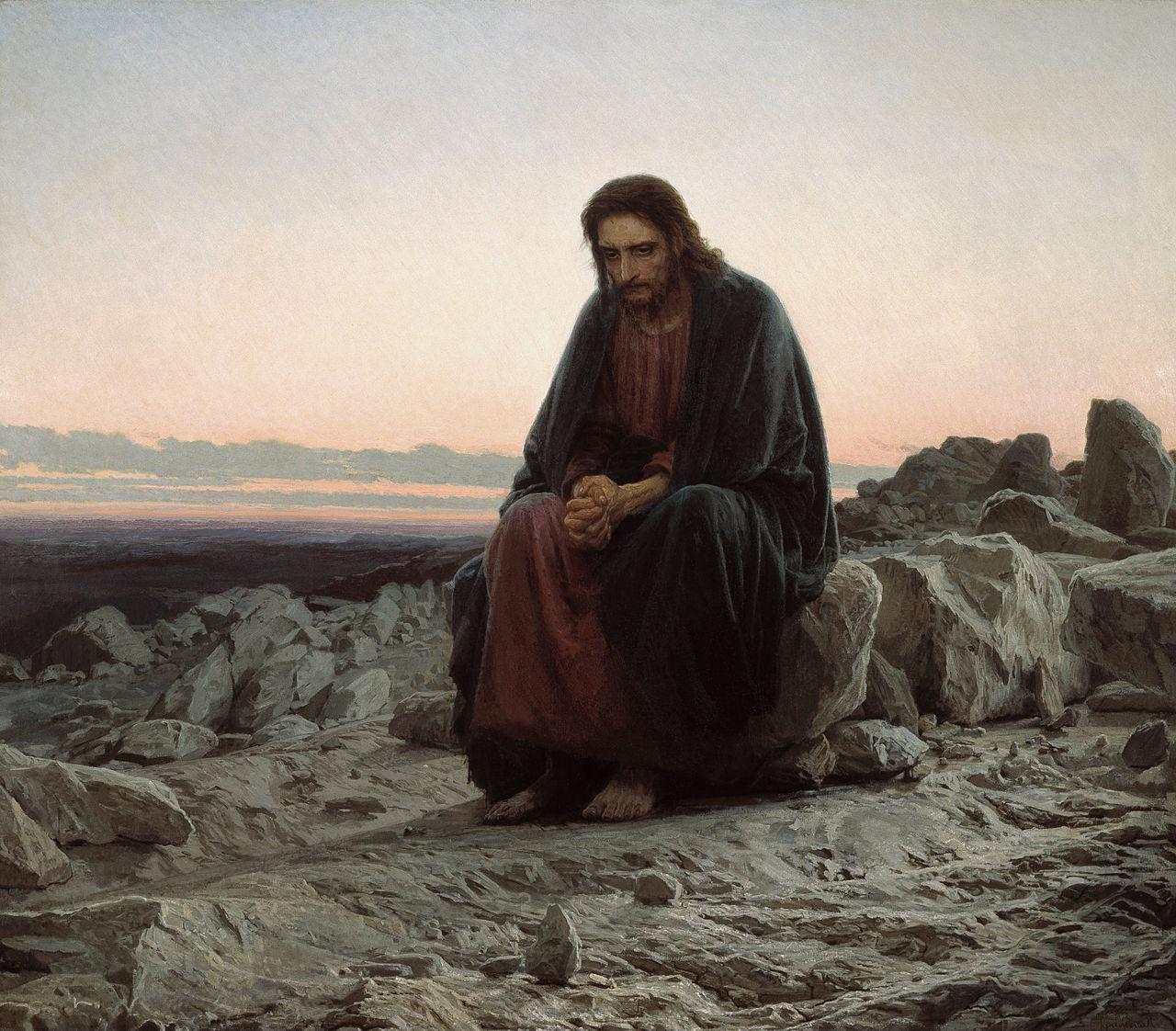 Christ in the Desert, by I.N. Kramskoi / Public Domain / Wikimedia Commons
July 24, 2016 -17th Sunday in Ordinary Time  –  GN 18:20-32• Psalm 138:1-2,2-3,6-7,7-8  • COL 2:12-14   • LK 11:1-13
I tell you, ask and you will receive; see and you will find; knock and the door will be opened to you.  For everyone who asks, receives; and the one who seeks, finds; and to the one who knocks, the door will be opened."
Very simply stated, we but have to "ASK." Our Lord puts it very gentle, very straightforward. In our communication with others, I sometimes find myself confused or unsure about asking another person a request or question. I remember when my younger sister, Chris, was a child she would ask our parents, with great confidence, whatever was on her mind. But we need to remember that when we ask, we need to be prepared to listen–whether the response be positive, negative, or neutral.  When one asks, one has to be aware of a negative or positive response from others. May we grow in faith and trust that those who love us, help us by their response of grace.  God bless each of you with peace.  SK
Prayer for Vocations:  God, Our Father, Thank you for your son, Jesus, our Good Shepherd, who leads us to fullness of life.  By our baptism, we are called by name to continue the mission of Jesus.  Give us the grace to listen with an open heart to the voice of Jesus and to respond generously with a joyful spirit. Strengthen the men and women you called to serve through marriage, the single life, the diaconate, priesthood, and consecrated life. Guide all who are discerning their Christian vocation. In gratitude we offer this prayer through Jesus and the Holy Spirit, united with you forever. Amen.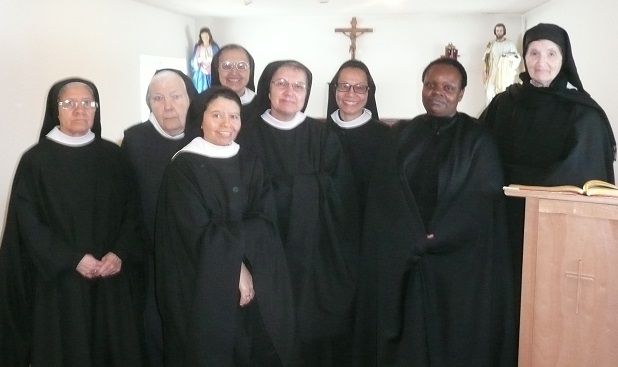 The Year of Mercy December 8, 2015 – November 20, 2016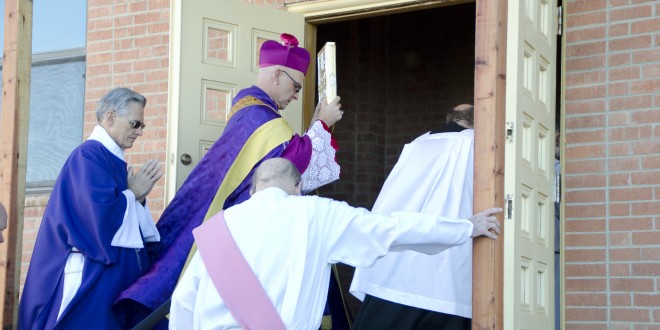 From the Bishop: Opening the Door to the Year of Mercy
"This Year of Mercy does not mean that Christ is suddenly more receptive to us than before. He has always loved us and desired us to know, love, and serve Him. Rather, this year is meant to stand in stark contrast to violence and evils committed by human beings which at times can be overwhelming. We must remember that Jesus Christ is the same yesterday, today, and forever (Heb 13:8). This is the ongoing pilgrimage of the Church: to move always toward Christ. What better way for a fallen world to make that pilgrimage than through a door, a symbol of hope, of grace, and of mercy.  In Christ, Bishop James S. Wall"                                                                             (from "Voice of the Southwest," December 15, 2015)
APOSTLESHIP OF PRAYER – July 2016
Universal: Indigenous Peoples
That indigenous peoples, whose identity and very existence are threatened, will be shown due respect.
Evangelization: Latin America and the Caribbean
That the Church in Latin America and the Caribbean, by means of her mission to the continent, may announce the Gospel with renewed vigor and enthusiasm.
BISHOP'S ANNUAL APPEAL, GALLUP DIOCSE – The Bishop's Annual Appeal of Gallup has undertaken to raise the funds necessary to fulfill the mission of the Catholic Church in the Diocese.  We are very thankful to have received recently a check for $2,000.00, for our "Welcome Center" Project (new flooring), St. Joseph Center.  We are excited to get the project going  since the tile at the St. Joseph Center is a growing safety hazard.  
 MISSION STATEMENT – The Monastery of Our Lady of the Desert is a monastic community of women in the Benedictine tradition.  We profess vows of stability, conversion of life and obedience.  Our primary mission is to seek God through a life of prayer, silence and solitude.  Our way of life frees us to give glory and praise to God, intercede through prayer for the needs of the world and hospitality.