2nd Sunday in Ordinary Time – January 14, 2018 – 1Sm 3: 3b-10, 19; Ps 40: 2,4, 7-8, 8-9, 10; 1Cor 6: 13c-15a, 17-20; Jn 1: 35-42
"Therefore glorify God in your body," from the 2nd Reading.  This past month the Novices of our community are studying Chastity.  Although it is part of the Conversion of Life vow, we study and in incorporate it.    Each person is required to live according to their state of life.  Married people, single people and religious all live the vow of chastity.  This vow allows each person to practice temperance in regard to their thoughts, acts, etc.
"Obtain for me, Lord, a deep sense of modesty which will be reflected in my external conduct, towards God, myself and others."
During this month of January, know that we pray for all those intentions that have been coming through our web.  We ask Our Lord to bless each of you with continued faith in His graces.  God bless you.  SK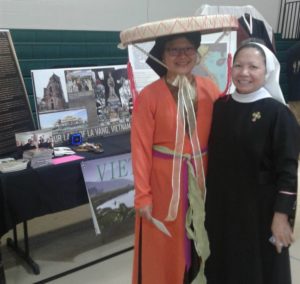 Pope's Monthly Intention for January 2018:  Evangelization: Religious Minorities in Asia – That Christians, and other religious minorities in Asian countries, may be able to practice their
faith in full freedom.
MISSION STATEMENT – The Monastery of Our Lady of the Desert is a monastic community of women in the Benedictine tradition.  We profess vows of stability, conversion of life and obedience.  Our primary mission is to seek God through a life of prayer, silence and solitude.  Our way of life frees us to give glory and praise to God, intercede through prayer for the needs of the world and hospitality.