July 27, 2014 – Seventeenth Sunday in Ordinary Time:  1 Kngs 3:5,7-12 •   Psalm 119•   Romans 8:28-30 •  Matthew 13:44-52
Jesus said to his disciples: "The kingdom of heaven is like a treasure buried in a field, which a person finds and hides again, and out of joy goes and sells all that he has and buys that field. Again, the kingdom of heaven is like a merchant searching for fine pearls. When he finds a pearl of great price, he goes and sells all that he has and buys it. Again, the kingdom of heaven is like a net thrown into the sea, which collects fish of every kind. When it is full they haul it ashore and sit down to put what is good into buckets.
The word "Kingdom" reminds me of a castle or the home of a ruler. However, the kingdom of God is over all creation! This includes all created intelligence in heaven and on earth. God's kingdom is eternal, forever in the spiritual realm. God's kingdom being near is that it already is here, in other words it is "active." God is working his kingdom in us and when we gather for Mass praying and participating to receive Him in Holy Communion. Each time we say the Our Father, we say, "Thy Kingdom come." And where else is the kingdom of God revealed? When the manifestation of God's glory is witnessed within you, within family, within a community of believers!   The analogy of a field, fine pearls and fish, point to the desire of the kingdom within, going to extra lengths to gain what is precious.   The question is, How do I live the kingdom of God with others? Thank you for your support.  Know that we keep you and your loved ones in our prayers. Have a blessed week. SK
From the Prioress
Blessings to you in the midst of our hot summer.  But though it is summer we are busy trying to prepare for the hard winter that will no doubt follow.  We are ready to begin Phase II of our three phase project to make our buildings more energy efficient and to cut drastically our need for expensive propane gas, our current primary heating source. We are putting in energy efficient windows in 3 of our buildings.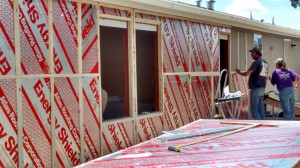 With the income from the Annual Ice Cream Social, we have nearly completed Phase I which is the super insulating of our buildings against the extreme cold of winter and the heat of summer.  The next step is to replace the low grade windows for high grade windows that will save us 20% to 30% annually in heating costs.  The total of this project is $18,000.  That means that each replacement window will cost $500.  They will be professionally installed with a lifetime warranty on the windows and the installation.  The installation crew is fully bonded and insured.
I am asking if you would consider sponsoring one window of this project which means a gift of $500.  This would be a tremendous help to the community if you can say yes.  The sponsorship can be made in one payment or according to your own schedule.   Feel free to contact us.  For your convenience you can click on "Making a Donation."
Please know that we continue to keep you and all our friends and donors in our daily prayers.  We know that our life here would not be possible without your support and prayer.
Peace and blessings,

Mother Benedicta Serna, OSB