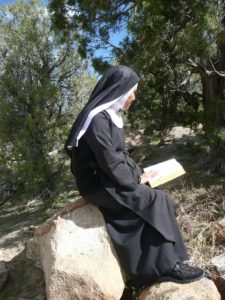 You are invited to attend the Final Profession of Sister Frances  on Monday, April 23, 2018.  The Eucharistic Liturgy and Rite of Solemn Monastic Profession and Consecration will be at 10 am, here at the Monastery.  ­­­­­­­­­­­­­­­­­­+Most Reverend Bishop James S. Wall, will be the Main Celebrant, to be followed by a luncheon.  Please pray for Sister Frances.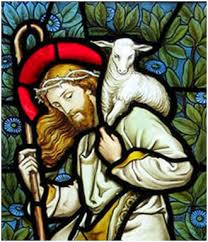 April 22, 2018 – 4th SUNDAY OF EASTER –   Acts 4: 8-12; Ps 118: 1, 8-9, 21-23, 26,28,29; 1Jn 3: 1-2; Jn 10: 11-18
"A Good Shepherd lays down His life for the sheep."  By St. Gregory:  He has accomplished what He taught us:  He has shown is what He commanded us to do.  He laid down His own life for His sheep, that within our mystery He might change His Body and Blood into food, and nourish the sheep He had redeemed with the food of His own Flesh.  He has sown us the way we must follow, despite fear of death.  He has laid down the pattern to which we must conform ourselves…"  We ask for God's help to accomplish His will by Love.  May the continued graces of Easter be with you.  God Bless you! SK
ROSARY CRAFT:  The sisters are in the Rosary making again.  Contact us to place an order or call 505-419-3300.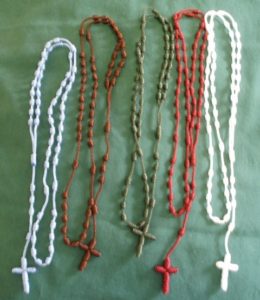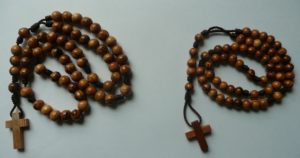 Pope's Monthly Intention for April 2018:  Universal – For those who have Responsibility in Economic Matters – That economists may have the courage to reject any economy of exclusion and know how to open new paths.
MISSION STATEMENT – The Monastery of Our Lady of the Desert is a monastic community of women in the Benedictine tradition.  We profess vows of stability, conversion of life and obedience.  Our primary mission is to seek God through a life of prayer, silence and solitude.  Our way of life frees us to give glory and praise to God, intercede through prayer for the needs of the world and hospitality.
St. Joseph, Pray For Us!