6th Sunday of Easter, May 1, 2016  – ACTS 15:1-2,22-29 • PS 67:2-3,5-6,8 •   REV 21:10-14,22-23  • JN14:23-29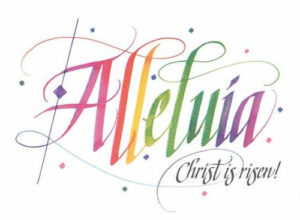 From a discourse on the psalms by Saint Augustine, Bishop, "The Easter Alleluia"…Because there are these two periods of time – the one that now is, beset with the trials and troubles of this life, and the other yet to come, a life of everlasting serenity and joy – we are given two liturgical seasons, one before Easter and the other after. The season before Easter signifies the troubles in which we live here and now, while the time after Easter which we are celebrating at present signifies the happiness that will be ours in the future. What we commemorate before Easter is what we experience in this life; what we celebrate after Easter points to something we do not yet possess. This is why we keep the first season with fasting and prayer; but now the fast is over and we devote the present season to praise. Such is the meaning of the Alleluia we sing…
Easter is still being celebrated even though all the chocolate Easter eggs and bunnies are all gone.   Here at the monastery we continue to have special Easter antiphons with their Alleluias.  As St. Augustine tells us, we are an Easter people.  The Lord's Resurrection shows us that we have a new life in the future.  May we continue to celebrate our "Hallelujahs," which is from Hebrew, "Praise ye Yah," short form translation of "Praise Yahweh."  Blessings from our community.  Know that we keep you in our prayers and remember all the prayer requests that you send us.  SK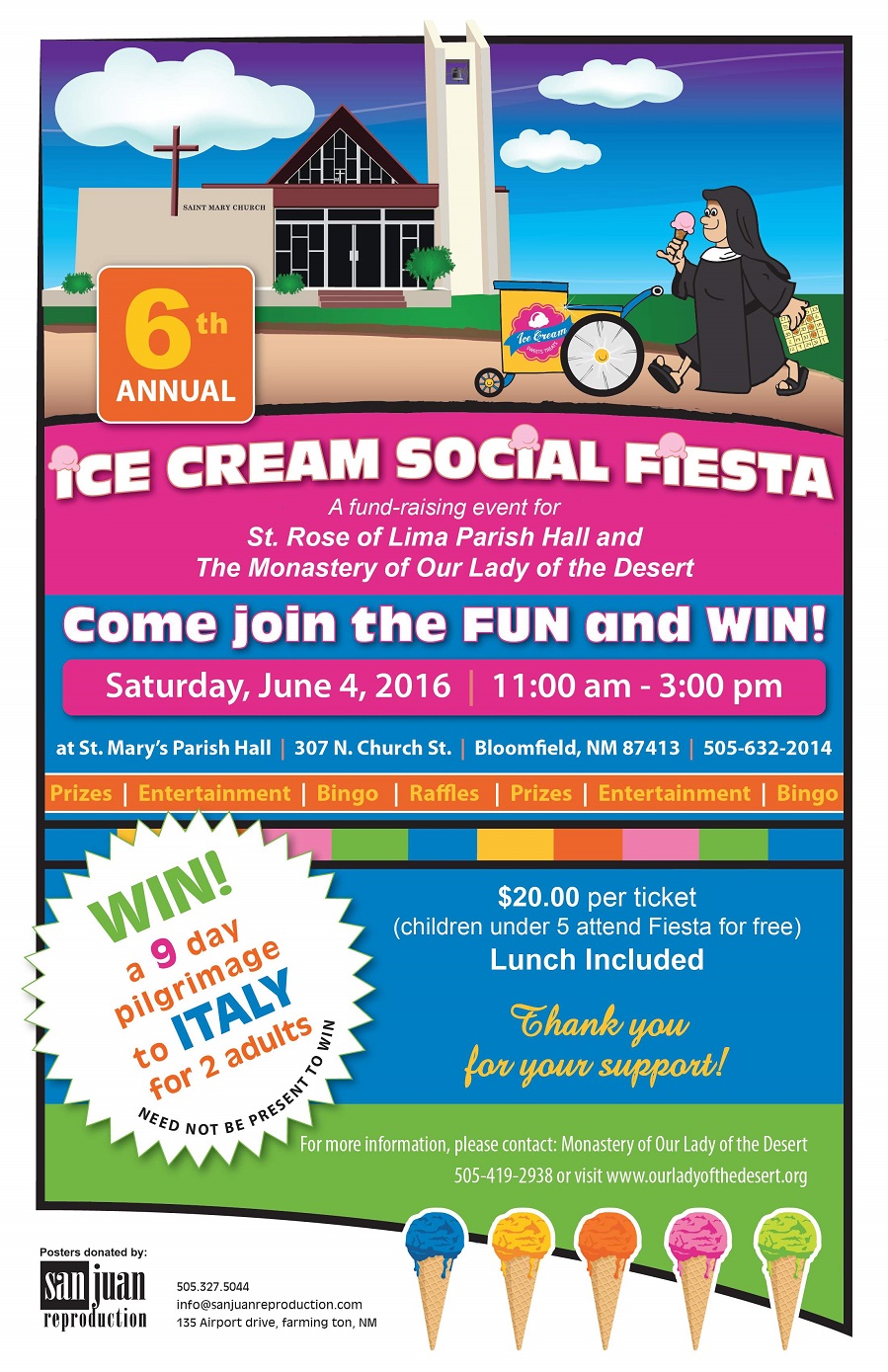 TICKETS (click)  A review of the Italy trip will be posted soon!
Click on our Easter Newsletter:  easter2016nl                                                 from Mother Benedicta.
WELCOME  Father Jeffrey Steele, will be with us from April-July2016 to serve as our Chaplain. 

Father Jeffrey is from the St. Benedict's Abbey, in Polokwane, South Africa. He arrived April 6, 2016 and in good spirits.
Father Thomas Benedict, our current Chaplain, assigned from the Monastery of Christ in the Desert, will be spending three months at the St. Benedict's Abbey to work on formation for the community.  Please pray for both of them!
Prayer for Vocations:  God, Our Father, Thank you for your son, Jesus, our Good Shepherd, who leads us to fullness of life.  By our baptism, we are called by name to continue the mission of Jesus.  Give us the grace to listen with an open heart to the voice of Jesus and to respond generously with a joyful spirit. Strengthen the men and women you called to serve through marriage, the single life, the diaconate, priesthood, and consecrated life. Guide all who are discerning their Christian vocation. In gratitude we offer this prayer through Jesus and the Holy Spirit, united with you forever. Amen.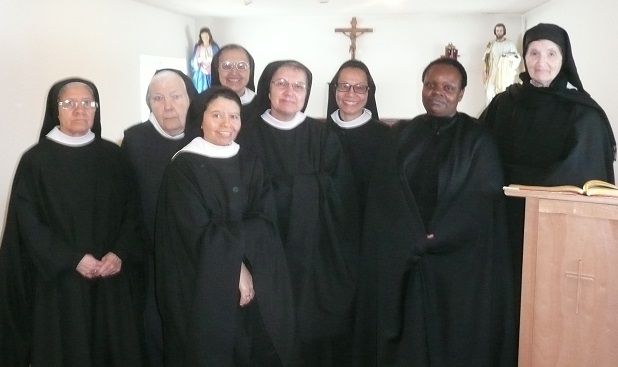 The Year of Mercy December 8, 2015 – November 20, 2016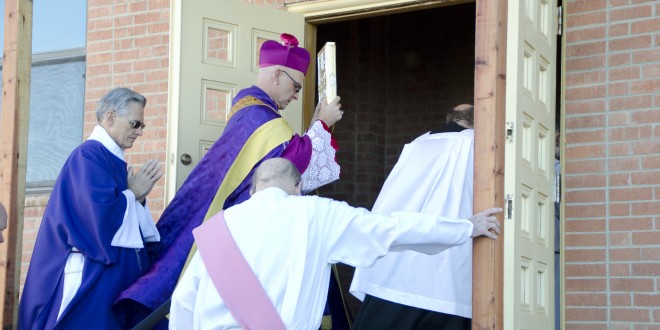 From the Bishop: Opening the Door to the Year of Mercy
"Dear Brothers and Sisters in Christ, On December 8, the Feast of the Immaculate Conception, Pope Francis formally began the Extraordinary Jubilee of Mercy when he opened the Holy Door at the Basilica of St. John Lateran in Rome. Following his example, cathedrals and churches across the world opened their own Holy Doors. On December 13, I opened a special Holy Door at the Cathedral of the Sacred Heart in Gallup, New Mexico…The opening of a door is a physical reminder of God's call to grace. As Pope Francis stated in his opening remarks: "This Extraordinary Holy Year is itself a gift of grace. To pass through the Holy Door means to rediscover the infinite mercy of the Father who welcomes everyone and goes out personally to encounter each of them." It also shows that we recognize Christ as the sole door through which we enter salvation and the one way that leads to the Father. We must not be afraid to seek an encounter with Christ, and in doing so open ourselves to the gift of His infinite grace and compassion.
This Year of Mercy does not mean that Christ is suddenly more receptive to us than before. He has always loved us and desired us to know, love, and serve Him. Rather, this year is meant to stand in stark contrast to violence and evils committed by human beings which at times can be overwhelming. We must remember that Jesus Christ is the same yesterday, today, and forever (Heb 13:8). This is the ongoing pilgrimage of the Church: to move always toward Christ. What better way for a fallen world to make that pilgrimage than through a door, a symbol of hope, of grace, and of mercy.  In Christ, Bishop James S. Wall"                                                                             (from "Voice of the Southwest," December 15, 2015)
The Pope's Prayer Intentions for March 2016, entrusted to the Apostleship of Paryer:  April 2016  – Universal: Small Farmers – That small farmers may receive a just reward for their precious labor.
Evangelization: African Christians – That Christians in Africa may give witness to love and faith in Jesus Christ amid political-religious conflicts.
 MISSION STATEMENT – The Monastery of Our Lady of the Desert is a monastic community of women in the Benedictine tradition.  We profess vows of stability, conversion of life and obedience.  Our primary mission is to seek God through a life of prayer, silence and solitude.  Our way of life frees us to give glory and praise to God, intercede through prayer for the needs of the world and hospitality.