February 19, 2017 – 7th Sunday in Ordinary Time
Lv 19: 1-2, 17-18; Ps 103: 1-2, 3-4, 8, 10, 12-13; 1Cor 3: 16-23; Mt 5: 38-48Lv 19: 1-2, 17-18; Ps 103: 1-2, 3-4, 8, 10, 12-13; 1Cor 3: 16-23; Mt 5: 38-48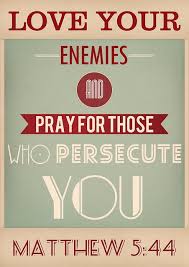 In today's Gospel, its all about love and yet when I came to the section that we must love our enemies and pray for those who persecute you, I am a bit baffled.  How can we accomplish that?  Especially, if we know we've been hurt by others.  We look to the life of Jesus and see how many did not like Him, how many did away with Him, how many spoke ill of Him and he continued the will of His Father by curing, healing and loving.  Each of us has those little knots of having something against someone, but with God's grace, we can love our enemies and we can pray for those who persecute us.  It takes longer for some than others, but it is possible.
Here at the monastery we have had our share of flu symptoms and colds, but we are doing fine.  Thank you so much for your continued support and prayers.  God bless each of your families with LOVE.  SK
Feb 10, 2017 – Feast of St. Scholastica:  O God, to show us where innocence leads, you made the soul of your virgin Saint Scholastica soar to heaven like a dove in flight. Grant through her merits and her prayers that we may so live in innocence as to attain to joys everlasting.  
This was a very special day for our community in that we received new veils.  We had prayed and discussed this decision and found it appropriate that we wear the very traditional veil with wimple.  Sister Guadalupe spent time after her home visit with the Benedictine Nuns of Vera Cruz, Mexico, to learn how to sew the new veils.   When we made the change on Feb 10th, S. Guadalupe helped each of us with a special time of silence.  We then processed into the Chapel.  The actual blessing  was by Abbot Philip who gave a sermon followed by a formal sprinkling of holy water on our veils. Our Novice continues to wear the original white veil given to her and God willing, in two years, she will receive a new veil as a Junior sister.  Now, can you recognize who's who?  
Effective January 1, 2017, Sister Hilda Tuyuc, was appointed Prioress of our community, a blessing by Abbess Mary Barnes,  of the Benedictine Abbey, Jamberoo, Australia.  Sister Benedicta Serna, will be relieved of her position as Prioress, so that she can have time and space to recuperate.  We are very grateful for the service that Sister Benedicta has provided over the last eleven years.
In 1986, former Sister Hilda entered the Missionaries of the Eucharist in Guatemala and spent ten years doing missionary work.  During that time, she met Benedictine monks in Guatemala, and knew she wanted to be one of them, but there were no Benedictine nuns in Guatemala.  When she found Benedictines in New Mexico, USA, she wrote asking the community to give her an opportunity to visit.  They said yes.  The American Embassy made it very difficult for her to obtain a Visa; not until Sister Julianne Allen, former Superior of the Monastery of Our Lady of the Desert and Father Christian Leisy, from the Monastery of Christ in the Desert went to Guatemala and helped her obtain the Visa in 1998.
Prioress Hilda quotes from the Rule of St. Benedict, that, "Our life in the monastery is 'ora et labora'.  We gather to pray the Divine Office seven times a day with daily Mass."   As any monastery, we have a schedule that allows us to spend time doing lectio divina, individual study, and recreation.  Since building a monastery, everything here is small like our Chapel, Guesthouse, etc.  Guests are usually happy to spend time at the monastery.  Our life in here in Gobernador is very simple like Bethlehem or Nazareth at the time of Jesus.  I am very grateful to God and to the community for allowing me to be a part of this monastic journey.  May God be glorified in everything."
We ask for your prayers for our community as we begin a New Year of transition!
The Holy Father's prayer intentions for February 2017:         Comfort for the Afflicted – That all those who are afflicted, especially the poor, refugees, and marginalized, may find welcome and comfort in our communities.
MISSION STATEMENT – The Monastery of Our Lady of the Desert is a monastic community of women in the Benedictine tradition.  We profess vows of stability, conversion of life and obedience.  Our primary mission is to seek God through a life of prayer, silence and solitude.  Our way of life frees us to give glory and praise to God, intercede through prayer for the needs of the world and hospitality.