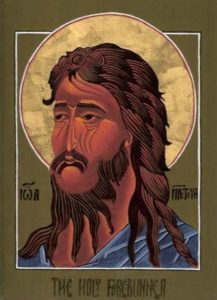 June 24, 2018 – The Nativity of St. John the Baptist – Is 49: 1-6; Ps 139: 1-3, 13-14, 14-15; Acts 13: 22-26; Lk 1: 57-66, 80
This special Solemnity celebrates the birth of Jesus' cousin, born six months before our Lord, to Zechariah and Elizabeth, our Lady's cousin.  One of the greatest prophets, St. John the Baptist is known as the "Forerunner" of Christ, preaching and telling the people of Our Savior, exclaiming the witness to the Light.  "Behold, one is coming after me; I am not worthy to unfasten the sandals of his feet."  We ask St. John the Baptist, to lead us to the Lamb of God.  Be assured of our prayers.   SK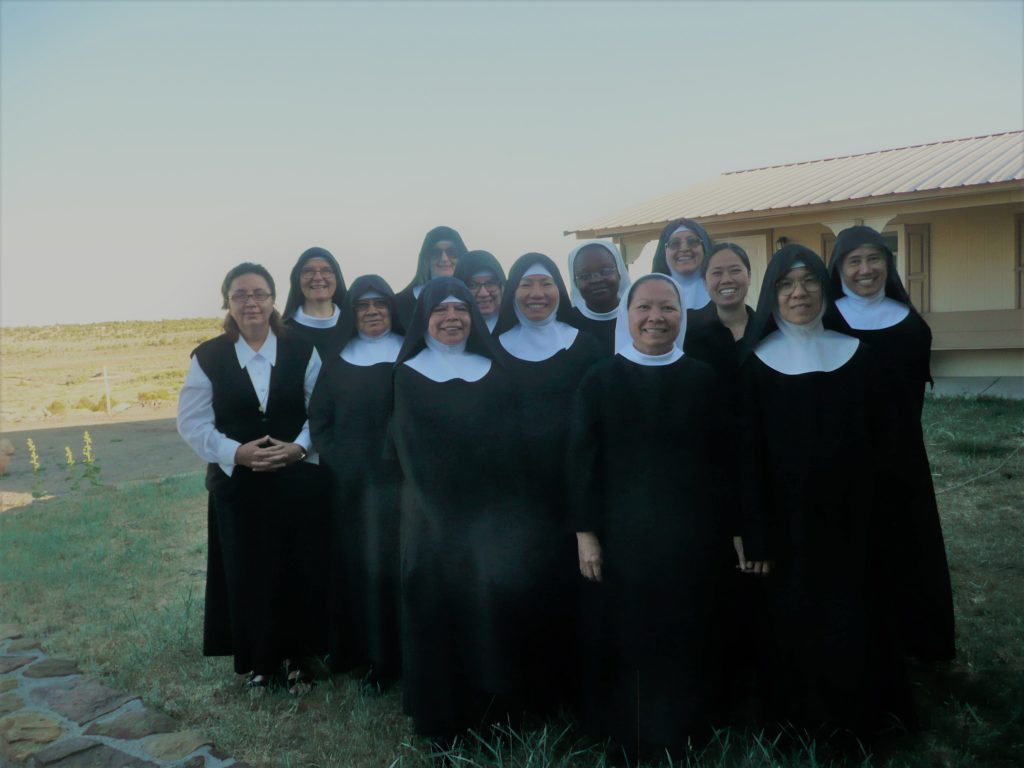 New Postulant – The function of the postulancy is to help the Postulant discern the authenticity of her vocation in our community environment with the guidance of the Directoress of Formation, and to give the community an opportunity to consider her aptitude for our way of life…(from our Constitutions of Jamberoo Abbey)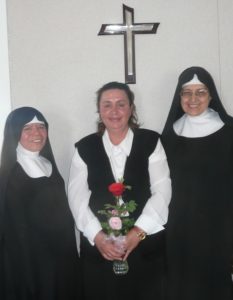 Please pray for our new Postulant, Elizabeth Nuñez, who celebrated her Entrance of Ceremony on June 1, 2018.  She is from Costa Rica and she brings many gifts, especially her love of God and the determination to follow Him in our way of life.  After Elizabeth was given a Benedictine medal, each sister and guest exchanged the kiss of peace.
ROSARY CRAFT:  The sisters are in the Rosary making again.  Contact us to place an order or call 505-419-3300.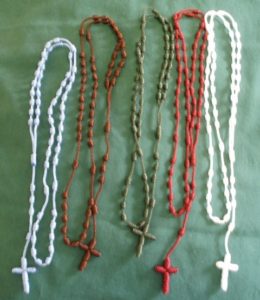 Cord Rosaries 19 Inches, come in various colors including BLACK, PURPLE, BLUE, BAIZE, OR PREFERRED COLOR.  ONLY $7 + FREE SHIPPING.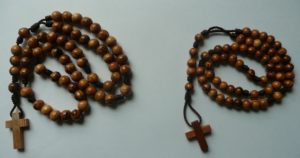 6 or 8 mm beads and Cross are made with olive wood from Jerusalem, scented with oil, ONLY $10 + FREE Shipping.  We would be glad to take your order.  You can contact us via the web or call 505-419-3300.
Pope's Monthly Intention for June 2018:  Universal Social Networks – That social networks may work towards that inclusiveness which respects other for their differences.
MISSION STATEMENT – The Monastery of Our Lady of the Desert is a monastic community of women in the Benedictine tradition.  We profess vows of stability, conversion of life and obedience.  Our primary mission is to seek God through a life of prayer, silence and solitude.  Our way of life frees us to give glory and praise to God, intercede through prayer for the needs of the world and hospitality.
St. Joseph, Pray For Us!