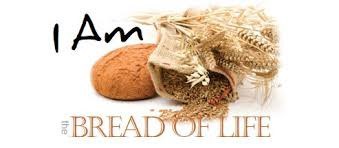 June 23, 2019 –  MOST HOLY BODY  & BLOOD OF CHRIST (Corpus Christi)  
Readings include:  Gn 14: 18-20; Ps 110: 1,2,3,4; 1Cor 11:23-26; Lk 9: 11b-17
The Feast of Corpus Christi (Latin for "Body of Christ") is a Catholic liturgical solemnity celebrating the real presence of the body and blood of Jesus Christ, the Son of God, in the elements of the Eucharist—known as transubstantiation.
What a beautiful Solemnity in proclaiming the reality of the body and blood of Christ.  "May our worship of this sacrament of your body and blood help us to experience the salvation you won for us and the peace of the kingdom…
We thank all of you for your support in our Ice Cream Social, June 8th, 2019, especially the Knights of Columbus, our volunteers, and those who donated.  Thanks to God the contributions came to a total of $25,000, to help with our building endeavors.  We will be sending a newsletter next month with more pictures and updates about our sisters.  God bless you and your loved ones.  SK
March 25, 2019 – Abbatial Blessing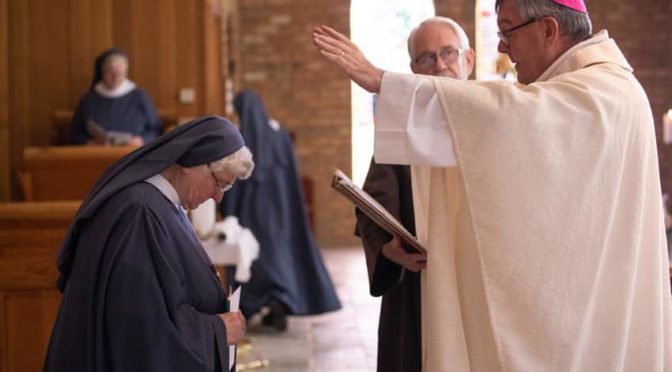 Mother Hilda Scott osb is receives an Abbatial Blessing from Bishop Brian Mascord. PHOTO: Daniel Hopper
Congratulations to Sister Hilda!  We are happy to announce from our Mother House that the nuns of Jamberoo Abbey ask you to please pray for Sr Hilda Scott who has been elected Abbess of their Benedictine community.  The Abbatial Blessing  took place on March 25, 2019, the Solemnity of the Annunciation of the Lord.
Pope Francis Monthly Intention for June 2019 – That priests, through the modesty and humility of their lives, commit themselves actively to a solidarity with those who are most poor.
MISSION STATEMENT – The Monastery of Our Lady of the Desert is a monastic community of women in the Benedictine tradition.  We profess vows of stability, conversion of life and obedience.  Our primary mission,  is to seek God through a life of prayer, silence and solitude.  Our way of life frees us to give glory and praise to God, intercede through prayer for the needs of the world and hospitality.