February 22, 2015 – 1st Sunday of Lent
Genesis 9:8-15 • Psalm 25:4-9 •  1 Peter 3:18-22  •  Mark 1:12-15
'The Spirit drove Jesus out into the wilderness and he remained there for forty days, and was tempted by Satan. He was with the wild beasts, and the angels looked after him."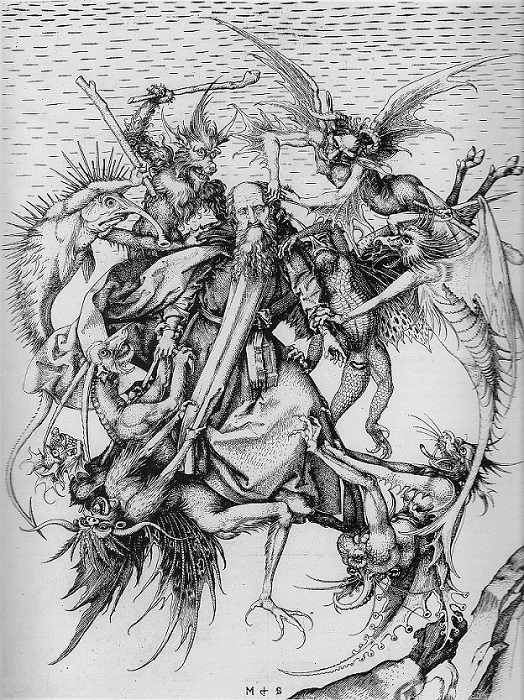 As I read the short Gospel of Mark for today, it made me remember a very intense painting of St. Anthony being tempted, 1470, by Martin Schongauer, artist (shown above). It has always intrigued me that the face of St. Anthony is serene and appears not to give in to the many beasts and devils around him that want to take him to the ground. If temptations would attack me like that, maybe I would not be so willing to turn against God and my neighbor or myself. But at times temptations come in gentle invitations of doing wrong. For me it creates into something bigger and bigger, i.e., one little lie becomes two more and two more three, etc.
Jesus anticipated his suffering and death and he was led into the desert, a dry, and parched land without water. Forty days were an inner cleansing for him as it can become for us this Lenten season. As Jesus goes into the desert, he goes through grief, anguish. I visualize him crying, and having bouts of anger and maybe feeling anxious and disappointment, BUT as the Gospel tells us, "…the angels looked after him." As we become tempted and go through our crosses, let us remember that there is grace from above, just for the asking. God bless all of you that help others stay focused on Jesus Christ. Please know that you are in our prayers. SK
Prayer for a Fruitful Lent
Holy Spirit, lead me into the forty days of Lent as you led Jesus into the desert to confront Satan.  Be with me as I confront my own temptations and my failures to live out the promises of my Baptism.  Give me insight and courage to that I can face the truth about myself and turn back to God in fidelity to the gospel.  I ask this in the name of Jesus, my Lord and Savior. Amen.  (from Living Faith, Daily Catholic Devotions for Jan/Feb/Mar)
MISSION STATEMENT
The Monastery of Our Lady of the Desert is a monastic community of women in the Benedictine tradition.  We profess vows of stability, conversion of life and obedience.  Our primary mission is to seek God through a life of prayer, silence and solitude.  Our way of life frees us to give glory and praise to God, intercede through prayer for the needs of the world and hospitality.