July 15, 15th Sunday in Ordinary Time – Am 7: 12-15; Ps 85: 9-10, 11-12, 13-14; Eph 1: 3-14; Mk 6: 7-13
Jesus sends his disciples two by two out into the world giving them authority over unclean spirits going off to preach repentance.  We are given the same mission.  How do we do that in our ways of life?  By showing others our love, trust and faith especially to those who show us the right path.   "May the Father of Our Lord Jesus Christ enlighten the eyes of our hearts, that we may know what is the hope that belongs to our call."
July 11, 2018 – Solemnity of Our Holy Father, St. Benedict of Nursia – Patriarch of Western Monasticism – Prv 2: 1-9; Ps 34: 2-3, 4-5, 6-7, 8-9, 10-11; Col. 3: 12-17; Mt 19: 27-29)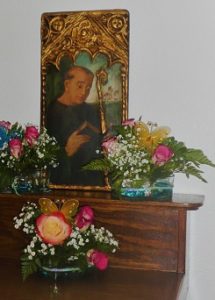 Besides celebrating the Solemnity of our patron Saint, St. Benedict, we had the honor of having Bishop James Wall, Bishop of Gallup, receive the 1st vows of Sister Mercy.  It was a special day with the celebration beginning at 10 am, followed by a special Vietnamese meal.  More pics to be added soon!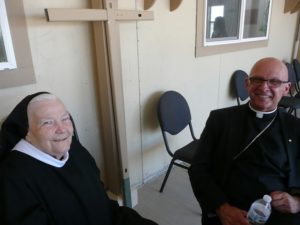 The sisters and workers are trying to enclose at least the front section of the St. Joseph Center, before July 11, 2018, for the Mass and celebration of Profession of 1st vows of Sister Mercy.  We don't have the funds yet to enclose the entire area, but if you would like to help, let us know.

Recent pic taken on June 15, 2018, with Mother Mary Elizabeth Kloss, one of our visitors.  Fr. Caedmon Holmes took the picture.
ROSARY CRAFT:  The sisters are in the Rosary making again.  Contact us to place an order or call 505-419-3300.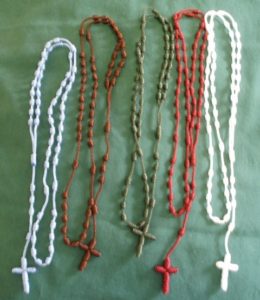 Cord Rosaries 19 Inches, come in various colors including BLACK, PURPLE, BLUE, BAIZE, OR PREFERRED COLOR.  ONLY $7 + FREE SHIPPING.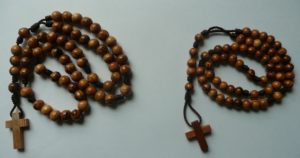 6 or 8 mm beads and Cross are made with olive wood from Jerusalem, scented with oil, ONLY $10 + FREE Shipping.  We would be glad to take your order.  You can contact us via the web or call 505-419-3300.
Pope's Monthly Intention for July 2018:  Evangelization – Priests and their Pastoral Ministry – That priests, who experience fatigue and loneliness in their pastoral work, may find help and comfort in their intimacy with the Lord and in their friendship with their brother priests.
MISSION STATEMENT – The Monastery of Our Lady of the Desert is a monastic community of women in the Benedictine tradition.  We profess vows of stability, conversion of life and obedience.  Our primary mission is to seek God through a life of prayer, silence and solitude.  Our way of life frees us to give glory and praise to God, intercede through prayer for the needs of the world and hospitality.
St. Joseph, Pray For Us!