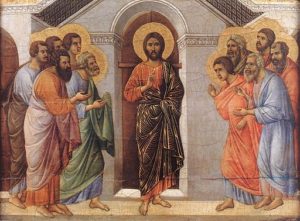 Appearance Behind Locked Doors by Duccio (1268-1318). Public domain (Wikimedia) 
6TH SUNDAY OF EASTER – MAY 21, 2017 Acts 8: 5-8, 14-17; Ps 66: 1-3, 4-5, 6-7, 16,20; 1Pt 3: 15-18; Jn 14: 15-21
"If you love me, you will keep my commandments."  These words of Jesus penetrate one's heart.  So many times, it becomes a challenge to understand and to grasp what commandments do we obey, what commandments do we not?  Then there is the commandment of "Love God with your whole heart, your whole soul and your neighbor as yourself."  If we truly believe this, it becomes easier to keep God's commandments.  Love is not a bunch of rules and regulations, but a heartfelt grace to embrace oneself and the other.
In the Rule of St. Benedict, Chapter 5, on obedience, "…Such people as these immediately put aside their own concerns, abandon their own will lay down whatever they have in hand, leaving it unfinished."  This is impossible for me to do, but if I feel the current job and/or work is important, I usually respond with, "I'll be there in a moment," or "Let me finish this part since I am in the middle of it."  The bell, rung seven times for prayer, though, can become frustrating when one is in the middle of completing a project.  But, there is always a purpose to a Benedictine life, "Opus Dei."   The life of prayer becomes our goal, and so obeying commandments in love does not become a burden.   We ask God to bless you and know that we keep you in our prayers.  SK
We have four women who are interested in the monastic way of life and will be guests at our St. Benedict Guesthouse over the next few months.  We ask for your prayers for vocations to our community.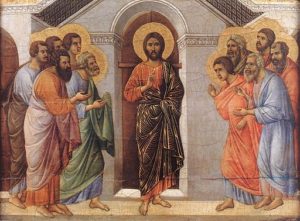 We are grateful to Father Jim Walker, Pastor, and all the parishioners of St. Mary and St. Rose of Lima Parishes.  They are kindly sponsoring a Raffle, for our community: "Northeast Shrines and Canada Tour Package for two, October 9-17, 2017.  As noted by Father Jim and Deacon Roger Garcia, "We have a great legacy in the saints who have lived on our soil.  For this reason, we will lead a nine-day North American tour from Washington, D.C, to Montreal and Toronto, then to Niagra Falls…"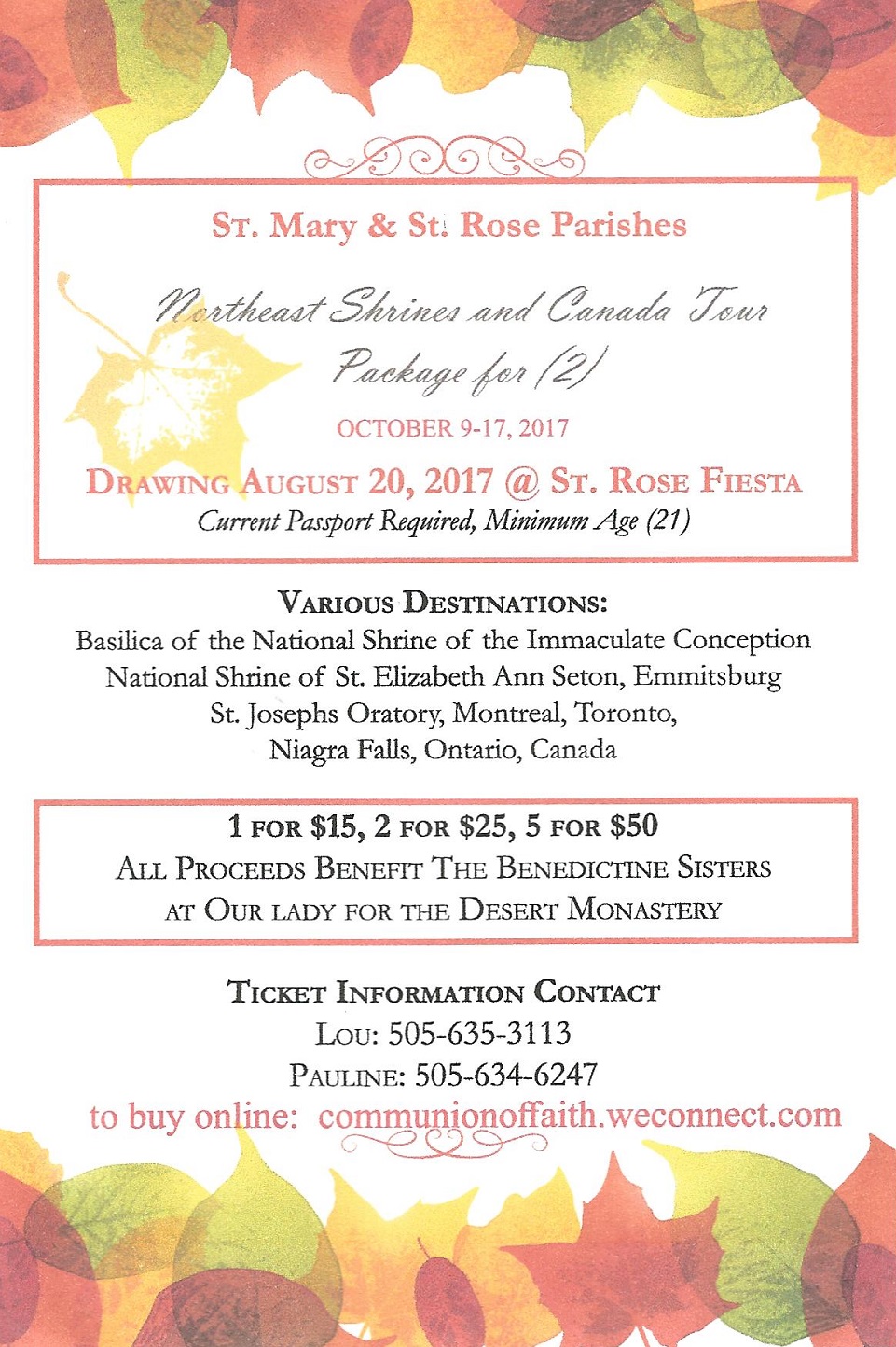 Click on "Raffle," for online access.
The Holy Father's prayer intentions for May 2017:        Christians in Africa –  That Christians in Africa, in imitation of the Merciful Jesus, may give prophetic witness to reconciliation, justice, and peace.
MISSION STATEMENT – The Monastery of Our Lady of the Desert is a monastic community of women in the Benedictine tradition.  We profess vows of stability, conversion of life and obedience.  Our primary mission is to seek God through a life of prayer, silence and solitude.  Our way of life frees us to give glory and praise to God, intercede through prayer for the needs of the world and hospitality.