October 23, 2016 -30th Sunday in Ordinary Time  – Sirach 35:12-14 •    Ps 34:2-3,17-19,23 • 2 Tm 4:6-8, 16-18 • LK 18:9-14
"O God, be merciful to me a sinner," words of the tax collector in the Gospel for this week is about humility.  We are all sinners, but God in His merciful love, forgives us, loves us and accepts who we are.  In the Rule of St. Benedict on Humility, Chapter 7, verses 1-70, "Restraint of Speech," the title is about the limit of our words when we speak.  Silence of heart goes with humility.  You might want to read all twelve steps that St. Benedict writes about.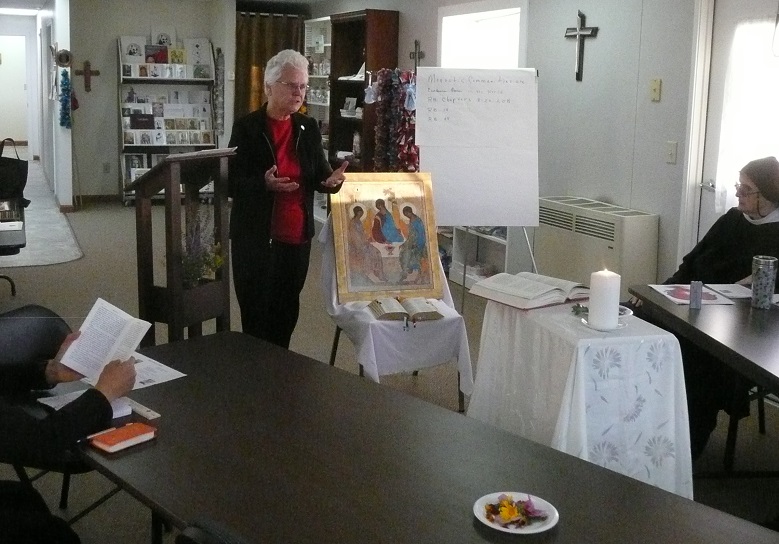 This past week we've been on retreat and the first handout that our Retreat Director, Sister Rose Ann gave us, was a picture of the heart asking about our dispositions and attitudes.  The words used to reflect about our heart are "Soft, spacious, welcoming, open boundaries, hospitable."  It took me a week to disseminate, but these words reflect the Gospel, about our disposition and attitude towards myself, towards others, towards God.  Help us Lord to remember that, "…whoever exalts himself will be humbled, and the one who humbles himself will be exalted."  Grace and blessings to each of you.  SK
RETREAT – Sister Rose Ann Barmann, OSB, directed our yearly retreat, October 16-22, 2016.  Sister Rose Ann is from Benet  Hill, Colorado Springs, Colorado.   We also had time to rest and reflect.  Thank you for your prayers.
THE POPE'S PRAYER INTENTIONS FOR OCTOBER 2016
ENTRUSTED TO THE APOSTLESHIP OF PRAYER Universal: Journalists – That journalists, in carrying out their work, may always be motivated by respect for truth and a strong sense of ethics.  Evangelization: World Mission Day – That World Mission Day may renew within all Christian communities the joy of the Gospel and the responsibility to announce it.
As we celebrate the Commemoration of all the Faithful Departed (All Souls), on November 2, 2016, together let us remember our loved ones who have gone on before us in the hope of the Resurrection of our Lord Jesus Christ.
We gratefully receive your petition of prayers for your deceased loved ones to add them to the Book of Remembrance that is placed at the altar in our Chapel so that they are included in our communal prayers and Masses offered throughout the month of November for all the faithful departed (just "Contact," us).  May the God of all mercy comfort you in your loss and encourage you and yours along your journey.   You are welcomed to submit the names of those you wish to be remembered in the Masses during the month of November, click "Contact Us."
The Year of Mercy December 8, 2015 – November 20, 2016           Pope Francis to Benedictines: Monasteries are oases of God's mercy – 2016-09-08 Vatican Radio –  Pope Francis says today's society "is increasingly showing its need of mercy" and described Benedictine monasteries "as oases of spirituality" where people can obtain that mercy. The Pope's comments came on Thursday during an address to participants of the International Congress of Benedictine Abbots and Abesses taking place in Rome.
Pope Francis said when we talk of our world needing more mercy, this is not "a slogan or a recipe" but instead something that comes from the very heart of Christian life making that person "more attentive to the needy and showing solidarity with them." This, he declared, is the concrete quality of the love that shows "the authenticity and credibility" of the Church's message.
In a Church that is called to concentrate increasingly on the essentials, the Pope said monks and nuns have a vocation of nurturing their special gift and responsibility: namely "to keep alive the oases of the spirit, where clergy and the lay faithful can dip into the springs of divine mercy."
He praised the Benedictines for living as "people of mercy" in their communities and for "their silent yet eloquent" work, saying it allows God to speak amidst the "deafening and distracted lifestyle" of today's world.  Pope Francis urged the abbots and abesses not to become discouraged if the members of their monastic communities diminish in number and they become older and stressed it was necessary to have the courage to establish new communities even in the most difficult countries.  "Your service to the Church is very precious," he assured them.  (from Vatican Radio)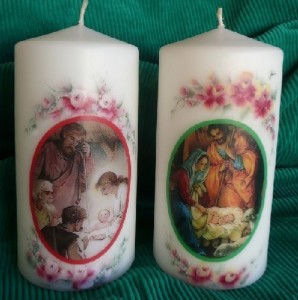 CHRISTMAS CANDLES – We've begun to receive many orders for our Christmas candles.  Its never too late to order!  Click on Santo Niño Gift shop.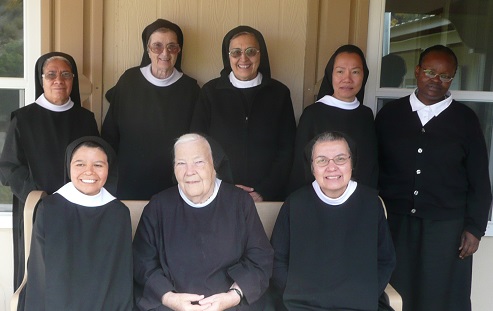 MISSION STATEMENT – The Monastery of Our Lady of the Desert is a monastic community of women in the Benedictine tradition.  We profess vows of stability, conversion of life and obedience.  Our primary mission is to seek God through a life of prayer, silence and solitude.  Our way of life frees us to give glory and praise to God, intercede through prayer for the needs of the world and hospitality.