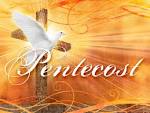 JUNE 9, 2019 – PENTECOST SUNDAY – Mass Readings "during the day" Acts 2: 1-11; Ps 104: 1, 24, 29-30, 31, 34; 1Cor 12: 3b-7, 12-13 or Rom 8: 8-17; Jn 20: 19-23 or Jn 14: 15-16, 23b-26
"…And they were all filled with the Holy Spirit and began to speak in different tongues, as the Spirit enabled them  proclaim…"  Pentecost is the fulfillment of the Easter promise (the name comes from the Greek pentekoste, "fiftieth").  Now we can put away all our Easter decorations since we have celebrated seven weeks of Easter.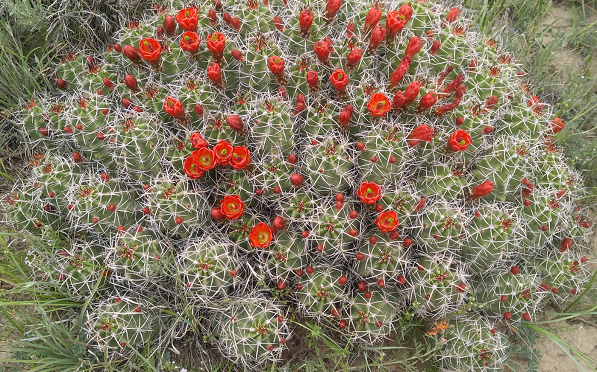 Pentecost is what Jesus promised when He said, "I shall ask the Father, and He will give you another Advocate, another Consoler, to be with you for ever." (Jn 14:16).  We are supported and comforted by the Holy Spirit, whose gifts include wisdom, understanding, counsel (direction), fortitude (courage), knowledge, piety (virtuous), and fear of the Lord.  We pray that you will be enlightened interiorly by the Holy Spirit to lead you to truth.  God bless you, SK
From a Sermon by Saint Augustine of Hippo, Sermon 271:
…So then, my fellow members of Christ's body, you are the fruits of unity and the children of peace. Keep this day with joy, celebrate it in freedom of spirit, for in you is fulfilled what was foreshadowed in those days when the Holy Spirit spoke in many languages, individual though he was…You yourselves are established in that unity you have the Holy Spirit
among you, and nothing can separate you from the Church of Christ which speaks in the languages of every nation of the world.
March 25, 2019 – Abbatial Blessing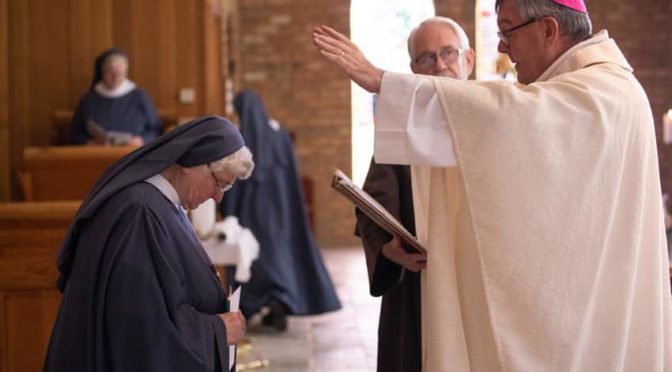 Mother Hilda Scott osb is receives an Abbatial Blessing from Bishop Brian Mascord. PHOTO: Daniel Hopper
Congratulations to Sister Hilda!  We are happy to announce from our Mother House that the nuns of Jamberoo Abbey ask you to please pray for Sr Hilda Scott who has been elected Abbess of their Benedictine community.  The Abbatial Blessing  took place on March 25, 2019, the Solemnity of the Annunciation of the Lord.
Pope Francis Monthly Intention for June 2019 – That priests, through the modesty and humility of their lives, commit themselves actively to a solidarity with those who are most poor.
MISSION STATEMENT – The Monastery of Our Lady of the Desert is a monastic community of women in the Benedictine tradition.  We profess vows of stability, conversion of life and obedience.  Our primary mission,  is to seek God through a life of prayer, silence and solitude.  Our way of life frees us to give glory and praise to God, intercede through prayer for the needs of the world and hospitality.