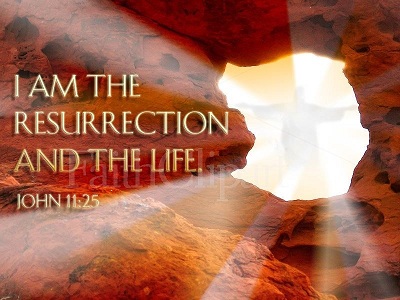 April 21, 2019 – THE RESURRECTION OF THE LORD, EASTER SUNDAY – Readings:  Mass of Easter Day Acts 10: 34a, 37-43; Ps 118: 1-2, 16-17, 22-23; Col 3: 1-4 or 1Cor 5: 6b-8; Jn 20: 1-9. – "The first eight days of Easter Time make up the octave of Easter and are celebrated as solemnities of the Lord" (General Norms for the Liturgical Year and the Calendar, no. 24).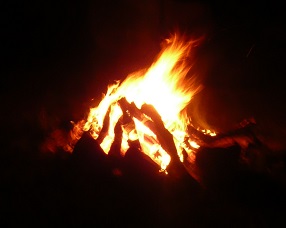 Service of Light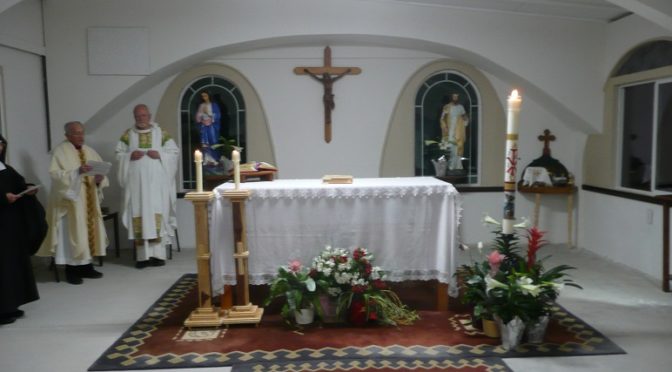 Liturgy of the Mass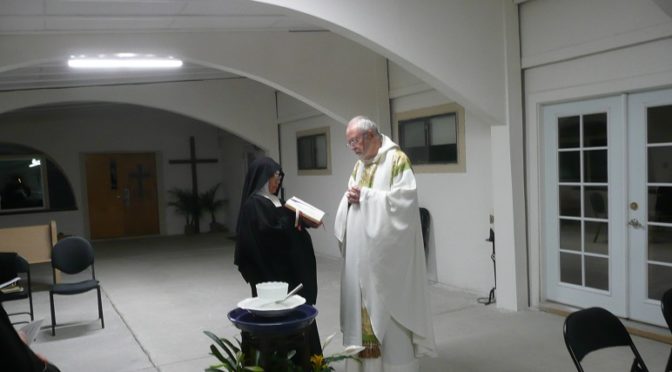 Liturgy of Baptism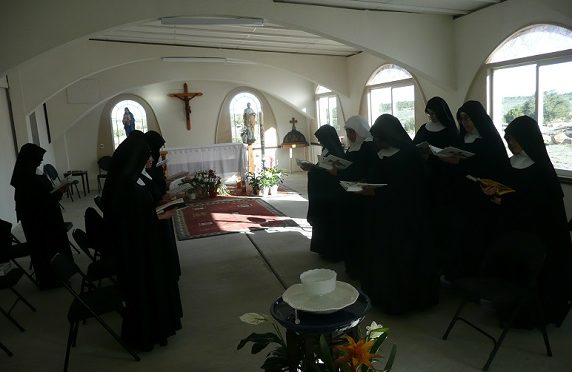 Lauds in the new St. Joseph Chapel first time since the new construction.
The Lord has indeed risen, Alleluia.  Glory and kingship; be his for ever and ever.  (Lk 24:24)
On behalf of Prioress Hilda and the community, blessings to you and may God shower you with His love, for He is risen!  We are truly grateful for you and keep you in our prayers.   Have a blessed and happy Easter.   Alleluia, Alleluia!
"…To celebrate Easter is to believe once more that God constantly breaks into our personal histories, to allow Jesus to triumph.  Christ's resurrection is the true hope of the world, the hope that does not disappoint.  It is the power of that love which humbles itself and gives itself to the very end, and thus truly renews the world.  He invites you to go back to the time and place of your first love, and He says to you:  Do not be afraid, follow me."  POPE FRANCIS
Our Schedule for The Resurrection of the Lord Easter Sunday 
4:00 am EASTER VIGIL/MASS
8:00 am Lauds
9:30 am Terce
12:00 pm Middle Hour of Sext/None
5:30 pm Vespers
7:15 pm Compline
March 25, 2019 – Abbatial Blessing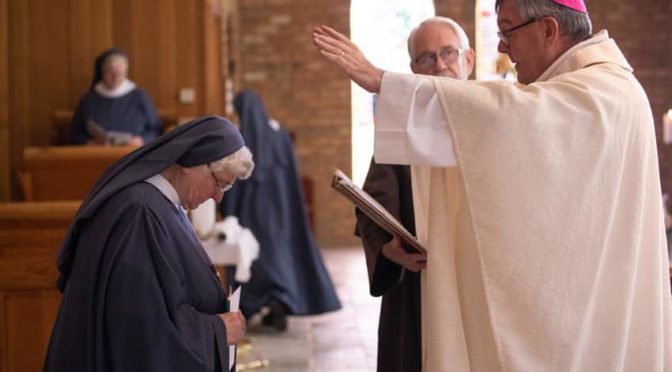 Mother Hilda Scott osb is receives an Abbatial Blessing from Bishop Brian Mascord. PHOTO: Daniel Hopper
Congratulations to Sister Hilda!  We are happy to announce from our Mother House that the nuns of Jamberoo Abbey ask you to please pray for Sr Hilda Scott who has been elected Abbess of their Benedictine community.  The Abbatial Blessing  took place on March 25, 2019, the Solemnity of the Annunciation of the Lord.
Pope Francis Monthly Intention for April 2019:  Universal – For those who have Responsibility in Economic Matters that economists may have the courage to reject any economy of exclusion and know how to open new paths.
MISSION STATEMENT – The Monastery of Our Lady of the Desert is a monastic community of women in the Benedictine tradition.  We profess vows of stability, conversion of life and obedience.  Our primary mission,  is to seek God through a life of prayer, silence and solitude.  Our way of life frees us to give glory and praise to God, intercede through prayer for the needs of the world and hospitality.