25th Sunday in Ordinary Time – Wis 2: 12, 17-20; Ps 54: 3-4, 5, 6-8; Jas 3: 16 to 4: 3; Mk 9: 30-37
"I will praise your name, O LORD, for its goodness," from Psalm 54 leads me to believe that besides complaining, and asking for patience, for faith, etc., that I take the time to praise Our Lord, for all His blessings.  I can think of all those negative blessings that I think are getting me no where, which eventually teach me.  But praising is like saying "Thanks."  As believers, we accept the mystery of God's creation and we acknowledge that praise.  Don't you think God is worthy of Praise?  For me during the fall season, I can't help but thank God for His marvelous artistic colors.  Have a good week and know that we keep you in our prayers. SK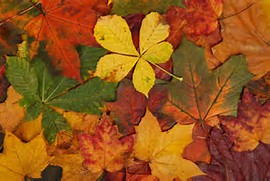 All praise and glory is yours, Lord our God, for you have called us to serve you in love. Bless us all with strength and courage to continue to follow Jesus your Son. We ask this through Christ our Lord. Amen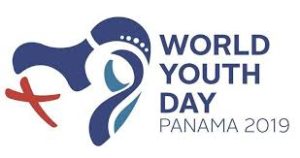 Let us pray for the upcoming World Youth Day 2019 the international Catholic event focused on religious faith and youth, due to be celebrated on January 22-27, 2019 in Panama City, Panama.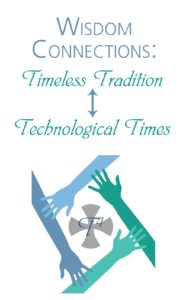 September 5, 2018 – In thanksgiving for the funding of the sisters of the Sacred Heart Monastery in Yankton, SD, and the sisters of St. Benedict, Monastery in Ferdinand, Indiana, our sisters are able to participate in a wonderful program called T4.  "The program was created for women's Benedictine communities with women in initial formation…The mission of the T4 program was to create a program of formation and education for newer members and to develop an ongoing method of communication among the newer members and their Formation Directors through the use of technology."  We are fortunate to have the T4 Program Director and Technology Administrator, Sister Michelle Sinkhorn, OSB, for an orientation of the program and special training for two and one half days.  For more information, click on Wisdom Connections.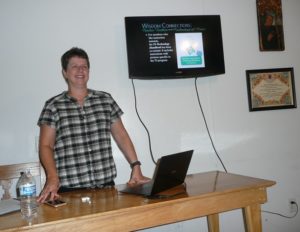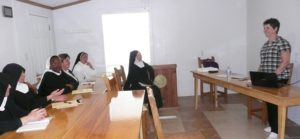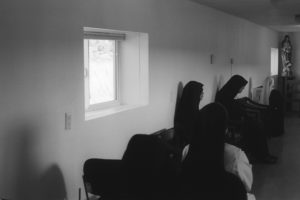 Sisters in the Chapel
ROSARY CRAFT:  The sisters are in the Rosary making again.  Contact us to place an order or call 505-419-3300.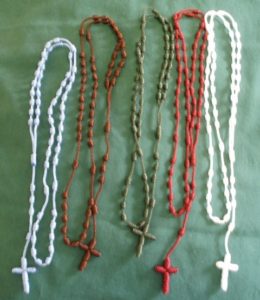 Cord Rosaries 19 Inches, come in various colors including BLACK, PURPLE, BLUE, BAIZE, OR PREFERRED COLOR.  ONLY $7 + FREE SHIPPING.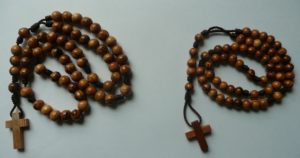 6 or 8 mm beads and Cross are made with olive wood from Jerusalem, scented with oil, ONLY $10 + FREE Shipping.  We would be glad to take your order.  You can contact us via the web or call 505-419-3300.
Pope's Monthly Intention for September 2018:  Universal – Young People in Africa – That young people in Africa may have access to education and work in their own countries.
MISSION STATEMENT – The Monastery of Our Lady of the Desert is a monastic community of women in the Benedictine tradition.  We profess vows of stability, conversion of life and obedience.  Our primary mission is to seek God through a life of prayer, silence and solitude.  Our way of life frees us to give glory and praise to God, intercede through prayer for the needs of the world and hospitality.
St. Joseph, Pray For Us!